Talks | May 29 2018 6.30pm
RU Talk: Gabriele Rossi in conversation with Jennifer Wilkinson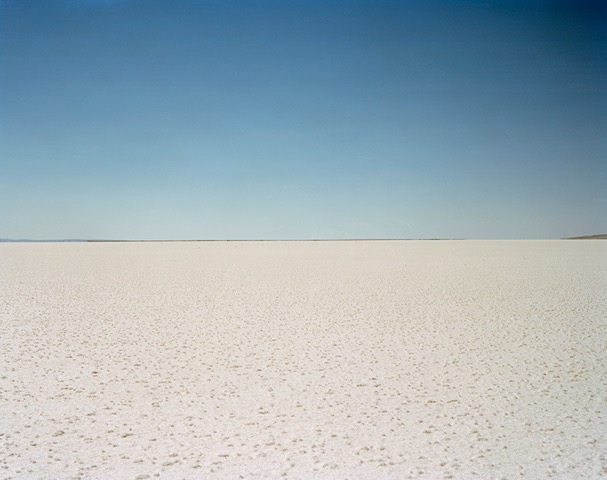 Tuz G ölü, 06, Turkey, Inkjet color print, 80 cm x 100 cm, 2015
Tuesday, May 29, 2018
6.30pm (free and open to the public)
Residency Unlimited (RU)
360 Court Street (enter the Church through the main entrance)
Brooklyn, NY 11231
Photographer Gabriele Rossi's evolving practice is centered around the sensitive relationships forged between architecture or an individual and their surrounding landscape. Rossi's projects have driven him from the coasts of Italy to the Po valley to the Punjab region of India—as well as most recently, many of the United States. In his recent work, Rossi has been motivated by the understanding of how the act of taking a picture is a performative gesture, how this presumably documentary endeavor is also an act of sharing his vision and himself with the viewer of his photographs. Through his expert compositions and combinations of images, the artist reveals the places he turns his camera upon to be packed with more intimate and revealing detail than one might have ever imagined.
Over the course of his discussion with Jennifer Wilkinson, Rossi will describe the process behind some of his earlier series such as Litorale and Farei di tutto per averti qui, elaborate on his current approaches to the photographic medium, and share his insights on Itaca (2017), his photobook published by the Italian independent YARDPRESS.
***
Gabriele Rossi was born in Latina, a small Italian town south of Rome. His photographic process is motivated by questions pertaining to his perception of reality, such as: Is reality what we experience in daily life?, How is what we see shaped by our everyday architecture?, and What is the border between these two elements? Rossi compares the act of photographing to sneaking through the back door and gaining access to a wider archive. See exhibition history here.
Jennifer Wilkinson is the Exhibitions & Programs Manager at CIMA – the Center for Italian Modern Art, a non-profit exhibition space that aims to deepen appreciation and scholarship of twentieth-century Italian art through its exhibitions, fellowships, and public programs. Previously, Wilkinson worked at the James Gallery within the City University of New York's Graduate Center. There she helped coordinate over two dozen shows including those by curator Katherine Carl (with work by artists such as Zoe Beloff, Decolonizing Architecture Art Residency, Yevgeniy Fiks, Jiha Moon, and Angel Nevarez & Valerie Tevere), those co-curated by international scholars such as Boris Groys ("Specters of Communism," 2015) and Maud Jacquin and Sébastien Pluot ("The House of Dust by Alison Knowles," 2017), as well as those by Graduate Center doctoral candidates Nadiah Fellah ("Left Coast: California Political Art," 2015), Chelsea Haines ("Christian Palestinian Archive: A Project by Dor Guez," 2016), and Kaegan Sparks ("Soft Skills," 2017). Wilkinson began her career interning and working at the Solomon R. Guggenheim Museum and the Philadelphia Museum of Art respectively, and contributed to the catalogues Michelangelo Pistoletto: From One To Many, 1956-1974 (2010) and Peripheral Visions: Italian Photography in Context, 1950s-Present (2012). She has a BA from Oberlin College and an MA in Art History from Hunter College, CUNY.
RELATED: