Talks | May 9 2012
RU TALK: Erin Brown in discussion with Sara Bichao, Ivana Ivković, & Tuguldur Yondonjamts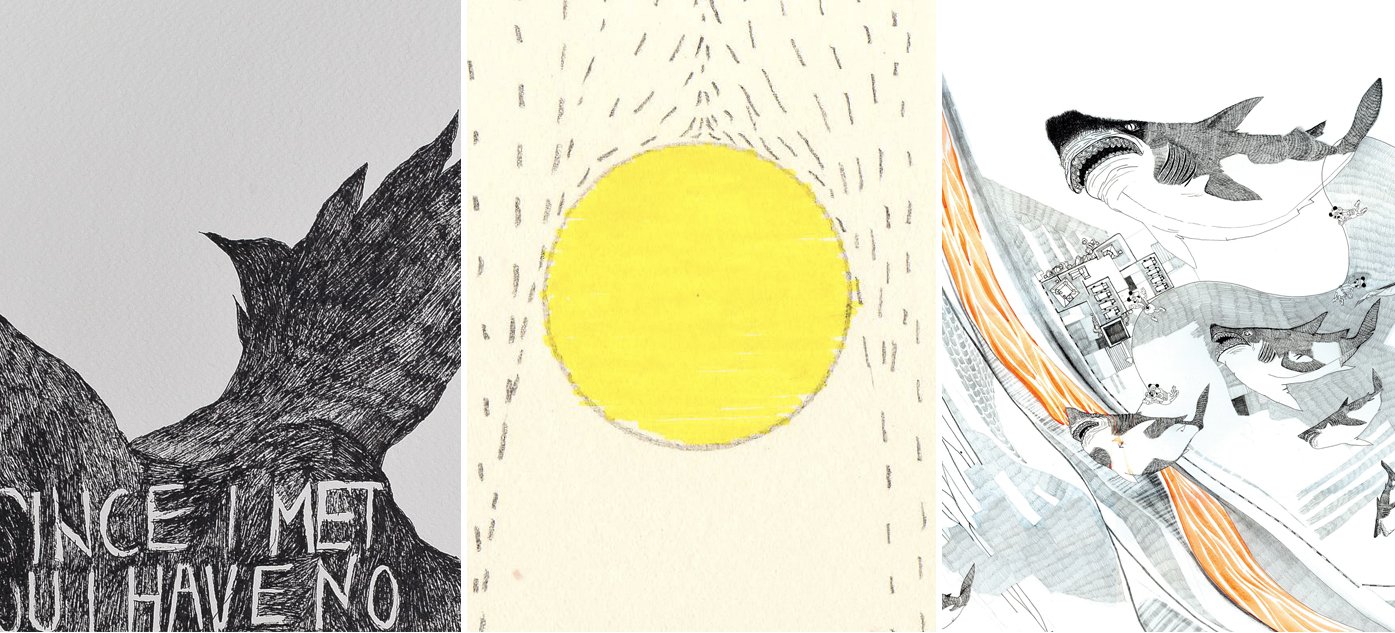 Wed May 9th, 2012 at 7pm.
Location: Residency Unlimited,
360 Court Street, Brooklyn, NY 11231
Church entrance through green door. (subway F/G Carroll street, President Street exit)
Residency Unlimited is delighted to invite you to a discussion moderated by the curator Erin Brown with three Residency Unlimited artists in residence. At this occasion Sara Bichão, Ivana Ivković , Tuguldur Yondonjamts will address their unique relationship to the process of drawing. Their conversation with Brown will touch on different approaches to creating work that is strong both conceptually and formally, as well as the process of editing work into a cohesive body. The group will also delve into how the artists recognize and reconcile failed work, and how they incorporate that important aspect of creation into their own practice.
For many artists the immediacy of drawing has incredible allure: ideas can be developed and fleshed out in a very direct way, allowing for exploration and experimentation that can further develop the creative process. Drawings often inform works in other media, or become the laboratory for a new concept or idea to form. These drawings' success or failure as individual artworks holds little effect, and can be absorbed into the greater process of the finished work. However, this freedom can pose a unique challenge when drawing is approached as a stand-alone medium: with such immediacy and higher production capacity, editing—both conceptually and formally—becomes a much more involved and demanding process in order to create a body of work that is impacting.
Sara Bichão (1986) lives and works in Lisbon, Portugal. She completed a Master in Fine Arts at the University of Lisbon in 2011 and had numerous exhibitions in Lisbon. Her current exhibition "Open Gates" is on view at Rooster Gallery in New York. Considered one of the most promising artists of her generation in Portugal, Bichão won the BPI Bank Prize (category Painting) in 2008. In her practice, Bichão looks to construct images with symbolic meaning where poetry's ancestral rhythm comes together with personal idiosyncrasies.
Erin Brown holds a degree in Media Arts and Sciences from Wellesley College and studied art theory and curatorial practice at Parsons School of Design in Paris, and Yale University.. She began her career in the art world at the Pace Gallery, before taking on the role of Director of Margaret Thatcher Projects in Chelsea. Brown has been curating since 2005, with exhibitions in New York, Boston and Paris. Recent shows include Next In Line: Drawing in the 21st Century, at Kunsthalle Galapagos, and white-hot at Thatcher Projects.
Ivana Ivković (1979) lives and works in Belgrade, Serbia. She graduated in 2005 from the Faculty of Fine Arts in Belgrade, department for Painting, followed by postgraduate studies at the same faculty, Drawing department. Ivkovic has exhibited extensively in Serbia and abroad. In addition she is a two-time finalist of the prestigious Politika prize for the best exhibition, and the recipient of the KulturKontakt Artist in Residence scholarship in Vienna, Austria in 2008. Cultural and historical narratives are the starting point in Ivkovic's body of work, resulting in expressive, tender, and thought-provoking drawings where images and text coincide.
Tuguldur Yondonjamts (1977)was born in Ulaanbaatar, Mongolia where he lives and works. He completed a BA in in traditional Mongolian Painting from the Mongolian University of Arts and Culture. In 2004, he graduated Fine Art from the University of the Arts, Berlin, Germany. Yondonjamts's works have been exhibited in Mongolia, Germany, Austria and Italy. Taking an ironic perspective to issues surrounding the changes in Mongolia's society and economic development, his work questions how these factors are played out in the physical and psychological space between tamed and untamed worlds.
This free event is organized within the framework of Residency Unlimited's residency program. We are grateful for the support of the Diva Pharmacy, Rooster Gallery , the Open Society Foundation, NY and the Arts Council of Mongolia. Support is also made possible in part by the New York State Council on the Arts with the support of Governor Andrew Cuomo and the New York State Legislature.