Talks | Aug 1 2012 6:30 PM
RU Talk: Emily Berçir Zimmerman – Held in Trust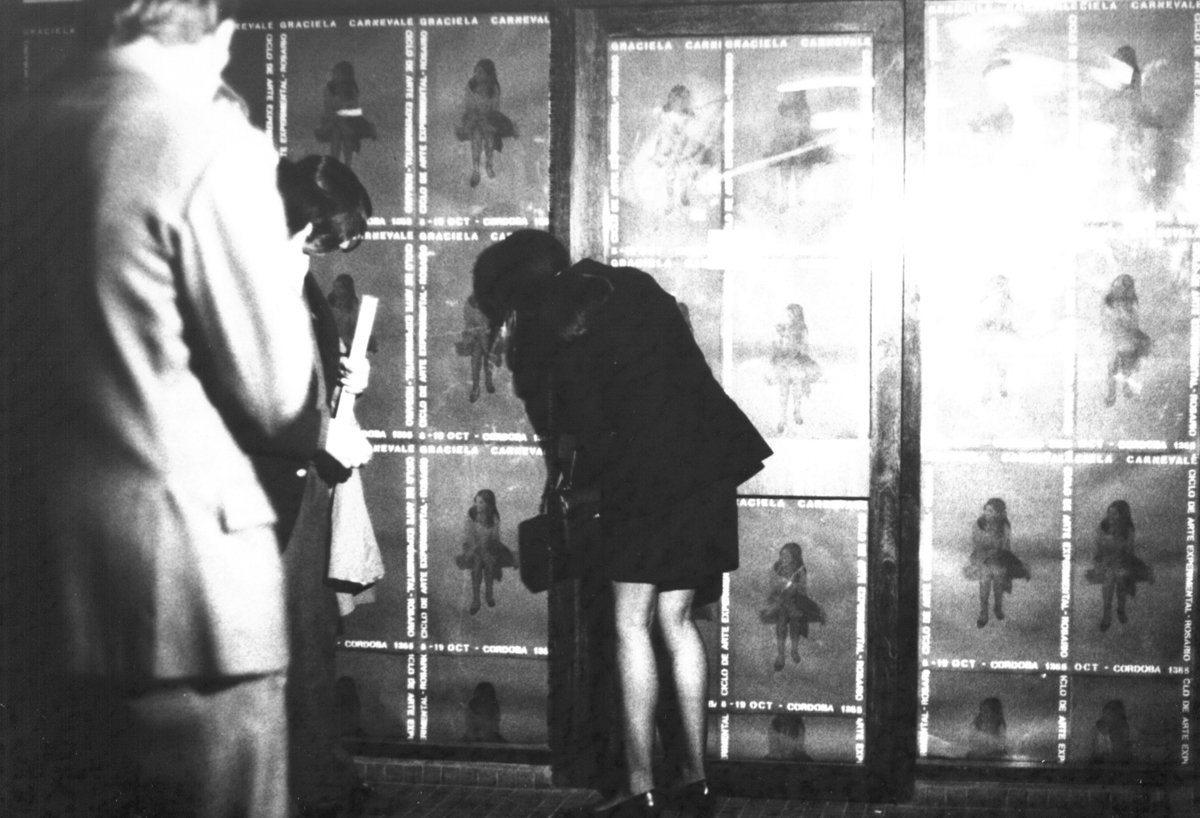 Graciela Carnivale, Action for The experimental Art Cycle, 1968. Rosario, Argentina. Archivo Graciela Carnevale (photo by Carlos Militello)
HELD IN TRUST:
RU Talk: Emily Berçir Zimmerman moderates the panel discussion "Held in Trust" with David Levine, Annie Dorsen and RU artists Irina Baldini and Masako Matsushita.
Tuesday July 31th, 2012 at 6.30 pm
Location:Residency Unlmited
360 Court Street, Brooklyn, NY 11231
directions here
Works that move nimbly between performance and installation challenge viewers to operate outside of known codes for behavior. These situations are often riddled with an anxiety of participation, placing pressure on the tacit trust between the viewer and the artist. This discussion between London-based dance and movement artists Irina Baldini and Masako Matsushita, director and writer Annie Dorsen, theater director David Levine and curator Emily Berçir Zimmerman, will examine the emotional tensions raised by shifting modes of artistic practice, and by the physical and theoretical positioning of the spectator within these new hybridized works. Prior to the panel Irina Baldini and Masako Matsushita will stage a site-specific performance.
This discussion will launch a two-year research project and series of interviews led by Zimmerman focusing on the role of trust in artistic practices that test the boundaries between installation, performance, and participatory art.
Annie Dorsen works in a variety of fields, including theatre, film, dance and, as of 2010, digital performance. Most recently, Hello Hi There premiered at the streirischer herbst festival (Graz), and was presented at Black Box Teatre (Oslo), BIT Teatergarasjen (Bergen), Hebbel am Ufer (Berlin) and PS122 (New York). She is the co-creator and director of the 2008 Broadway musical Passing Strange. Spike Lee has since made a film of her production of the piece, which premiered at the Sundance Film Festival in 2009, subsequently screened at South by Southwest Film Festival and The Tribeca Film Festival, and was released theatrically by IFC in 2010 before being broadcast on PBS' Great Performances. Also in 2010, she collaborated with choreographer Anne Juren on Magical and with Ms. Juren and DD Dorviller on Pièce Sans Paroles. In 2009 she created two music-theatre pieces, Ask Your Mama, a setting of Langston Hughes' 1962 poem, composed by Laura Karpman and sung by Jessye Norman and The Roots (Carnegie Hall) and ETHEL's Truckstop, seen at the Brooklyn Academy of Music's Next Wave Festival. Her pop-political performance project Democracy in America was presented at PS122 in spring 2008.
In addition to numerous awards for Passing Strange, Ms. Dorsen has received several fellowships, notably the Sir John Gielgud Fellowship from the Society of Stage Directors and Choreographers. She has taught at New York University and Fordham University, and is a graduate of the Yale School of Drama.
David Levine's work encompasses performance, theater, installation, and video. Dividing his time between NYC and Berlin, where he is Director of the Studio Program at the European College of Liberal Arts, Levine has directed at the Atlantic Theater Company, the Vineyard Theater/NYC, and Primary Stages/NYC and has presented his performance projects at such international art spaces and surveys as MoMA, Documenta XII, Rohkunstbau, Town House Gallery/Cairo, HAU2/Berlin, PS122/NYC, and the Watermill Center, and the Sundance Theater Lab.
David's work has been featured in The New York Times, Artforum, Theater, Art in America, Bomb, Cabinet, Theater Heute, Art Review, Die Zeit, TDR, The Village Voice, Time Out, and the Believer, and he has received grants from the New York Foundation for the Arts, the Kulturstiftung Des Bundes, and Etants Donnes/French Fund for Performance.
Irina Baldini and Masako Matsushita are two London-based dance and movement artists currently in residency with RU. "Specificity of Circumstances" (http://soi3.tumblr.com/) is a project they have conceived for New York that is a continuation of a previous residency at Southbank Centre where they documented "fragments".
Baldini and Matsushita first met at the Trinity Laban Conservatoire for Music and Dance. Since 2009 they have been collaborating and exhibiting on an ongoing basis, performing in group and solo shows and realizing commissioned work in the UK, Finland and Italy.
When a performance takes place there is a proximity which makes the performance so fragile that anything could interrupt or almost has the right to disrupt. The relationship between performer and viewer is precisely Baldini's and Matsushita's focus of interest. By considering this relationship, their work aims to break a sense of role, implying that there is no hiding from either of the two sides and the communication is more of an exchange. An often complex or diverse space challenges a performer to be aware of what is happening around him and what does this particular space need in that very moment in time. Therefore performance can influence how a visitor perceives the space he enters.

Their residency with RU is supported by South Bank Centre / Collective Movement 2011-2012 program for emerging dance artists and the Lisa Ullman Traveling Scholarship Fund.
Emily Berçir Zimmerman is Assistant Curator at the Experimental Media and Performing Arts Center (EMPAC). After receiving her BA at New York University's Gallatin School for Independent Study, Emily Berçir Zimmerman acted in various roles for adventurous non-profit arts organizations in New York, including Location One and Creative Time. In 2004, she became a research assistant for Art and the Moving Image and a curatorial assistant to Tanya Leighton at the Institute of Contemporary Art, Philadelphia. A graduate of Bard's Center for Curatorial Studies, her thesis work was devoted to the relationship between embodiment and digital. Her recent curatorial projects include Uncertain Spectator, and Slow Wave: Seeing Sleep. Emily was recently awarded the Loris Ledis Emerging Curatorial Fellowship for BRIC Contemporary Art, where she will show So To Speak, an exhibition devoted to the translation of images to words in January of 2012.