Exhibitions | Jun 19 2018 6.30pm
RU Exhibition: Zerre by ha:ar | Hande Şekerciler and Arda Yalkın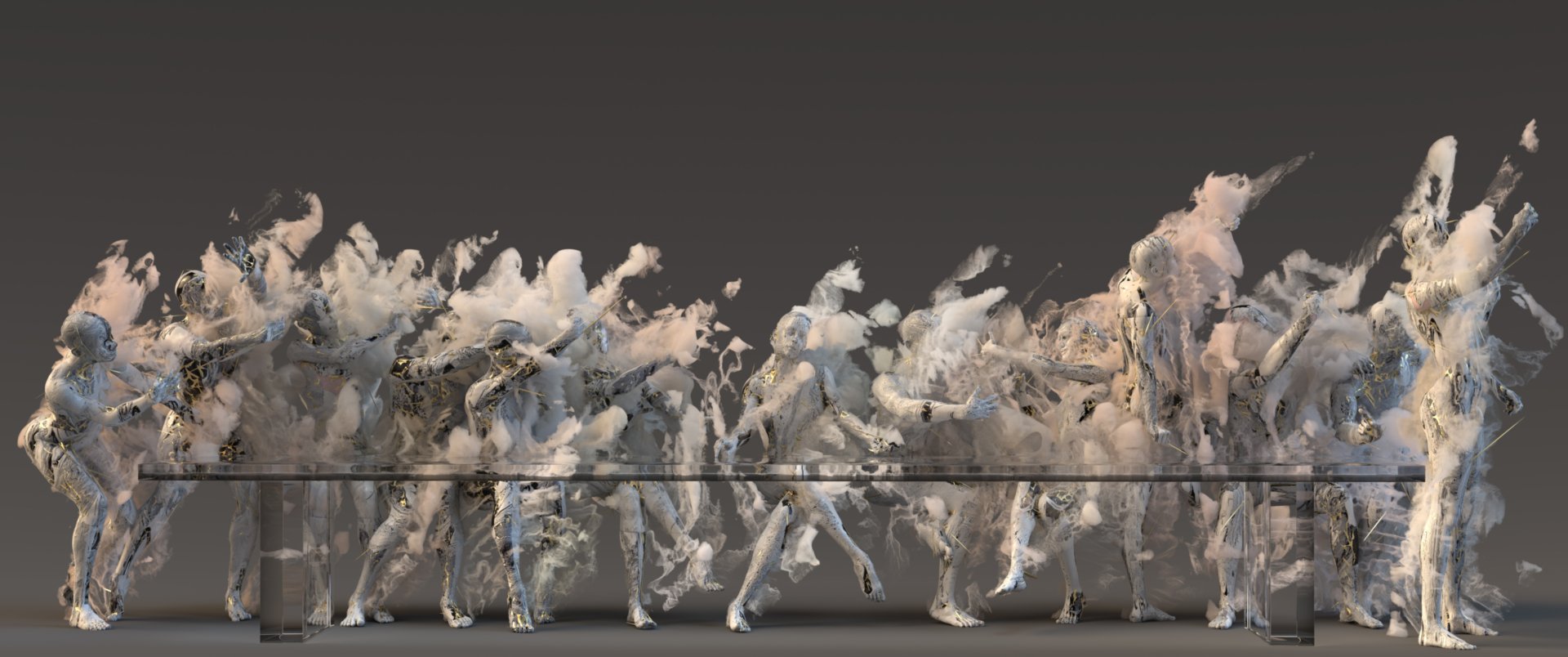 Impossible Sculptures #1, 2018. 200 cm x 84 cm Archival pigment print / Diasec 3+1 Editions
Tuesday, June 19, 2018
6.30pm (free and open to the public)
Residency Unlimited (RU)
360 Court Street (enter the Church through the main entrance)
Brooklyn, NY 11231
Zerre is the title attributed by the duo ha:ar to a series of exhibitions featuring three-dimensional virtual sculptural experimentations that are  triggered around a central figurative sculpture and a large-scale video-sound installation.  Zerre "evolves" at different times and places. The pop up exhibition at RU is its first iteration and consists of four digital prints and a sculpture located in the center  of the RU space. The sculpture displays simultaneously two different moods of a character. We can read how the figure has difficulty in maintaining the calm expression on its face from the tension in its hands. The digital sculptural compositions suggest the conflicts facing the depicted character in the world it lives in. Zerre embodies our relationship with our bodies, with technology and with other people, and provides a critical outlook on how we form these relationships. ha:ar names these digitally modeled sculptures as "Impossible Sculptures" the reason being that it is almost impossible for them to be realized in the physical world.
Although not featured in this exhibition, Zerre also consists of a large scale video-audio-performance installation. In order to reveal the inner world of the central sculptural figure, ha:ar harks back to the improvised musical arrangements which orchestras animated for silent movies. In this new piece, viewers will experience the instant reactions of ten jazz musicians from all over the world as they react spontaneously and independently from each other to a 6-minute video produced by ha:ar. The video arrangement consists of eleven synchronized images, ten audio channels and 3-dimensional modeling and animation software as a single song.
***
Based between Istanbul and New York, the duo ha:ar consists of the sculptor Hande Şekerciler and digital based works producer Arda Yalkın, They are pursuing a new form of expression by blending their individual practices. Both share an admiration for classical art works and new technology. They pride themselves in mastering a wide range of production methods ranging from traditional sculpture and painting, to digital video, animation, 3D modeling together with current mainstream media aesthetics. Overall their practice is informed by questions relating to the civilization we create, the technology we produce, and conflicts we generate with our way of being,  Their work has been exhibited internationally in galleries and museums in Turkey, USA, Spain, Italy, France, England, Greece and Russia.
This program is made possible with the support from Zeyno-Muhsin Bilge Collection and Feride-Güney İkiz Collection.