Exhibitions | Jun 12 2013
RU Exhibition: "The Trial", video installation by Otavio Schipper and Sergio Krakowski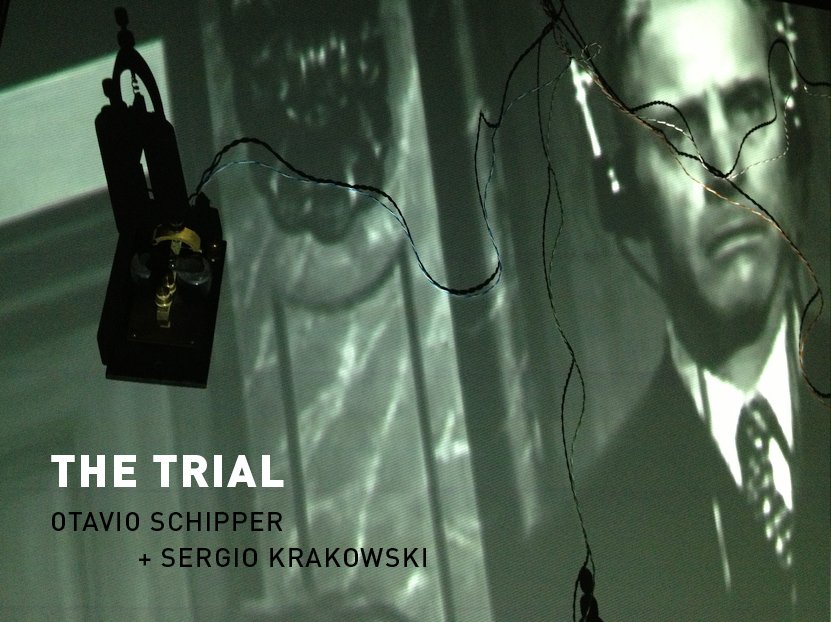 Wednesday, June 26, 2013, 7:30–9:30pm
Free and open to the public
Residency Unlimited
360 Court Street #4 (big green doors)
Brooklyn, NY 11231
"The Trial"
Video Installation, 2013
Variable Dimensions
RU resident Otavio Schipper and musician Sergio Krakowski, present a work consisting of a video projection - clips from Judgment at Nuremberg, a 1961 American drama film - interacting with four telegraph machines. The dialogue of the characters in the film is translated in real time by early telecommunications technology.
A series of military tribunals, held by the Allied forces after the end of World War II - and most notable for the prosecution of prominent members of the political, military, and economic leadership of Nazi Germany - the Nuremberg Trials were an early experiment in simultaneous translation. The court congregated an ample number of translators, interpreters, and stenographers, for each of the four languages spoken during the trial: English, Russian, French and German.
Otavio Schipper received a degree in Physics from the Universidade Federal do Rio de Janeiro in 2003. The artist's practice includes the production of installations, sound pieces, sculptures, objects, drawings and photographs – the ensemble of which proposes an investigation into the realms of language, and the communication between objects. An example is 'Mechanical Unconscious', a sound installation consisting of a dialogue between old-fashioned telegraph machines, synthetic voices and telephone sounds, in which the limits between natural and artificial language are experienced. In recent works the artist has been exploring the nature of silence and the memory of sound, such as in "Empty Voices", an installation composed by several bronze-casted tuning forks, presented in a prepared acoustic space.
Sergio Krakowski holds a doctorate in Mathematics from the Instituto de Matemática Pura e Aplicada. He has worked at the Sony/CSL-Paris lab developing a system that uses rhythm as an interface between musicians and computers. This project was presented at the SIGGRAPH '09 conference in the poster, talk and performance categories. He created the TelecotecnoFunk project for the Biscoito Fino recording label, presented in the Humaitá pra Peixe Festival at the Circo Voador and the SESC Noites Cariocas Festival at the Pier Mauá. He paticipated in the Mostra Internacional de Música de Olinda (MIMO) as part of a trio that included Gonzalo Rubalcaba and David Linx, in musician Francis Hime's show in Montreux and at the Orsara Jazz Festival as part of a trio with Italian jazz guitarist Lucio Ferrara and singer Cristina Renzetti. He has taught percussion workshops in Milan, London, Brighton, and Montpelier.
Otavio Schipper's 2 months residency at RU  (May-June 2013) is supported by the Programa de Intercâmbio e Difusão Cultural, Secretaria de Fomento e Incentivo à Cultura do Brazil. as well as a private collector from Brazil.
RELATED: