Exhibitions | Sep 26 2012 6:00 PM
RU Exhibition: "Q" by Theo Edmonds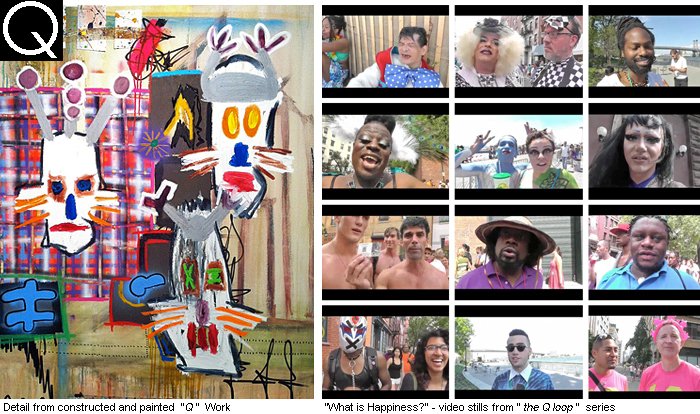 Artist: Theo Edmonds 
/ Installation Painting, Performance Poetry, New Media
*Performance Includes Jacob Brashear (Kentucky Cellist and Boston University Film Student)
Show Opens: Wednesday, September 26
6pm-9pm with Short Performance "Appalachian Gothic" at 7pm
Show Viewing Continues September 27 and 28 from Noon-6pm w/ Artist on Site
Location: Residency Unlimited
360 Court Street (green door),
Brooklyn, NY 11231
directions here
"Q":

Some people get blown into bedazzled, hourglass lands.  Like Dorothy, they become stuck between two worlds.  Neither truly of their own making.
These in between places cultivate the ultimate combination of optimism and fear; of revolution and reverence;  of make believe and memory... it is called desire.  Desire is Q.  Art is Q.
Like the memory quilts that have been pieced together for almost 200 years by his Appalachian ancestors, Theo's painted, constructed and layered memory Quilts navigate a semi auto-biographical narrative.  His performance poetry and video work unfold ideas beyond the specific and anecdotal limits of his own Q journey and encourage a broader dimension of meaning which encompasses the experience of many contemporary outsiders in ways that reach beyond easy labels and convenient classifications.
Q is a form of mystical technology that allows anyone to be a runaway Dorothy and inspire revolutionary action by finding home, not at the other end of a rainbow, but in one's own skin and in exactly the place where they stand.
More info here
Theo Edmunds:
Born in the Appalachian mountains of Kentucky to a Scotch-Irish-Cherokee family, Theo Edmonds began life as a champion clog dancer.  In his twenties, he earned his law degree and a Master's of Healthcare Administration from Tulane University in New Orleans.  In his thirties, after years of corporate life, he ripped himself out of that world.
Today, he is an interdisciplinary artist whose work investigates the path of individual self-actualization within conformist-based societal norms. Outsider positioning within the dominant cultural narratives, "Q" politics and politics of representation are major themes in his work.  He will complete his MFA at the University of Kentucky School of Art and Visual Studies in 2013.
He is currently collaborating on a new work of experimental theater with internationally acclaimed writer, performance artist and cultural icon of the New York Underground, Penny Arcade.
Theo Edmunds' RU residency is made possible with the support of the University of Kentucky College of Fine Arts. This event is made possible in part by the New York State Council on the Arts with the support of Governor Andrew Cuomo and the New York State Legislature