Talks | Sep 25 2019 6:30 pm
RU Talk: Shanice Smith, The Tropics Bite Back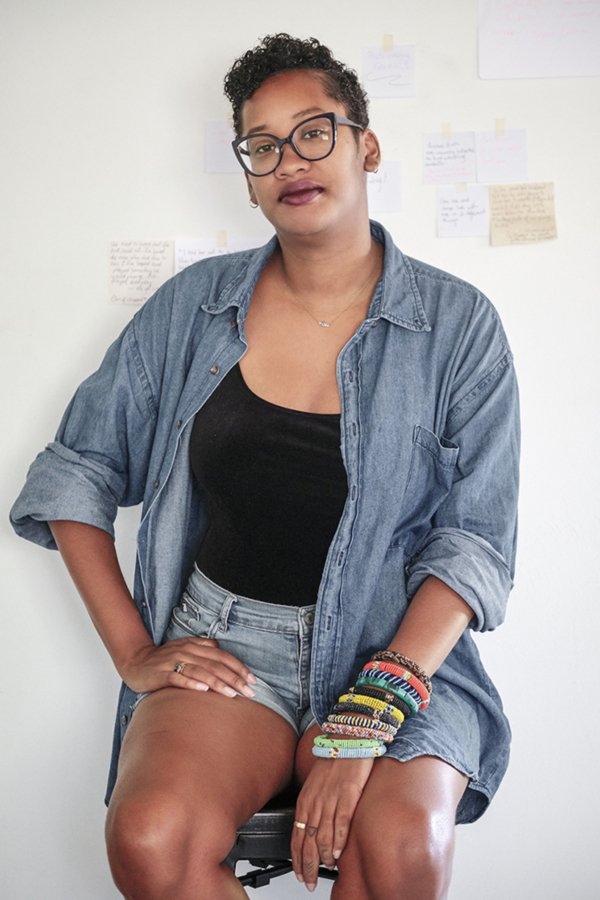 Portrait of the artist. courtesy of Shanice Smith.
Wednesday, September 25, 2019
6:30 pm (free and open to the public)
Residency Unlimited (RU)
360 Court Street (enter the Church through the main entrance)
Brooklyn, NY 11231

Moderated by Aisha Shillingford and Livia Alexander, explorers of the power of food and art.

The Tropics Bite Back
(after Valerie Loichot's book of the same name. "The Tropics Bite Back: Culinary Coups in Caribbean Literature")
Over the course of the evening, RU artist, Shanice Smith, will discuss her thoughts and ideas around food as a form of therapy, with a focus on Caribbean women of color. Food can be a safe space/a form of trauma bonding and is a token and signifier of communicative exchange. Food can also be used as a method of building community and belonging within a Caribbean context. At this occasion, the artist will invite the audience to taste a few dishes from her country, Trinidad & Tobago, that she will prepare while inviting the public to discuss issues affecting women within their societal circles. Guests will include the moderators Livia Alexander and Aisha Shillingford of intelligent mischief.
Currently, in residency at RU, Shanice 's work explores gender-based issues. She uses "deceptively soft and light pieces" to deconstruct violence faced by women and children in our societies with a focus on the objectification and commodification of women's bodies, and the role of the media in this process. Through visual representations, Shanice creates awareness by exploring the 'why' factor and probing "the things that are hardest to talk about, but in a delicate, and beautiful way." Her artistic inspiration comes from her own journey of self-discovery—a confrontation of the self, more importantly, from her mother's battle with her own past and the traumas survived. These stories not only serve as inspiration and motivation for the current work but also bring about the transformation of silence into a language of action.
......
Aisha Shillingford has a passion for working with others to develop innovative solutions to complex social problems. She combines her interests in organizational development, strategy, innovation, entrepreneurship, creativity, cooperative development, community organizing, and social justice in her own work as well as her work with clients. Aisha is a member of the Intelligent Mischief creative collective and is working on ways to build capacity amongst emerging leaders in the Movement for Black Lives.
Livia Alexander is a curator, writer, and Assistant Professor of Global Contemporary Cultures at Montclair State University. Her work is focused on examining the relationship between art infrastructure and artistic production, urbanity, cultural politics of food and art, and contemporary art from the Middle East and Southeast Asia. She has curated and produced numerous art and film programs, exhibitions and events, showcased at the MoMA New York, Tate Modern, Sharjah Art Foundation, Queens Museum, The Film Society of Lincoln Center, Cinematheque Tangier, and many more. Alexander is co-producer of the research-based interactive documentary, Jerusalem, We Are Here (Canada/Palestine/Israel, 2016), directed by Dorit Naaman. Her award-winning scholarly writing and criticism have appeared in the Journal of Visual Anthropology, Framework, MERIP, Hyperallergic, Art Africa, and Harpers Bazaar Art Arabia and as book chapters and catalog essays.
This program is made possible with support from the Caribbean Art Initiative and the Cultural Development Fund, NYC Department of Cultural Affairs.