Talks | May 21 2013 6:30 PM
READING KHVAY SAMNANG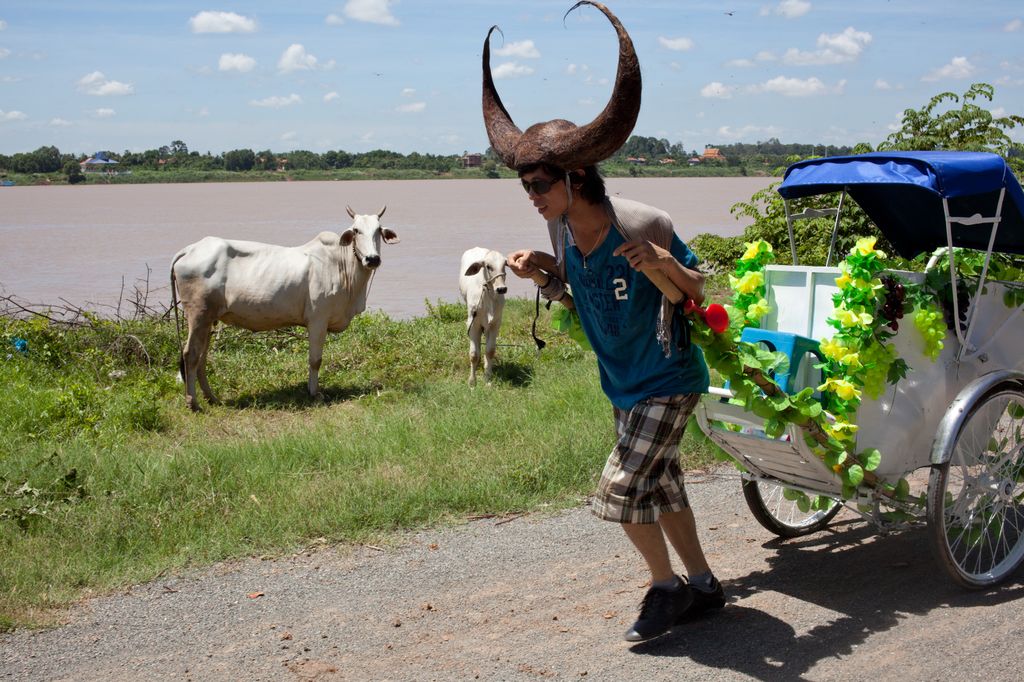 Khvay Samnang, Samnang Cow Taxi Moves Sand, Phnom Penh, 2011, Performance, Courtesy of the Artist
Tuesday May 21, 2013, 6.30-8.30pm
Free and open to the public
Residency Unlimited
360 Court Street #4 (big green doors)
Brooklyn, NY 11231
A lively evening of photographic and performance screenings, readings and conversation with Cambodian artist Khvay Samnang who will be joined by curators June Yap, curator "No Country: Contemporary Art for South and Southeast Asia", Guggenheim UBS MAP Global Art Initiative, Joshua Barndt, Teaching Fellow, Living Arts City, Parsons the New School for Design and Vuth Lyno, Artist and Curatorial Assistant, IN RESIDENCE. The event concludes Khvay's two-month New York residency with Residency Unlimited and in studio at Casita Maria Center for Arts & Education.
With subtlety and humor, Khvay's artistic practice engages with concepts of mediation, change and continuity. The figure is prominent in his serial photography and performance work, in which he documents himself and others enacting poignant gestures. These he considers offerings for new interpretations of history, longstanding cultural practices, and contentious current affairs.
As part of his RU and Casita Maria residency, Samnang conducted a series of weekly workshops for two months with fifteen students of Casita Maria, a 78 year old cultural and education center located in the South Bronx, one of the poorest Congressional Districts in the United States. This workshop concluded with the collective creation of one of Khvay's Cow Taxis and a series of head pieces created by the students who were inspired by the shapes of the horns of wild animals.
This event is presented in collaboration with IN RESIDENCE, the Visual Art program of Season of Cambodia, co-curated by Leeza Ahmady and Erin Gleeson. IN RESIDENCE is a citywide visual arts program that activates artistic practice through two-month residencies for 10 contemporary artists and one curator, alongside singular exhibitions and transdisciplinary public programs across 15 New York City arts institutions. By extending the artists' practices as ways of generating and reflecting both experience and knowledge, IN RESIDENCE offers audiences new perspectives on Cambodia's past and present.
The Season of Cambodia festival of which IN RESIDENCE is a part brings the work of 125 Cambodian artists to New York for April and May 2013.  Season of Cambodia is an initiative of Cambodian Living Arts, a nonprofit organization based in Phnom Penh and the United States. For more information about the program and a complete schedule of events, visit Season of Cambodia: IN RESIDENCE.
Khvay Samnang's residency is a joint effort between Residency Unlimited (RU) and Casita Maria Center for Arts and Education.
About artist and partners:
Khvay Samnang was born in 1982 in the province of Svay Rieng, Cambodia. He lives and works in Phnom Penh. Khvay holds a BA in Painting from the Royal University of Fine Art, Phnom Penh (2006). He is a founding and active member of the first contemporary artist collective Stiev Selapak / Art Rebels (2007 -), who established Sa Sa Art Gallery (2009 – 2010) and SA SA BASSAC (2011 -) the first dedicated exhibition spaces for contemporary art in Cambodia, as well as Sa Sa Art Projects, a community-based, knowledge-sharing platform and experimental residency program (2010 -). Khvay is a two-time resident at Tokyo Wonder Site (2009, 2011). Select solo exhibitions include: Human Nature, PhotoPhnomPenh at Royal University of Fine Arts, Phnom Penh (2011) and Untitled (2011) and Newspaper Man, SA SA BASSAC (2012). Select group exhibitions include: Deep S.E.A., Primo Marella Gallery, Milan; ROUNDTABLE, Tobias Rehberger Pavilion 'You Owe Me. I Don't Owe You Nothin.' 9th Gwangju Biennale; Terra Incognita: Noorderlicht Photography Festival, The Netherlands; Current Views and Actions: Photography and Performance Documentation from Phnom Penh, Northern Illinois University Museum, USA.
CASITA MARIA CENTER FOR ARTS & EDUCATION continues its 78-year legacy of serving youth of the South Bronx community and other New Yorkers at its new, state of the art facility with comprehensive kindergarten through college arts and education programs supported by a family center, a gallery and a theater to bolster learning. Casita offers safe, rigorous and creative programs both during the school day and during out-of-school time that help transform the lives of the youth we serve. Its mission is to empower youth and their families by creating a culture of learning through high quality social, cultural and educational opportunities. For more information, please visit http://www.casitamaria.org.
IN RESIDENCE invites New York City audiences to engage with new perspectives on Cambodia's history and contemporaneity through a citywide visual arts program centered on two-month residencies, complimented by a dynamic map of public programs including solo exhibitions, screenings, symposiums, open studios, and conversations with artists and curators critically involved in shaping Cambodia's unique contemporary art scene. For more information, please visit www. seasonofcambodia.org