Exhibitions | Sep 1 2013 4:00 PM
Philip Emde Destroyed My Life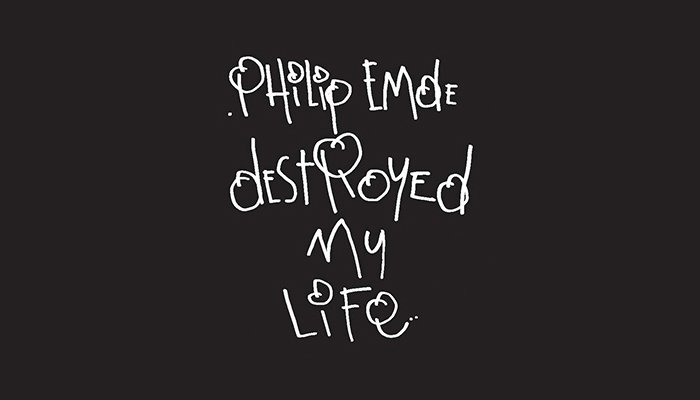 A solo exhibition by Philip Emde
Curated by Jodi Waynberg
This exhibition is presented in collaboration with Artists Alliance Inc.
Exhibition Dates: August 3, - September 1 2013
Reception: Saturday, August 3 from 4-6:30 pm
Location: Cuchifritos Gallery + Project Space
120 Essex Street (inside Essex Street Market)
Created over a three-year period, Philip Emde's trilogy of artist books–Misanthrop Ich, Schwarze Galle, and Arztbesuch–is a chronicle of drawings, quotes, and conversations collected from the artist's personal experiences and observations. Reproduced page-by-page in the meticulously bound and published volumes on view, the contents reveal Emde's attempt to cope with everyday life, threaded together under the headline, "Philip Emde Destroyed My Life." Originally scrawled across the final pages of Arztbesuch, ".Philip Emde hat mein Leben zerstört.." marked the end of a three-year period in the artist's life and the beginning of a body of work subsumed under the same declaration. Perhaps a self-inflicted accusation or one delivered to the artist in earnest, Emde makes an advance on himself, encouraging the account with accompanying t-shirts, buttons, stickers, and postcards.
With strong quick gestures, Emde gently captures the details of human relationships, documenting the quietness of the moments between our anticipation and waiting for something greater to come. His transcription of private events interwoven with fragments of reality becomes proof of the life taking place behind the unopened curtain. In contrast to the longing described in the above quote, Emde's trilogy weaves together a collection of sights and sounds that amend this sense of loss. The ordinary becoming as anonymous as it is familiar.
For this exhibition, Emde invites us further into his world, presenting the three volumes as a large-scale immersive video installation.
Philip Emde (b. 1976, Mannheim, Germany) works and lives in Cologne and Neustadt Weinstrasse. Emde studied Illustration and Design at the University of Applied Sciences in Hamburg. In 2011, he was awarded the Joseph und Anna Fassbender Preis, and the Balmoral New York Scholarship. Since 2011, Emde is co-founder of the exhibition space Goldwald Projekte.
The work presented in Philip Emde Destroyed My Life is the most recent iteration of the artist's ongoing project and has been made possible with support from KünstlerhausSchloss Balmoral / Stiftung Rheinland-Pfalz für Kultur. A very special thank you to Enrique Figueredo for his design assistance and in part, by public funds from the New York City Department of Cultural Affairs in partnership with the City Council