Activities | Feb 28 2021 10am - 11:15am
Online Kundalini Yoga session with Colleen Martin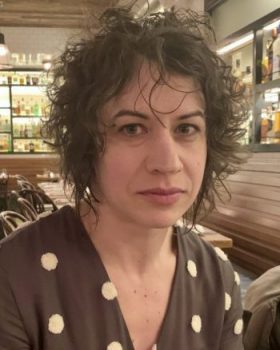 Feb 28, 2021 10:00 am EST
Register the virtual session here.
Led by Colleen Martin, this new monthly Kundalini yoga series focuses on the connections between creativity and well-being. Colleen is an artist and Kundalini yoga instructor based in Brooklyn. She has been studying the mind-body connection for over a decade. She became a certified Pilates Mat Instructor in 2009 and is currently a KRI Certified Instructor of Kundalini Yoga and Yoga Alliance RYT, teaching Kundalini Kriya Yoga at Hari NYC The Treehouse, focusing on the energetics of yoga, meditation, breath work and body alignment.
Yoga has breathed new life into Colleen's creativity. Her painting practice is another form of meditation, a self-exploration and visual expression. The combination develops the subtle mind-body awareness and confidence central to bringing vitality, joy, and curiosity to her life. Her goal is for each person to explore their own relationship with yoga, and to allow curiosity of the present moment to open up new avenues of creative exploration.
Suggested donation to Colleen $5
Venmo @Colleen-Martin31
PayPal