Exhibitions | Jun 14 2016 7:00 pm sharp
"OIKOS," a performance by Hector Canonge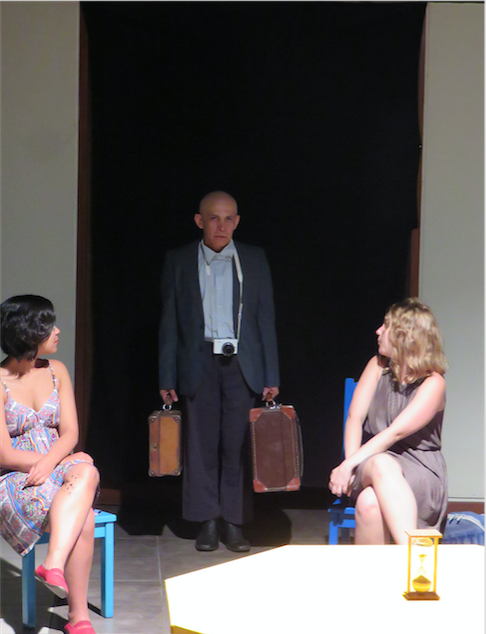 Courtesy of Alliance Française © Hector Canonge 2015.
Tuesday, June 14, 2016
Doors open at 6:30pm. Performance at 7:00pm sharp  (free and open to the public)
Residency Unlimited (RU)
360 Court Street (enter the Church through the main entrance)
Brooklyn, NY 11231
After living most of my adult life in the United States, in 2012 I left the comfort of my home in New York City, and headed to South America. I gave up my apartment, closed my studio, got rid off my belongings, and embarked on a journey of Self (re)discovery. I visited the place where I had been born in Buenos Aires, Argentina, stayed in the house where I lived with my grandparents as a child in Cochabamba, Bolivia, and retraced the route my parents took as they moved during the dictatorial regimes that afflicted the region. For three years I journeyed through various countries in South America and Europe where I also reconnected with my father's history and his family's trajectory in Franco's Spain.
I returned to NYC in the fall of 2015. The experiences I had while looking for a place to live are the foundation for the project "A Home of Our Own." OIKOS (from the Greek for home or family) is a Performance Art presentation that summarizes the challenges I faced before getting my own apartment: The endless roommate interviews, the visits to unscrupulous real state agencies, the replies to online adds, the hundred of calls to postings on the streets, and the fear of being left homeless. OIKOS is the first of seven performances related to my research and work in progress "A Home of Our Own" initiated as resident artist in Residency Unlimited (February – April 2016).


--
Hector Canonge is an interdisciplinary artist, curator and cultural entrepreneur based in New York City. His work incorporates the use of new media technologies, cinematic narratives, performance, and socially engaged art to explore and treat issues related to constructions of identity, gender roles, psychogeography, and the politics of migration.  Challenging the white box settings of a gallery or a museum, or intervening directly in public spaces, his performances mediate movement, endurance, and ritualistic processes.  Some of his actions and carefully choreographed performances involve collaborating with other artists and interacting with audiences. His installations, interactive platforms, and performance art work have been exhibited and presented in the United States, Latin America, Europe and Asia.
As cultural entrepreneur, Canonge created, and organizes independently the annual Performance Art Festival NYC, ITINERANT. He started projects such as ARTerial Performance Lab (APLAB), an initiative to foster collaboration among performance artists from the Americas, PERFORMEANDO, a program that focuses on featuring Hispanic performance artists living in the USA and Europe, NEXUSURNEXUS a virtual platform for Live Action Art, and PERFORMAXIS, an international residency program in collaboration with galleries and art spaces in Latin America. Canonge's work has been reviewed by The New York Times, ART FORUM, Art in America, New York Daily News, Manhattan Times, Hispanic Magazine; by major networks ABC, NBC, CNN, CBS, UNIVISION, etc., and online by Art Experience NYC, Hyperallergic, Turbulence, Art Card Review, and New York Foundation for the Arts' bulletin NYFA News. From February to April 2016, Canonge was a resident artist working on his project "A Home of Our Own" at Residency Unlimited in Brooklyn, NYC, US.
--
This program is made possible with support from the Dedalus Foundation and funding from the National Endowment for the Arts (NEA).


RELATED: