Event | Nov 2 2012
New International Art Initiative in Louisville Launches Friday, Nov 2nd.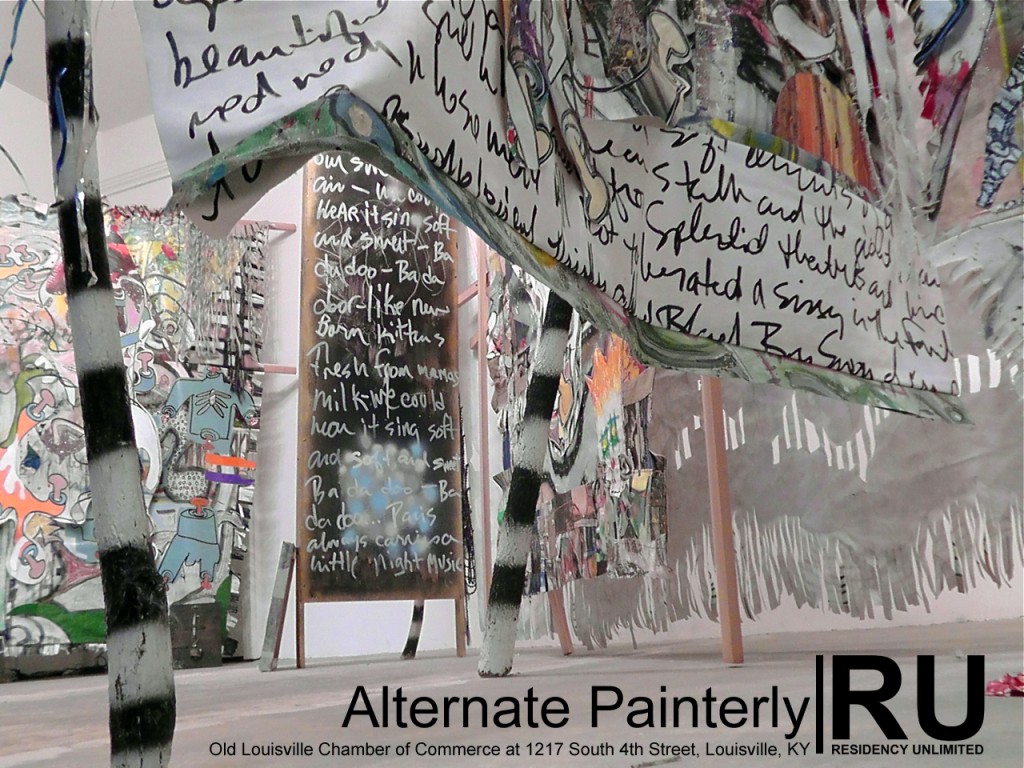 LOUISVILLE, KY  - Brooklyn's Residency Unlimited (RU) and IDEAS 40203 (International Dialogue and Engagement Art Space + Zip Code) are pleased to present their inaugural group exhibition "Alternate Painterly" on Friday November 2, 2012 (6pm-9pm) with works by Theo Edmonds (Kentucky), Tamas Veszi (New York) and Wojciech Gilewicz (Poland). The overarching concept of "Alternate Painterly" is to explore the act of painting in the 21st century through the diverging practices of 3 multimedia artists.  The exhibition is curated by New York based University of Louisville alumn, Boshko Boskovic.
This new non-profit presentation space is located in the Old Louisville Chamber of Commerce at 1217 South 4th Street, Louisville, KY.  At 7pm there will be a special presentation by Residency Unlimited co-founder Nathalie Anglès outlining additional plans for this unique collaboration.
http://www.residencyunlimited.org
ABOUT THE EXHIBITION
With the site specific installation "Q: Neuro-Architecture, Pop-Mythology & Unreal Truths", Kentucky based artist Theo Edmonds' expanded 3-D paintings unleash a powerful, symbolic imagination. Exploring the intersection of neuroscience, mythology and shamanism, Edmonds pieces together a myriad of canvases and painted tree branches that create quilt-like architectural forms whose expressive fusion reveal a semi autobiographical narrative exploring the contemporary outsider's experience in the American south.
Wojciech Gilewicz videotapes himself in various social, political and cultural backgrounds to test if art can ever catch up with what is going on. Posturing the traditional painter in "Painter's Painting", the viewer can never discern what is actually being painted on the canvas. Gilewicz refers to this work as a global journey through cultural stereotypes and clichés in which he examines the resistance of art to reality and its capacity to depict reality. "Intrude" depicts another action by Gilewicz where he places trompe l'oeil urban based paintings in perfect imitation of their immediate surroundings in the cityscape – in this case Shanghai. By repeating these same actions in diffferent locations all over the world, they acquire an ethnographic dimension and reveal fractures in the urban tissue.
"Repetition Of The Self" is a series of 9 self portraits by the New York based artist Tamas Veszi that investigate the duality between our image as a constant and the change that occurs daily as an abstract progress in time. Neither figurative nor abstract, Veszi's paintings reflect the impossibility of seeing oneself impartially; their hybrid nature is created by the meeting of organic elements and synthetic objects and lead the viewer into " a not yet identified space" as coined by the artist.
ABOUT THE ARTISTS
Theo Edmonds is a transdisciplinary artist who will complete his MFA at the University of Kentucky School of Art and Visual Studies in 2013. His work has been exhibited at Clamp Art, New York, Residency Unlimited, Brooklyn, Radiator Art, Long Island City, Land of Tomorrow, Louisville, EBC Gallery, Paris, France and Tuska Center for Contemporary Art, Lexington. He is currently collaborating on a new work of experimental theater with internationally acclaimed writer, performance artist and cultural icon of the New York Underground, Penny Arcade.
http://www.theoedmonds.com/
Wojciech Gilewicz lives and works between Warsaw and New York. He works with painting, video, photography and installations. His practice extends to site-specific projects as well as performative actions. Gilewicz has exhibited at institutions including Foksal Gallery, Warsaw; SculptureCenter, New York; Contemporary Art Museum St. Louis; National Museum of Contemporary Art / Changdong Art Studio, Seoul and Aspen Art Museum amongst others. His video works have been screened in venues such as Centre Pompidou, Paris; Reina Sophia National Museum, Madrid; HKW, Berlin and Palais de Tokyo, Paris.
http://www.gilewicz.net/
Tamas Veszi is a New York multi media artist, whose work includes painting, drawing, video and installation.  His pieces have been shown at the TINA B. Contemporary Art Festival in Prague, The Center of Photography and Moving Image in New York, the Allan Nederpelt Gallery in Brooklyn, Schmidt Gallery, Budapest, Glow Video Art, Berlin, Frederico Seve Gallery, New York, Perseverance, London, Galerie Thomas Henry Ross, Montreal among others.
http://www.veszi.com/
ABOUT IDEAS 40203
Located in the Old Louisville Chamber of Commerce, IDEAS 40203 is a new non profit presentation space.  This joint initiative is conceived by Kentucky and New York creative practitioners whose aim is to build lasting connections between Kentucky, New York and international contemporary artists and the broader arts community. IDEAS 40203 will feature a year long rolling exhibition program of Kentucky, New York and international emerging and mid-career artists.  Additionally, plans outlining opportunities for Kentucky-based universities and colleges will be announced at the launch event.
ABOUT RESIDENCY UNLIMITED
Residency Unlimited (RU) is a New York based non profit arts organization that reshapes the notion and purpose of artists in the 21st century by developing customised residencies and strategic partnerships with collaborating institutions; RU departs from the traditional studio program model and explores a more expansive approach to innovative action across multiple platforms.
http://www.residencyunlimited.org
RELATED: