Talks | May 10 2018 1pm
Meet Over Lunch: alt_break art fair – Audra Lambert, Kimberly Kitada and Adam Zucker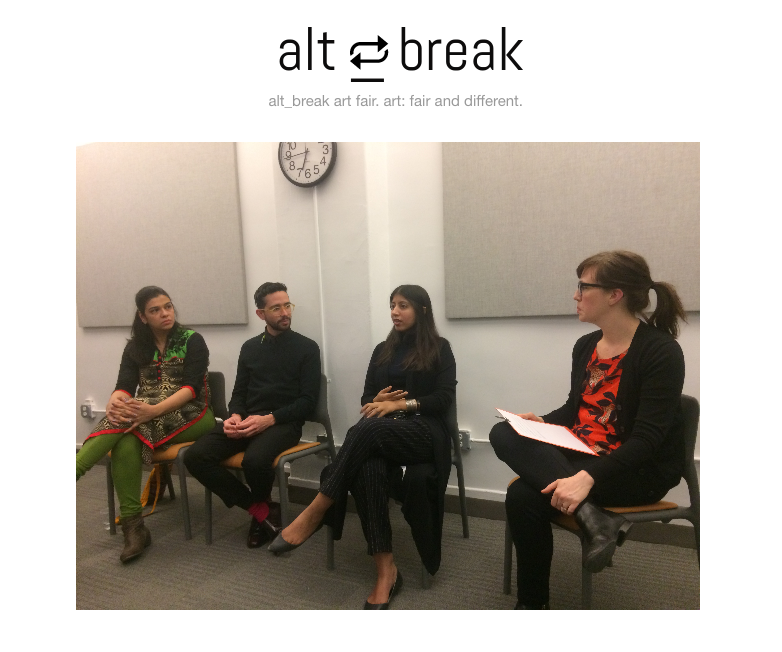 Artists (L--R) Dhanashree Gadiyar, Lionel Cruet, Hiba Schahbaz and Upwardly Global's Sarah Olson in conversation as part of Arts & Activism for Immigrant Communities, alt_break art fair 2017: United
Thursday, May 10, 2018
1pm (free and open to the public)
Residency Unlimited (RU)
360 Court Street (enter the Church through the main entrance)
Brooklyn, NY 11231
The alt_break art fair  team (Audra Lambert, Kimberly Kitada and Adam Zucker) will speak about its most recent edition, GROUNDED, in Spring 2018. This iteration began with a series of public programs that focused on ways in which grassroots efforts can come together to make a positive impact on environmental stewardship. These programs included an interactive mask-making workshop co-organized with Maskbook; a postcard making campaign to raise awareness about plastic pollution; and a mirror shield project in homage to artist Cannupa Hanska Luger. The exhibition will take place in May 2018 with artists Virginie Marchand and Angela Arrocha.
Founded in 2016, alt_break art fair provides free and accessible contemporary art programming and exhibitions through partnerships with local, community-based nonprofits. alt_break art fair takes place during NY Art Week in early March each year, coinciding with established art fairs such as The Armory Show. Co-founders Audra Lambert, Kimi Kitada, and Adam Zucker are independent curators based in New York, and their respective curatorial practices similarly highlight the potential of art as a means to instigate social change.
***
Audra Lambert (b. 1987, New Orleans) is an independent curator and art critic based in New York City and Editor-in-Chief of ANTE. mag, a platform for under-the-radar contemporary arts + culture.  Lambert is Founder/Chief Curator of Antecedent Projects (2014), a NYC- based curatorial consultancy focused on site-specific projects.
Her current curatorial project, "Hey, Wow: Works by Oded Halahmy", opens at the Yeshiva University Museum in April 2018. Lambert has curated exhibits with the White Roof Project (2015), Flux Art Fair (2016) and New York City Parks Dept's Arsenal Gallery (2017).  Lambert currently serves as Curatorial Manager for Art in Odd Places 2018: BODY, and is planning a Fall 2018 exhibition with Fountain House Gallery in Midtown Manhattan.
Kimi Kitada is an independent curator based in New York. Since 2014, she has worked as Public Programs & Research Coordinator at Independent Curators International (ICI). She co-founded the curatorial collective 7x8, along with collaborating curators based in London, New York, Toronto, Singapore, and Rome. Recent curatorial projects include: (in)complete at TEMP Art Space in New York, NY (2013), 7x8 Curatorial Conversations at Budapest Art Market in Budapest, Hungary (2013), 7x8 Decay at ARTplacc in Tihany, Hungary (2014), Postscript: Correspondent Works at artQ13 in Rome, Italy (2015), and reset at Garis & Hahn, New York (2016). She received a BA in Art History and Classics from Bucknell University, and an MA in Museum Studies from New York University.
Adam Zucker is an art historian, curator, artist, aspiring educator, and lifelong New Yorker. He holds an M.A from the City College of New York in Art History/Museum Studies. From 2011-2014 Adam was the co-founder and artistic director of et al Projects, a Brooklyn based gallery committed to showing emerging contemporary artists and under recognized historical artists. As an independent curator, he has organized multiple gallery and museum exhibitions. He is a co-founder and the Director of Education at ​alt_break​, an alternative art fair that provides free and accessible contemporary art programming and exhibitions through partnerships with local, community-based nonprofits. His writing has been published in Berkshire Fine Arts (online), Sculpture Magazine, Black Cat (art journal), and several exhibition catalogs. Adam is the founder and author of the ​Rhino Horn Group blog​, a contemporary discourse on socially engaged art and figurative painting; and ​Artfully Learning​, where he writers about contemporary art through the lens of education. His curatorial philosophy is to provide a platform for artists whose work examines multidisciplinary approaches to addressing contemporary issues. He is interested in how artistic practice can inform and inspire other disciplines such as politics, education, science, and social justice.
The Meet Over Lunch series is a monthly invitation to local and visiting curators to present their practice and projects over lunch to the RU residents and public.