Talks | Oct 29 2014 7:30 pm
Lu Yang in discussion with Xin Wang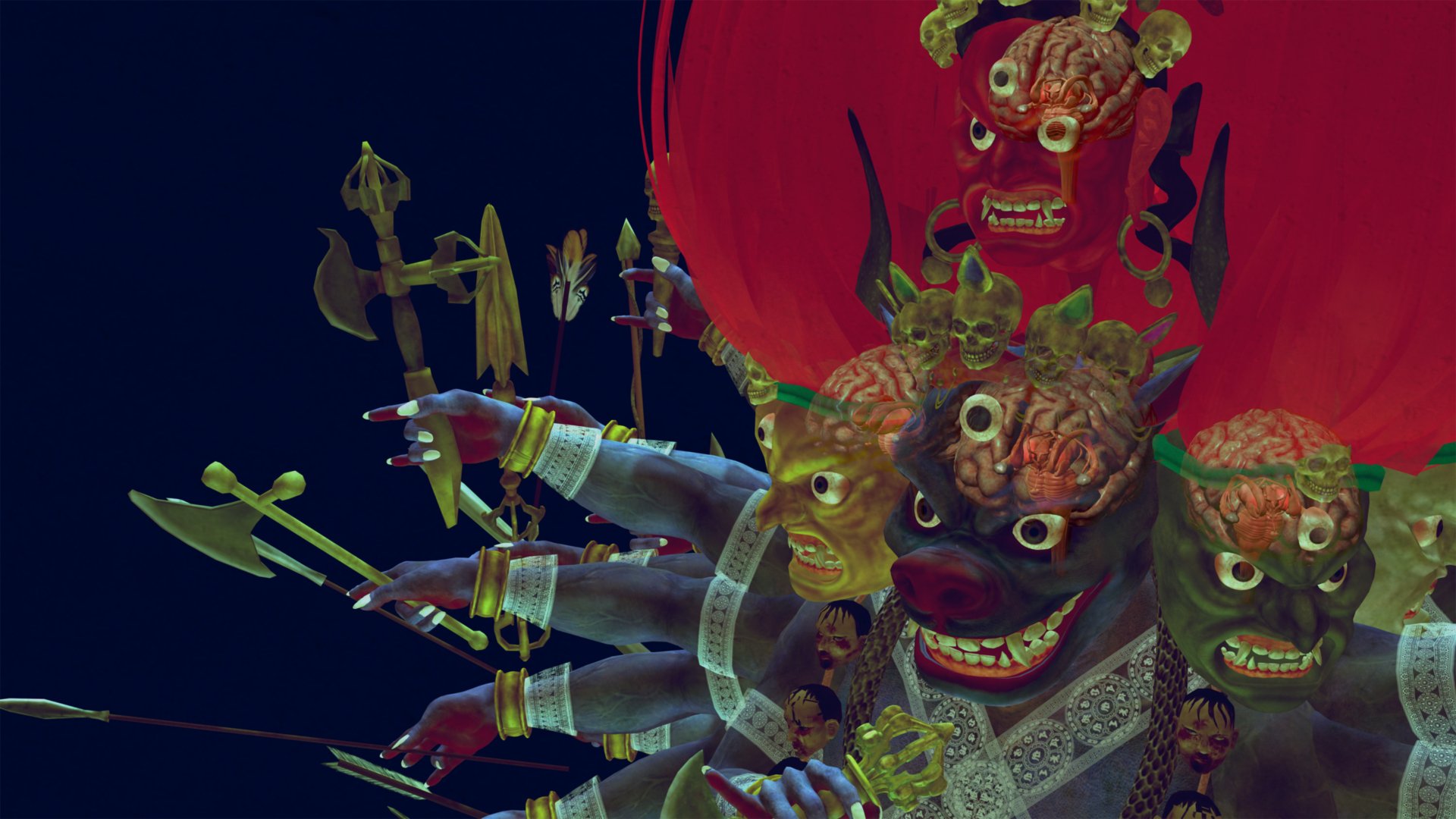 Lu Yang, Wrathful King Kong Core, 2011, project poster for video, 14'47''
Wednesday October 29 2014
7:30 pm - free and open to public
Residency Unlimited
360 Court Street (enter church building through main entrance )
Brooklyn, NY 11231
Tonight's discussion between the Shanghai-based artist Lu Yang and curator Xin Wang will examine the various facets of the artist's practice: bio-art, subcultures of anime, video games and sci-fi, ludic aesthetics and social engagement. Lu Yang will present Lu Yang: Arcade that is articulated under the form of a vintage arcade with a plethora of interactive games, videos, and bizarre objects. Lu Yang: Arcade is the artist's first New York solo exhibition curated by Xin Wang, and is currently on view at Wallplay (Delancey & Orchard) through early November, accompanied by a screening of select videos at Ventana 244 until November 23. Overall Lu Yang's practice is shaped by fantastical, often morbid visions of death, sexuality (or a-sexuality), illness, and neurological constructs of both real life-forms and religious icons.
Over the course of the evening, Lu Yang will also discuss Cancer Baby and a recently derived project performed at the Asia Society Museum (Oct 26 & 27) during ACAW's signature program and 2 day forum FIELD MEETING.
Tonight's event is organized within the framework of RU's participation in the Asian Contemporary Art Week (ACAW). RU is very grateful to the Asian Cultural Council for support Lu Yang's residency.
This program is supported, in part, by public funds from the New York City Department of Cultural Affairs in partnership with the City Council.
Lu Yang's work has been featured in important solo and group exhibitions at the UCCA (Beijing), Centre Pompidou (Paris), and DFB Performance Gallery (Chicago), Chronus Art Center (Shanghai), Momentum (Berlin), and Tampa Museum of Art.
Xin Wang is a curator and writer based in New York. A recent graduate from Columbia University's MA program in Art History, she has worked as the research assistant on Ink Art: Past as Present in Contemporary China at the Metropolitan Museum of Art and co-organized the panel "Magiciens de la Terre and China: Looking Back 25 Years" with Asia Art Archive in America. Currently researching for upcoming special exhibitions at the Metropolitan Museum, she is the curator of Lu Yang: "Arcade", the artist's New York solo debut. Xin Wang's writings have appeared on Artforum, Art in America, Flash Art, Hyperallergic, Leap, and Modern Art Asia.
Photo Documentation: