Exhibitions | Oct 8 2014 6:30pm
Low-Resolution Stories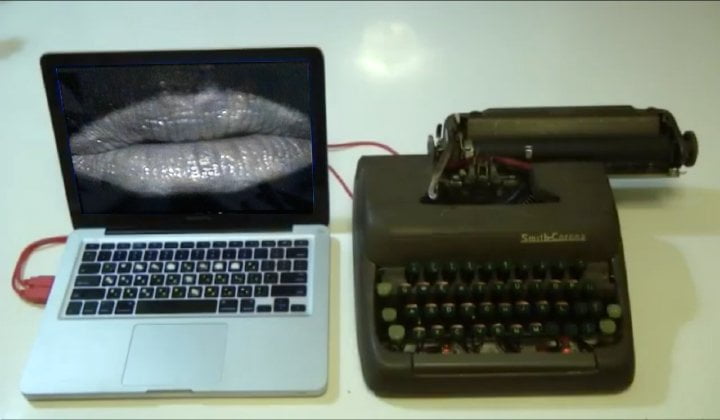 Ofri Cnaani, Translating Machine I, from "Yes, Yes, Yes", performance/ guided tour, 2012-14
Wednesday October 8, 2014
6:30 pm Free and open to the public
Residency Unlimited
360 Court Street (enter church building through main entrance )
Brooklyn, NY 11231
Low-Resolution Stories is a site-sensitive, audio-visual-sculptural performance by RU artist Ofri Cnaani and collaborators Nadav Assor and Jenny Vogel. All three artists work with both advance and defunct technologies and are professors in art and media departments. For this event each of the artists will stage a short performance / lecture, presenting unconventional utilization of both technology and knowledge. Together the performances will create a vaudeville show of sorts, presented in three acts that explore a variety of technology as narrative device.
Act I:
Ofri Cnaani will use five invented machines to present a series of short lecture-performances about Ecstasy, the practice and idea of being or standing outside oneself. How does the ecstasy as an otherworldly, trancelike experience transcend out of the religious-zones and into the streets of a modern city? This short talk will quest the contemporary meaning of ecstasy by following the stories and locations of risky sexual, spiritual, and artistic trips out-of-one's body. Based on the philosophical idea of an external-to-self experience, Cnaani's machines take one medium—text, sound, or image—and translate it into another medium. The presentation's ultimate goal is to build an Ecstasy Machine that could convert who we are into who we want to be.
Act II:
Nadav Assor's Tunneling is an event during which he attempt to gain access to the inners layers buried in the walls of the performance space, virtually tunneling our way from inside to outside, the different layers within the building wall slowly exposed until some layer of resolution is reached. The image of a tunnel is projected on an inner or outer wall of the space, and is constructed in full scale, in real-time, layer by exposed layer, using a green-screen set, power tools, microphones and surgery-like safety gear. Assor utilizes techniques derived from the breadth of the military-industrial-entertainment complex: from tactical wall probes to domestic demolitions, from live esthetic surgery to interactive cooking shows. Every iteration of Tunneling is site-sensitive: Assor and his sound-artist collaborator bring their own cultural baggage but also respond to the location, the architectural context and the available materials.
Act III:
Jenny Vogel's Handbook for Photographic Investigation is a lecture about historical and paranormal mysteries and their photographic representations. The visuals for the lectures are created live, on-site with a copy machine, and are presented to the audience via projection. Legend, myth and the supernatural are persistent forces in society, despite an ever-growing trust in science; it is the iconography that changed. Though now in the scientific rather than the religious realms, the images are strikingly similar: blurry lights, faint traces of hard to define objects and the ever lasting conflict between believers and skeptics. The low-resolution black and white images from the copy machine feed our desire to believe, perpetuating the myth. Much like a magician Vogel creates a tension between the reality of the performance space and the blurry illusion of the projected images.
Bios:
Ofri Cnaani is an artist and educator. She works in time-based media, live-cinema performances, and large-scale installations. She also teaches at the School of Visual Arts and International Center of Photography (ICP) in New York. Cnaani's solo exhibitions and performances include: Metropolitan Museum of Art, PS1/MoMA, NYC; BMW Guggenheim Lab, NYC; The Fisher Museum of Art, L.A.; Twister, Network of Lombardy Contemporary Art Museums, Italy; Kunsthalle Galapagos, NYC; Andrea Meislin Gallery, NYC; Braverman Gallery, Tel Aviv; Pack Gallery, Milan; Haifa Museum of Art, Israel; Herzlyia Museum of Art, Israel. Group exhibitions include: Moscow Biennial; The Kitchen, NYC; Bronx Museum of the Arts, NYC; Kunsthalle Wien, Vienna; Arnolfini Foundation Museum, Bristol, UK; Tel Aviv Museum; The Israel Museum, Jerusalem; Prague Triennale.
Nadav Assor creates videos, installations, performances, and objects. His work deals with the performed mediation of cities, bodies and personal narratives via lo-fi, appropriated military-industrial technologies. Nadav is a recipient of multiple awards and grants in the US and in Israel. He has exhibited and performed internationally in a variety of contexts, most recently at Julie M Gallery, Tel Aviv, the 2014 Transmediale festival, the 2013 Berlin Director's Lounge, Spectrum NYC, the Lab in San Francisco and Hyde Park Art Center in Chicago. See more of his work at Nadassor.net
Jenny Vogel works in video, photography and computer arts. Vogel's art explores the world as viewed through new media technology using web-cameras, blogs and Google searches as source material. She received her MFA from Hunter College (NYC) in 2003. She is a 2005 NYFA fellow in Computer Arts and is currently Assistant Professor of New Media Art at the University of Massachusetts. Her work has been screened and exhibited in group and solo- shows in numerous locations and galleries: Storefront Gallery, NYC; The Dallas Museum of Art, TX; McKinney Contemporary, TX; San Francisco Camerawork, CA; Arnolfini, UK; The Siberia Biennial, Russia; The Swiss Institute, NYC; EFA Gallery, NYC; Kunstwerke, Berlin; PS1 Contemporary Art Center, NYC.
Photo Documentation:
This program is supported, in part, by public funds from the New York City Department of Cultural Affairs in partnership with the City Council.