Talks | Oct 28 2015 6:30
Lecture Performance by Micha Das Bach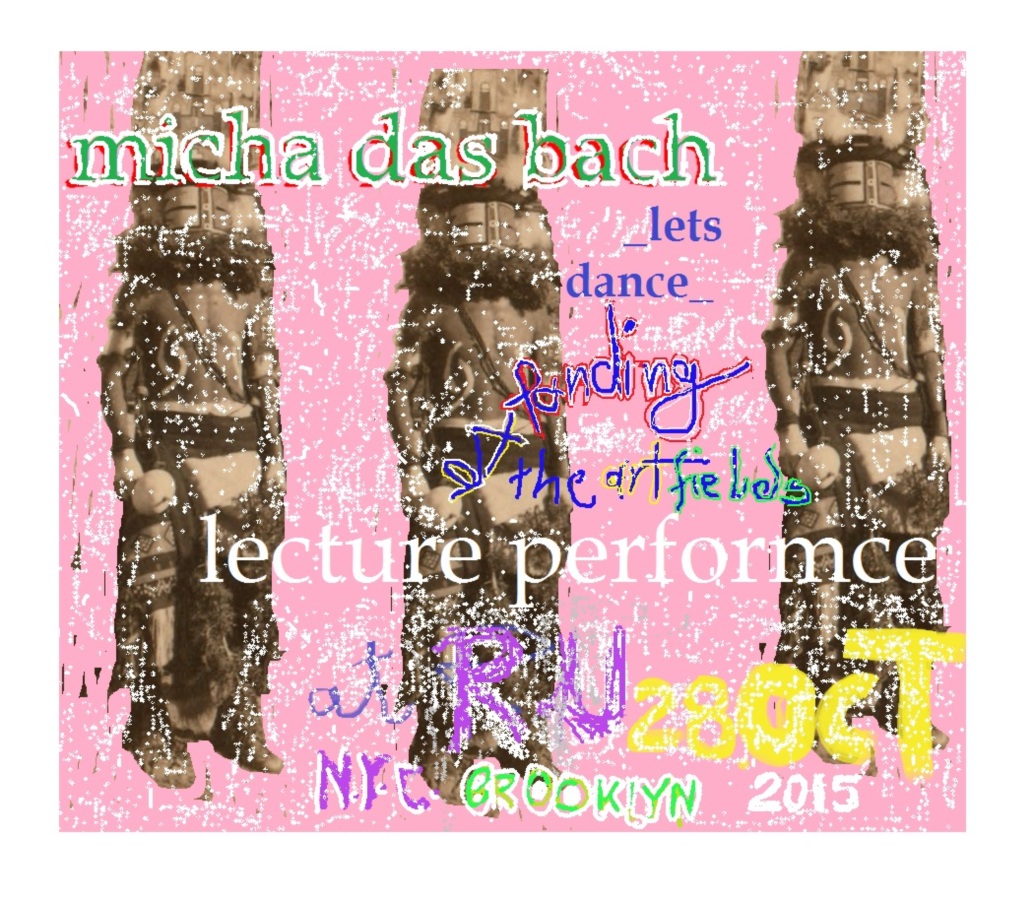 In discussion with Boshko Boskovic, RU Program Director
Wednesday, October 28, 2015
6:30pm (free and open to the public)
Residency Unlimited (RU)
360 Court Street, Unit 4 (enter through the green doors)
Brooklyn, NY 11231
Join us for a lecture performance by the German RU artist Micha Das Bach whose practice is characterized by a mediation between art and knowledge in which research, visual art and performative storytelling methods merge. Micha Das Bach will reveal a rich opus of her oeuvre spanning from the 1980's to today. The focal point of the performance brings together a range of expressive forms and fields of political, philosophical, legal and anthropological investigation. Her practice is segmented into several thematic areas including site specificity, technology, public space and the body. This performative lecture is intended to spur discussion around the predominant discourses and arguments over participation, collaboration and social practices in contemporary art. Micha Das Bach's lecture performance operates in a space of potentiality, debating how an artwork circulates in today's world.
--
Micha Das Bach locates her practice in between performance, film, animation, photography and urban interventions. Micha Das Bach is currently finishing her PhD in Ethnology.
Selected exhibitions include: Eight German Artsits, Goethe Institute, London (1985), Cologne. Kopping, Anno Saal, Cologne (1986). Performance Festival, Barcelona (1996), Outfit -Identitat, Fotografie Gruppenausstellung, Rheannia. (1998). ("21") Francesco di Assisi, White Box New York (2009), Kino Gang, Raum für aktuelle Kunst, Euskirchen (2010); Teilhard returning to Manhattan, 22 Performance artists, Summerschool, MoMa PS1, New York (2012); Bruce Lee for ever <3, Photography, Salon Schmitz, Cologne 2014. Sound of silence/no queremos tu limosna ni… Straßen-Skulptur-Aktion, Cologne. Intimate Transgressions, White Box and Cappa, New York (2015)
Prizes and scholarships include: Johanna Löwenherz Award, first German Woman Award, (1998), Best film, 1. Feminale, Women Film Festival, Cologne VisitorsVote, (1986), Summer School with Genesis Breyer P'Orridge, MoMA PS1, New York, (2012, Kathmandu, Nepal, Artist-in-Resideny, Nepal, September (2013)
--
This event is made possible within the framework of Micha Das Bach's residency supported by Schloss Balmoral, Stiftung Rheinland-Pfalz, Ministeriumm für Kultur (Germany).
This program is supported, in part, by public funds from the New York City Department of Cultural Affairs in partnership with the City Council.
RELATED: