Talks | Oct 23 2013 6:30 PM
Jovana Stokic in dialogue with RU artist Rodrigo Braga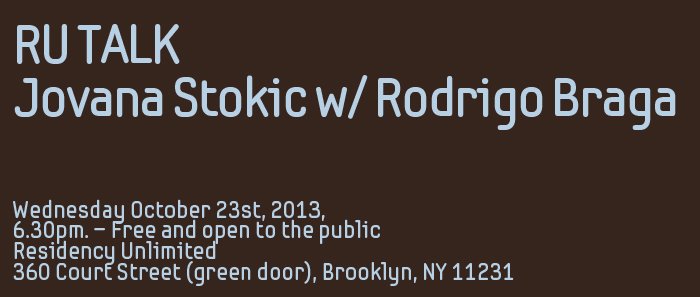 Wednesday October 23rd, 2013,
6.30pm. – Free and open to the public
Residency Unlimited
360 Court Street (green door),
Brooklyn, NY 11231
Together with Rodrigo Braga (Brazil), the art historian and critic Jovana Stokic will examine a selection of the artist's photographs and videos that speak about presence that follows performance. Braga's works are exclusively performed for the camera,  in undisclosed locations and without an audience. As a result of this process, images, therefore allow the viewer to become the witness. For tonight's event, Rodrigo will present early works in conjunction with his current investigations undertaken in specific areas of New York that have inspired him to inter-react.
Rodrigo Braga (b. Manaus 1976) is a Brazilian artist who currently lives and works in Rio de Janeiro and who earned his graduate degree in Visual Arts at the Federal University of Pernambuco (2002). Braga's performative practice reveals itself through photography that deals with his relationship with landscape and animals. In his latest series of work, shown at last year's 30th Bienal de São Paulo (2012), Braga addresses the conflict between man and nature, human and animal
Jovana Stokic is a Belgrade-born, New York-based art historian and curator, who holds a PhD from the Institute of Fine Arts, New York University. Her dissertation, "The Body Beautiful: Feminine Self-Representations 1970–2007," analyzes works of several women artists—Marina Abramovic, Martha Rosler, Joan Jonas—since the 1970s, particularly focusing on the notions of self-representation and beauty. She has curated several thematic exhibitions and performance events in the United States, Italy, Spain, and Serbia. Her essay, "The Art of Marina Abramovic: Leaving the Balkans, Entering the Other Side" appeared in the catalogue for The Artist Is Present (2010) at the Museum of Modern Art. Stokic was a fellow at the New Museum of Contemporary Art, New York; a researcher at the Whitney Museum of American Art, New York; the curator of the Kimmel Center Galleries, New York University; and the performance curator at Location One, New York. She has taught art history at New York University, Fashion Institute of Technology and is on the faculty of the MFA Art Practice at the School of Visual Arts, New York. Stokic is deputy chair, MA Curatorial Practice at SVA.
This event is supported in part by the Sao Paolo art fair and Instiuto De Cultura Contamporanea, Sao Paolo and by public funds from the New York City Department of Cultural Affairs in partnership with the City Council.