Talks | Apr 26 2018 6.30pm
Javier M. Rodriguez in conversation with Irena Kovarova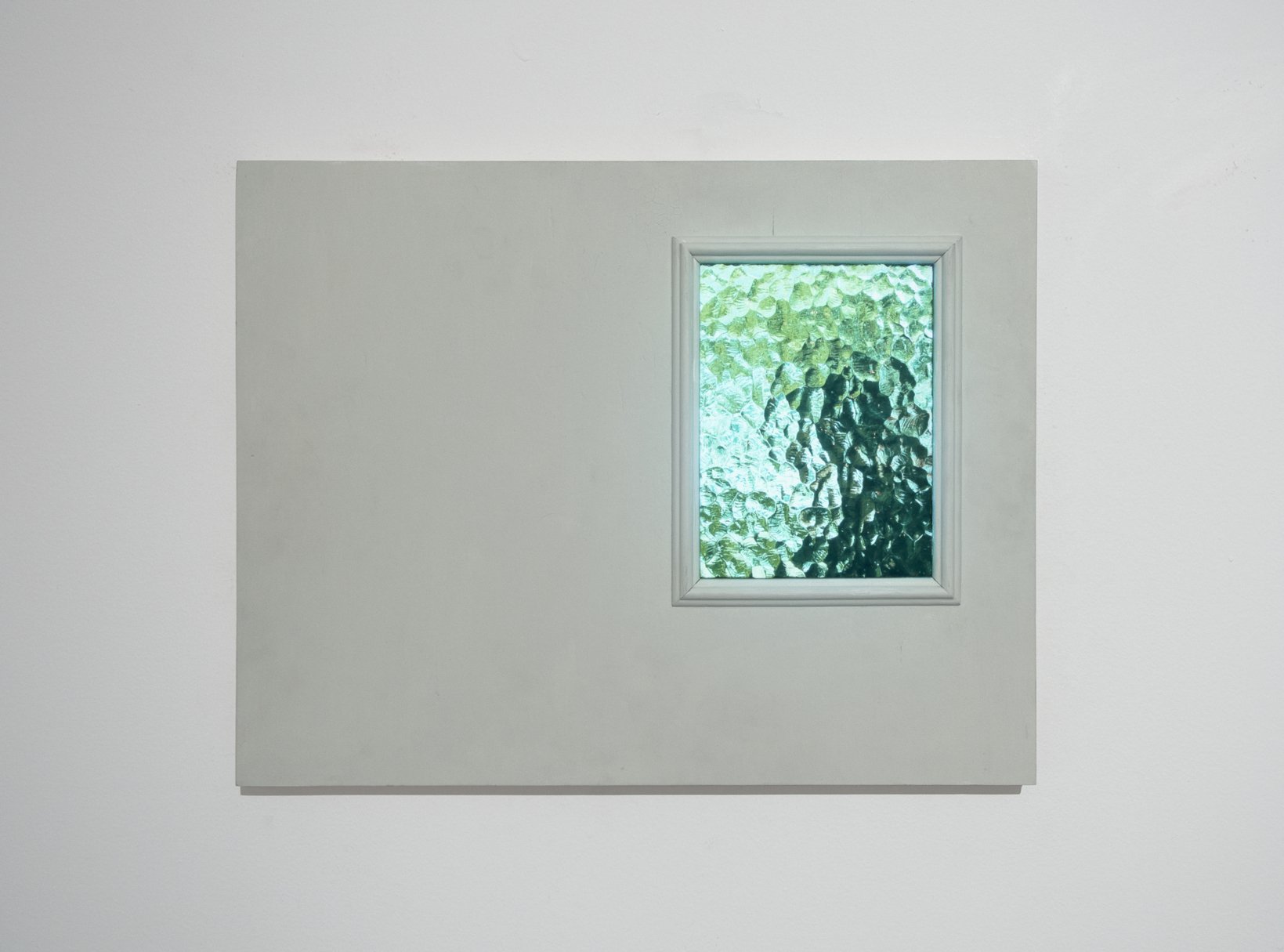 Havre 27, 2018 Wood, enamel painting, textured glass, tablet screen and HDMI controller with video; H.264, 1536x2048px, 4:09min Loop.
Thursday, April 26, 2018
6.30pm (free and open to the public)
Residency Unlimited (RU)
360 Court Street (enter the Church through the main entrance)
Brooklyn, NY 11231
Moving image is at the center of the art work of Javier M. Rodriguez. In the conversation following his presentation, Javier and the film curator Irena Kovarova will discuss deconstructed cinema and translation of the language of image-movement into the exhibition space; the topic of time as a subject and the elasticity of time and narrative; and the latest addition to Javier's practice, the minimal documentary.
Considering that the moving image is a language and that film is a way of thinking, has led Rodríguez to develop a body of work that he qualifies as expanded cinema. By means of translation, Rodriguez materialize film narrative into painting, sculpture or video installation as a series of studies to rethink the order of time.​
***
Based in Guadalajara (Mexico), Javier M. Rodriguez is represented by Galleria Nosco.
Recent solo shows include: Plot Points and the Inciting Incident, Salon Acme No.5, Mexico City (2017); Wide (characters leave the scene), Casa Taller José Clemente Orozco, Guadalajara (2016); La terquedad de las cosas, Museo Experimental El Eco, México City (2015); Nada más que las horas, MAZ Museo de arte de Zapopan (2013); [AGOSTO,10.2013 - OCTUBRE,04.2013], Galería Curro (2013), among others. Javier M. Rodriguez is the recipient of awards from  the National Fund for the Arts FONCA (MX) in 2009 and 2012. Residencies include ASU Museum Residency, Phoenix (USA) - PAOS Residency, Guadalajara (MX) – Billingbear Residency Program (UK).
Irena Kovarova is an independent film programmer and film exhibitions producer. The focus of her work is European and independent cinema. A native of Prague, and resident of New York since 1996, she's curated and/or produced over a dozen touring programs, especially of Czech cinema, including retrospectives of Milos Forman, Jan Svankmajer, Frantisek Vlacil, and Pavel Juracek. Irena's recent work includes North American retrospective tours of Swedish filmmaker Ruben Östlund and Czech legendary director Jan Nemec, and a Central European touring retrospective of Kelly Reichardt, all produced for her outfit, Comeback Company. Her latest curatorial and production work is THE PUPPET MASTER: THE COMPLETE JIRI TRNKA, a touring film retrospective that premiered April 20-25, 2018 at the Film Society of Lincoln Center in NYC and will tour around North America for the next 6 months. In January 2017 she co-curated the most complete Jan Nemec retrospective held on foreign soil for the International Film Festival Rotterdam. She also curated and produced five annual festivals of current European cinema titled Disappearing Act (2009-2013), 10 annual showcases New Czech Films at BAMcinématek, and its national tour in 2012. In the field of the visual arts, she was Program Director of Young Visual Artists Awards in New York from 2004-2009.
This public program is made possible with support from the Rockefeller Brothers Fund, NY in collaboration with PEANA, NY.


RELATED: