Exhibitions | Aug 6 2011 6:30 PM
Feedback, by Fred Forest at Cuchifritos Gallery Opening August 6, 4-6.30pm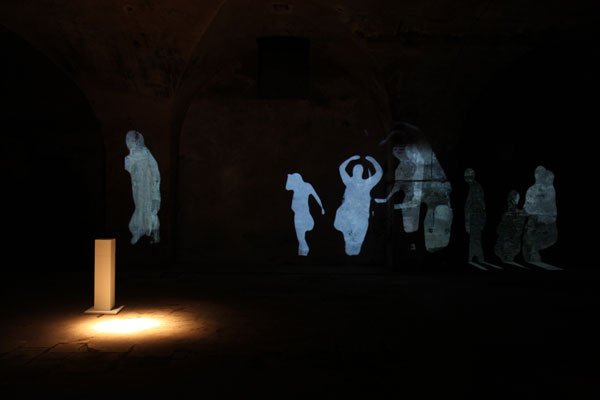 August 6-24, 2011, opening Saturday August 6th, 4 - 6.30pm
Cuchifritos Gallery: 120 Essex Street, New York, NY 10002
Feedback is a Participatory Online Experiment by Fred Forest. Feedback is conceived as an extension of "Flux et reflux: la caverne d'internet", an interactive, multimedia exhibition by Forest currently on view at the Centre d'art Le Lait, Albi, France, through October 30. In this exhibition that revisits the significance of Plato's cave in the internet age, Forest invites the audience as well as internet participants worldwide, to become cast members in a continuously evolving film. The shadows of Plato's allegory are transposed in contemporary forms created by the public strolling through the exhibition space and from people 'sending their shadows' through the internet.
Participate online at: http://www.flux-et-reflux.net
Organized by Residency Unlimited (RU), Feedback is made possible with the support of Artists Alliance, Inc (AAI) within the framework of the RU / AAI partnership, as well as with support part by the New York State Council on the Arts with the support of Governor Andrew Cuomo and the New York State Legislature.
Currently artist in residence in New York at Residency Unlimited supported by the Institut Francais, Fred Forest has several upcoming projects scheduled in the United States in August and September.
Please check the following link for the calendar of these events.
Bio: French artist and theorist Fred Forest (born in 1933) is one of the earliest pioneers of video and media art. His work with interactive environments using computer and video elements began as early as 1968. At the forefront of interactive art and new media, sociology, and institutional critique, his work frequently immaterial and relational, raises questions about the nature and function of art in a market-driven age of information. A retrospective of his work was held at the Slought Foundation in Philadelphia in 2007. Forest has exhibited and presented at institutions including, the Centre Georges Pompidou, Espace Pierre Cardin, and the Musee d'Art Moderne de la Ville de Paris.