Talks | Mar 15 2011
Dad Dracula is Dead / A Crime must be Committed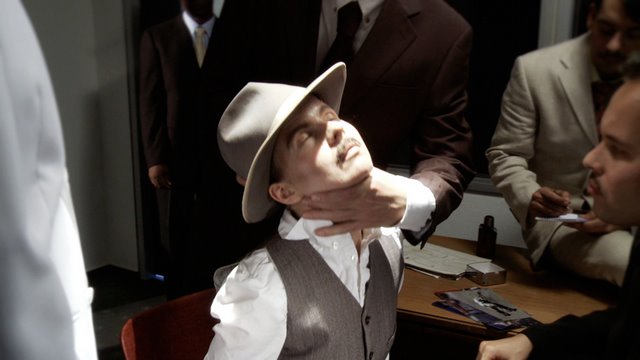 A Crime must be Committed, 2010
Tuesday, March, 15, 2011
screenings at 6.30 and 7.30
2 films by Rebecca Ann Tess
followed by a Q & A in the presence of the artist
Dad Dracula is Dead (2009) and A Crime must be Committed (2010) are the first two installments of a three-part video project by Rebecca Ann Tess that refers to certain stereotypes of character presentation in European and US film and television history. Dad Dracula is Dead looks back to the cinema of the twenties and thirties, a time of transition not only from silent film to talkies but also for an increasingly regimented film industry. Although censorship codes were relaxed after World War I, there was a concurrent tendency to establish new control structures to accompany the birth of film as a mass medium. Dialogue from the movies of that era, excerpted fromDifferent from the Others, The Soilers, Girls in Uniform, Queen Christina, Sylvia Scarlett, and Dracula's Daughter, is repeated in Dad Dracula is Dead, performing a loop within this history.
The second part, A Crime must be Committed, deals with the crime and detective genre, quoting films  and television series from the 1920s through to the early 20th century. This retrospective demonstrates how crime stories, constellations of protagonists, and their assigned roles have been subject to change over time. They have expressed evolving discourses where the relationship between good and evil has been renegotiated each time within the context of a new social-political situation. Rebecca Ann Tess examines these historical patterns and power relationships. She draws on the aesthetic of all these subgenres and recombines filmic figures and dialogues in novel ways to create a new story in a winding, non-linear narrative style.
The artist Rebecca Ann Tess is a "Residency Unlimited/Flux Factory" artist in residency whose stay in New York is made possible by Schloss Balmoral, Stiftung Rheinland Pfalz für Kultur (Germany).
Location:
360 Court Street, Brooklyn , NY 11231 (subway F/G Carroll street, President Street exit)
Church entrance through green door.
RELATED: