Talks | Sep 30 2014 6-8pm
Book Launch of "Glossary", by Rosario Zorraquin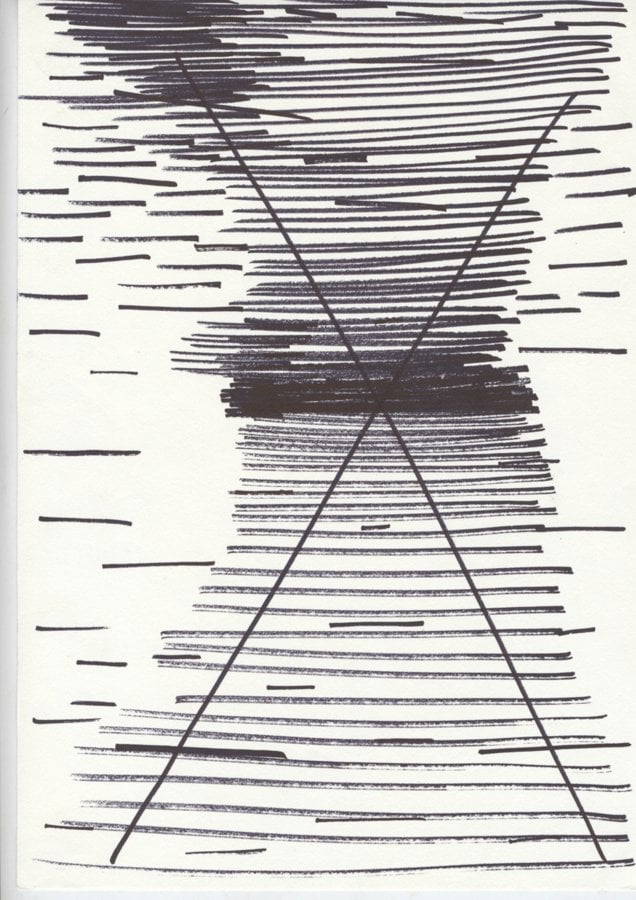 "X55" ( marker on paper, 20 x 30 cm, 2014)
Tuesday September 30, 6-8pm 
Residency Unlimited 
360 Court Street (enter church building through main entrance ) 
Brooklyn, NY 11231
A most recent publication from September 2014, "Glossary" brings together images of 36 images: symbols, sketches, perspective drawings, reticules and webs that inhabit Rosario Zorraquin's paintings and that she has developed over the last 2 years. This glossary reveals the invisible part of her process, what she refers to as "the skeletons of things"
As she says, " I believe in the relationship between painting and writing, as if painting were a great grapheme and the artist's paintings a kind of writing that is yet to be interpreted. Especially in abstract drawings, where the gesture, the brushstroke and the repetition of certain graphic operations have no recognizable meanings."
"Glossary" is a limited edition of 100, signed and numbered by the artist.
Zorraquin is an emerging painter who studied at IUNA National University of Fine Arts at Buenos Aires, Argentina. In 2011, she received the Beca Kuitca / Kuitca Fellowship at the Torcuato di Tella University (directed by artist Guillermo Kuitca, this fellowship is a nontraditional program for a selected group of young artists that encourages fellows to strongly reevaluate their practice, producing new bodies of work). Recent solo exhibitions include: 2014: "Glosa" at Miau Miau Gallery, Buenos Aires, 2012. "Madame Dioz", Zavaleta Lab Gallery, Buenos Aires. Recent group exhibitions include: 2014 "Poleas" at Museo de Arte Moderno, 2013, "Numbers in the Dark" at Southern Alberta Art Gallery, Canada, 2012. "Nuevas tendencias 11", Museum of Modern Art of Buenos Aires, Argentina; 2009. "Early Tomorrow", National Museum of Fine Arts, Neuquén, Argentina.
In 2009, Zorraquin was the finalist for the Petrobras Visual Arts Prize for Young Artists. In 2012, was part of the Banff Center Residency Program (Canada) with a Jim Dinning/Calgary Lougheed Scholarship. In 2013 participated in Residency Unlimited (New York).