Talks | Nov 9 2016 6:30pm
Artist Talk: Leasho Johnson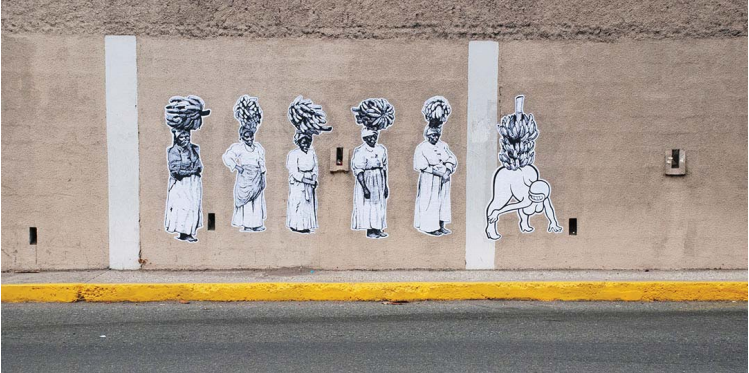 Leasho Johnson, Back-fi-a-bend, yeast past and paper on wall, New Kingston Jamaica, 2015
Wednesday, November 9, 2016
6:30pm (free and open to the public)
Residency Unlimited (RU)
360 Court Street (enter the Church through the main entrance)
Brooklyn, NY 11231
Leasho Johnson is a 2016 Davidoff Art Initiative grantee. Over the course of the evening he will discuss his practice in relation to the Jamaican contemporary art scene with Rachel Morillo who is the Community Engagement Associate at The Studio Museum in Harlem.
--
Rachell Morillo is currently Community Engagement Associate in the Public Programs + Community Engagement Department at the Studio Museum in Harlem, where she develops and assesses the museum's community engagement initiatives and adult education programs in order to effectively activate the Museum as a community platform and resource. In her independent work as a photographer and educator, she has organized with communities, both domestic and international, to create innovative platforms for social change through visual art. She has previously worked in various capacities with organizations such as Taller de Paz (a non-profit organization working to empower displaced Colombian youth through the arts), Jack Shainman Gallery, and the Museum of Modern Art. Rachell earned a B.A. in Sociology & Anthropology from Swarthmore College where she wrote a culminating thesis on art-based community engagement initiatives.
Audio recording:

Photos of the event:

--
This program is made possible with support from The Davidoff Art Initiative.
About The Davidoff Art Initiative
The Davidoff Art Initiative supports contemporary art and artists in the Caribbean, strengthens art organizations in the Dominican Republic, shares knowledge and expertise about contemporary art and fosters cultural engagement between the Caribbean and the rest of the world. At the core of the Art Initiative, Davidoff aims to engage closely with the arts and culture of the Dominican Republic, where much of its production and many of its employees are based, bringing opportunity and visibility to the art and culture of the Caribbean region, and extending the company's long-standing commitment to artistry, craftsmanship, community and quality. The Davidoff Art Initiative's four global program areas are Art Residency, Art Dialogues, Art Grants, and Art Editions.

RELATED: