Talk | Nov 19 2014 6:30PM
Artist as Activist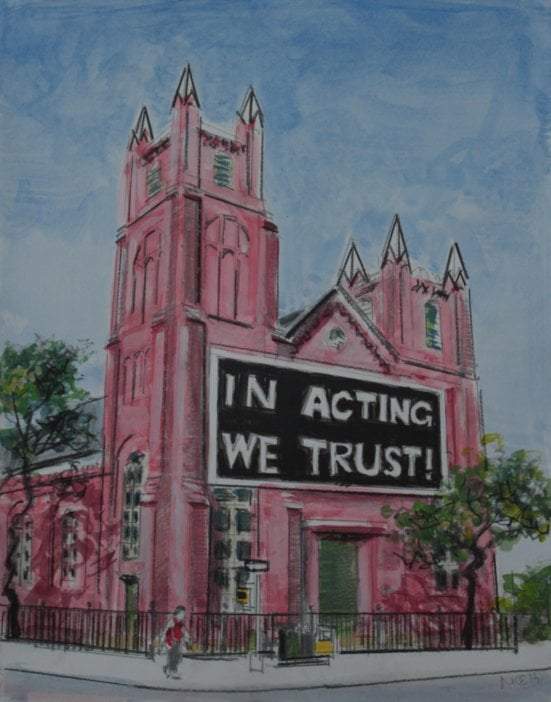 Csaba Nemes, In Acting We Trust!, 2014, mixed media
Join us for discussion with RU artist Csaba Nemes and his guests Adeola Enigbokan and Noah Fischer on being an artist while implementing strategies of contemporary activism.
Wednesday November 19, 2014
6.30pm (Free and open to the public) 
Residency  Unlimited
360 Court Street (enter church building through main entrance)
Brooklyn, NY 11231
In the present situation where the public sphere faces a deep identity crisis worldwide and civic culture is anything but present, which strategies are effective within the framework of the experimental field of art? How does one reconcile being an artist and activist? How does the one practice affect the other and are they more effective combined? How do artist-activists navigate the institutional systems they so often criticize? What is the influence of 20th century activism on today's practices? With the vulnerabilities and failures of representative democracy becoming more apparent and art institutions inability to create a political discourse separate from both mainstream politics and the market, activism appears to be more present in artistic practices.
Through his prominent role in artist-led protest groups such as Free Artists, Hungarian artist Csaba Nemes has developed a distinctive critical art practice that investigates the overlaps between personal and political history, the dark side of the nationalist psyche, and the fragile bonds of social solidarity.1 This critical practice, and other artist-led protests, respond directly to the alarming rise of Hungarian far right and populist tendencies in public discourse. Tonight's discussion will highlight the shared perspectives of fellow artists Adeola Enigbokan and Noah Fischer both whom Csaba met during his current residency in New York. Adeola Enigbokan is an artist and writer whose projects often bring together artists, social researchers and educators to interpret the behavioral and political scripts that shape everyday urban life. Noah Fischer is the initiator of the Occupy Museums action group.
1 Maja and Reuben Fowkes. in Csaba Nemes, Dont try to make it logical
Csaba Nemes's residency is supported by ACAX / Agency for Contemporary Art Exchange and TMU / Trust for Mutual Understanding
The works of Csaba Nemes focus on events of the recent past and the present day simultaneously, both on a personal and historical scale, while watching and portraying such events as processes. He is a lecturer at the Art Academy of the University of Pécs and is represented by Knoll Gallery Budapest/Vienna. Recent exhibitions include: in 2014: "Dont try to make it Logical" ( Museum of Modern and Contemporary Art , Rijeka (Croatia)  and "Private Nationalism", m21 gallery, Pécs (Hungary); 2011" History in Art (MOCAK),  Museum of Contemporary Art, Krakow and Loophole to Happiness, Muzeum Sztuki Lodz. As a member of the group Free Artists, he has played a prominent role in artist-led protests against the rightwing takeover of culture in Hungary. He was the winner of the 2013 Leopold Bloom Prize organised at Ludwig Museum Budapest, as a result of which his solo exhibition is organised at MMSU Rijeka.
His work is featured in private and institutional collections of the Ludwig Múzeum - Museum of Contemporary Art, Budapest; MAC (Musee d'Art Contemporain) Sallaumines, France; Michael Ringier, Switzerland
Adeola Enigbokan is a New York-based artist and writer. Her projects often bring together artists, social researchers and educators to interpret the complex behavioral and political scripts that shape everyday urban life. Her work has been shown internationally at Strelka Institute for Media, Architecture and Design (Moscow), Center for Independent Social Research (St. Petersburg), Van Leer Institute (Jerusalem), El Museo del Barrio (New York), Anthology Film Archives (New York), Royal Geographical Society (London), Royal Institute for British Architects (London), Beijing Normal University, vessel art project (Italy), and Open Engagement (Portland and New York). Her writing has appeared in The New Inquiry, Cultural Geographies, and Journal of Urbanism. She holds a BA from Columbia University, where she studied Anthropology and Visual Arts, and is completing her doctorate at CUNY Graduate Center.
Noah Fischer often creates collaborative sculptures, writings, and actions. Earlier exhibitions such as Rhetoric Machine (2006), Electrical Forest (2009) and Pop Ark (2008, Kunstenfestivaldesarts, Brussels) were immersive sound-light environments built around archives of political speech. Fischer collaborated with Berlin-based theater "company andcompany&co" on performances that re-examined the history of the Cold War. Following the financial crash of 2008 with its mass exposure of financial inequality, Fischer exited from the private art market to experiment outside of institutional space. "Summer of Change" (2011) was a series of orations on Wall Street embodying financial authority, and throwing money onto the street. This performance coincided with the Occupy Wall Street Movement and Fischer relocated his practice within the movement, initiating the group Occupy Museums which has carried out major actions at MoMA, Frieze, Guggenheim and 7th Berlin Biennale, and CCA Warsaw and on the streets. He carries on a individual and collective studio practice.
Photo Documentation:

RELATED: