Talks | May 21 2014
Artist and scientist in the disappearing worlds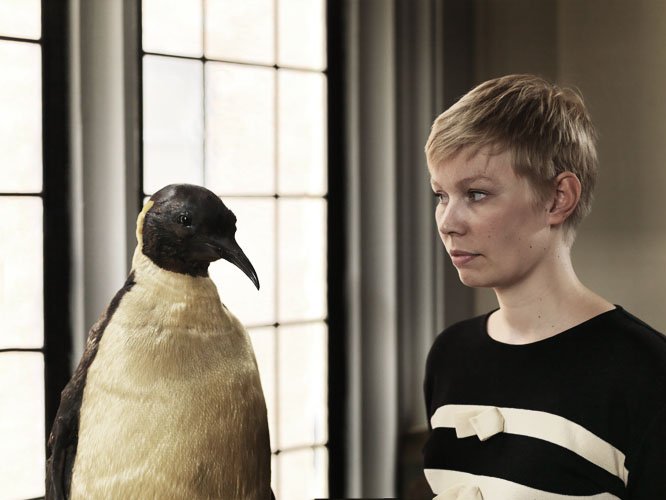 Artist with Penguin
Wednesday May 21, 2014
6:30pm
Residency Unlimited
360 Court Street #4 (big green doors)
Brooklyn, NY 11231
Join us for an evening of screenings and a discussion between Dr. Christopher J. Raxworth, curator at the American Museum of Natural History and Liinu Grönlund - artist and RU resident – who is currently working on a film that examines issues of habitat loss in Madagascar and conservation challenges. Together they will examine the intersections between scientific research and artistic approaches, and how art is a vehicle for change.
Madagascar has lost 90% of its original forest cover. In 2013, Grönlund spent 2 months on the island working with scientists and following a forest conservation project conducted by the Finnish Association for Nature Conservation. The screening will feature recent video work and footage taken in Madagascar including recent interviews by the artist of Raxworthy and other researchers at Stony Brook University who pursue their work in man-made environments far away from the wilderness.
Liinu Grönlund's 3 months residency is supported by The Alfred Kordelin Foundation and The Finnish Cultural Foundation and The Arts Promotion Center.
Bios:
Dr. Christopher Raxworthy is Associate Curator and Associate Dean of Science for Education and Exhibition at the American Museum of Natural History, and has been studying reptiles and amphibians in Madagascar for nearly 30 years, as well as in Vietnam, Mauritius and West Africa. He has found and is continuing to describe many species new to science. His current research is focused on gecko and chameleon molecular and morphological systematics, and the use of satellite data to help predict the distribution and model the ecological niches of species. Raxworthy works in the mountainous and largely unexplored forests of northern Madagascar. His interests also include identifying conservation priorities, speciation and endemism in Madagascar.
Bio: Liiny Grönlund
http://www.residencyunlimited.org/residencies/2014/03/liinu-gronlund/
RELATED: