Alumni News |
May, 2019
POST MATTER | KINU KAMURA at Z Gallery, Vancouver, BC, Canada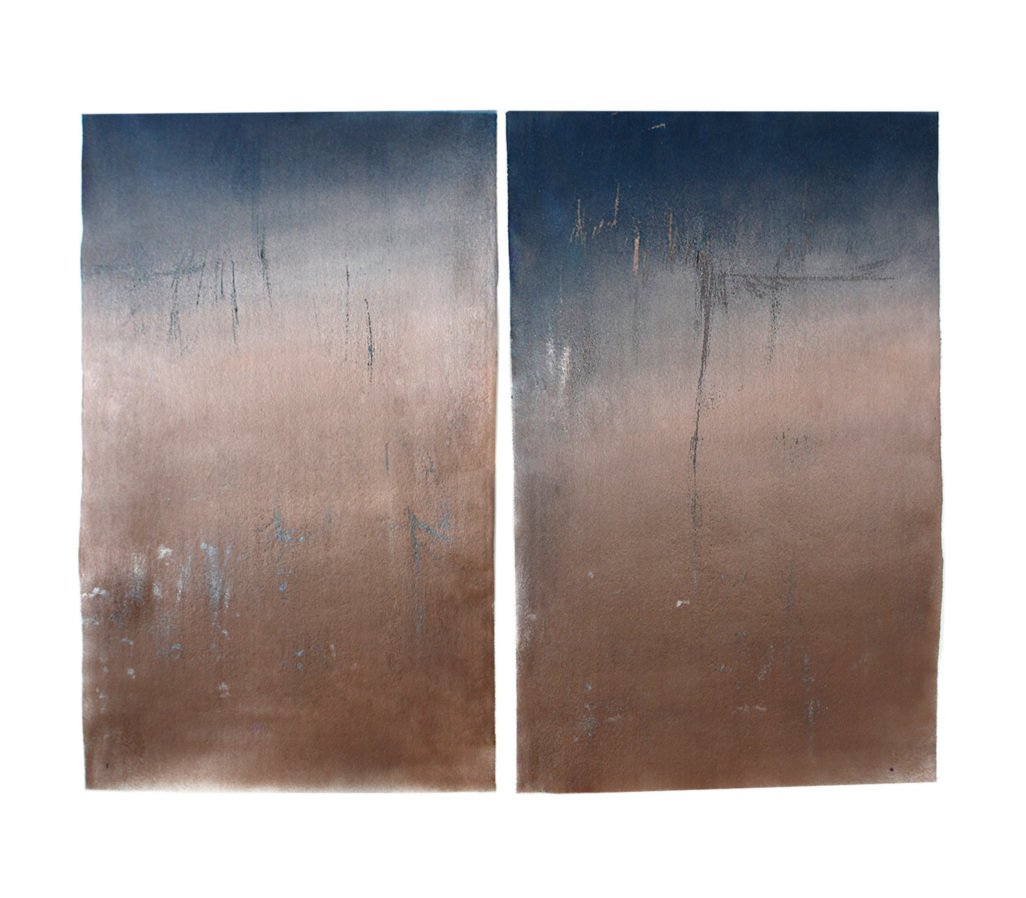 Fuyuzora (ciel d'hiver) 冬空 (front) | Kinu Kamura | Z Gallery Arts
Artist Reception:
Thursday, May 16th, 2019, 6 PM - 8 PM
Location: 102 - 1688 W 1st Ave, Vancouver, BC
Link to the gallery announcement. 
In this era of social media and cameras on mobile devices, it seems the value of an image and its subject matter aren't as strong as our craze for taking « snaps ». It seems everything has to be documented for some reason and shared online, generally with so little, if any, explanation, resulting in just an abyss of visual recordings.
When considering the latter, can we still take for granted the images we are looking at? How this overconsumption of images has affected the way we look at pictures? How much are we influenced by what we see? The eye no longer lingers on "watching" but just "seeing" a constant stream of images which at the end becomes unreadable if not blurry. Being an artist and short-sighted, this visual world is more than ever a source of inspiration.
Post Matter reveals how the line between Appropriationism and inspiration has become so thin and confusing indeed. Screenshots of Instagram accounts related to art (artist, gallery or museum) and representing others' artworks are roughly reproduced into simple and blurry compositions: blocs of colours and shapes.
This project is also an attempt to understand and analyse (re) interpretations of an artwork nowadays, addressing, therefore, the fundamental but challenged elements of the contemporary art world, that is the paternity of the work, authenticity, creativity, intellectual property.
BIOGRAPHY
_______________
Born in 1988, Kinu Kamura is a young French-Japanese artist. She spent most of her studies abroad between Tokyo, Paris and London. She attended the Parsons School Paris and got graduated from the Central Saint Martins in 2011.
After her degree, Paris is finally the place where the artist decides to settle. She discovers and works in different fields such as digital marketing for luxury brands and film production.
All these experiences have inspired her artistic process and make it what it is today.
Nearsighted since childhood, she finds in the fuzziness surrounding her, a way to feed her imagination. Everything she sees and feels must be materialized and then reintroduced into the real world. Using a variety of media, her work is built through direct inspiration from her experiences and introspection. Motivated by a real need to understand and learn, her paintings and installations contain all kinds of unconscious analyzes, inexpressible sensations and emotions that can only be conveyed by colours, shapes and textures.
The world apart from that Kinu Kamura creates is open to free interpretation and that is certainly why she practices abstraction. This is how she materializes her unique perception of the world surrounding her while allowing the viewer to construct his own interpretation. Her work is a form of non-verbal language, reading of being, accessibility to oneself for others: a kind of second skin. She compares it to the way we dress to show us. It tells the world who we can and would like to be in all situations of life and allows us to make ourselves accessible to those who see us.