Alumni News |
Mar, 2016
"Performance & Feminisms" curated by Hector Canonge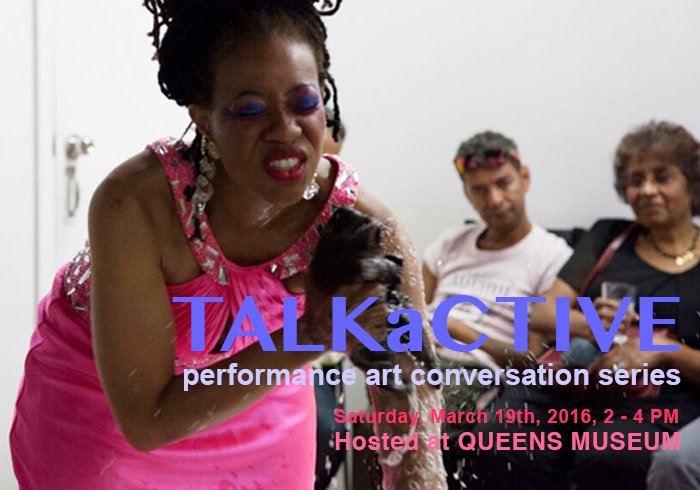 "Performance & Feminisms"
SATURDAY, MARCH 19th, 2:00 - 4:00 PM
Hosted at the Queens Museum
The first monthly program dedicated to the discussion and exploration of various themes in Performance Art, honors Women's History Month with the program "Performance & Feminisms."
TALKaCTIVE premiered at the Queens Museum in September 2015. Following last year's successful presentations, the independent initiative continues this month to explore more topics in relation to Performance Art. For March, TALKaCTIVE will focus on Live Art practices that treat, explore, and relate to notions of the "feminine." The presentations and conversation with artists whose work not only use the body as agent for gender construction, but as instrument to voice concerns about women's role in society. "Performance & Feminisms" will provide much needed dialogue about diverse modalities of approaching and confronting the issue of 21st Century Feminism(s) in Live Action Art.
Local artists: Christen Clifford, Ayana Evans, Laurel Jay Carpenter, and Ventiko.
International guests: Rocio Boliver (Mexico) and Annabel Guérédrat (Martinique)
Moderator: Jill McDermid, Co-founder and Director, GRACE EXHIBITION SPACE
Organized and Curated by Hector Canonge
TALKaCTIVE: perfomance art conversation series- is a new program that fosters dialogue and exchange among Live Action Art practitioners, encourages commentary about Performance Art, and prompts reflection about performative processes, methodologies, and styles. Every session is organized around a relevant topic in Performance Art, and the presentation of works by a group of selected artists who share their work, discuss their approach to Live Art, and engage in open conversation with critics, curators, and attending audience. The monthly series consists of a presentation, panel, and open Q&A session where participating artists screen documentation of their work, a curator or critic contextualizes the works presented, and a moderator mediates the exchange of information and resources.
TALKaCTIVE is an independent initiative created and organized by artist Hector Canonge. Hosted at the Queens Museum, the monthly series is free of charge and open to the general public.
--
About the artists:
Christen Clifford is a feminist performance artist, writer, curator, actor and mother. She has performed at The New Museum, PS122, SoHo20, AUNTSisdance, Postmasters Gallery, Grace Exhibition Space, Panoply Performance Laboratory and across the US, Canada and Europe. She curates Experiments and Disorders at Dixon Place. Her essay about gender and aging was published in the best selling anthology Women in Clothes and read by Molly Ringwald on NPR. Her most recent project is Pussy Bow, "a feminist action disguised as fashion accessory" (NYTimes). She is a member of the Society for the Scientific Study of Sexuality, Women's Caucus for Art, The Feminist Art Project and a core member of feminist performance collective The No Wave Performance Task Force. Her work has been written about in The New York Times, Art in America, Artforum, Art Magazine, Bookforum, The Chicago Tribune, as well as Huffington Post US/UK, MTV news, Mashable, Mic, NYLON, Bustle, WifeyTV, and Refinery 29. She teaches at The New School and lives with her partner and two children in Jackson Heights, Queens and online @cd_clfford.
Ayana Evans is a NYC based artist. She frequently visits her hometown of Chicago whose Midwestern and sometimes controversial reputation is a major influence on her art. Evans received her MFA in painting from the Tyler School of Art at Temple University and her BA in Visual Arts from Brown University. She has attended the Skowhegan School of Painting & Sculpture and the Vermont Studio Center. In 2014 Evans co-founded and began organizational/curatorial work with the art collective Social Health Performance Club. In 2015 she received the Jerome Foundation's Theater and Travel & Study Grant for artistic research abroad and was invited to participate in the 2016 residency Office Hours at El Museo Del Barrio in NYC. Evans's recent performances include: "Operation Catsuit" and "I Just Came Here to Find a Husband," which are both on-going public interventions; "Thoughts on Rape: Artists Respond to After Midnght by SHPC" Queens Museum, NYC; "Frying Chicken," a video collaboration with David Ian Griess; "Gurl, I'll Drink Your Bathwater," Gallery Sensei; and "Monetize Performance Art," Panoply Performance Laboratory.
Laurel Jay Carpenter is a visual art performer, investigating longing, devotion and intimacy in her durational live works. She has exhibited extensively in New York City at galleries, performance spaces and even Brooklyn's Borough Hall. Laurel has been a fellow and invited artist at the International Performance Art Festival in Cleveland, The Performance Studies International Conference and the MacDowell Colony. Internationally, Laurel has presented work in sites ranging from a palace mote in Germany, a former Sanatorium town in Poland, the main city fountain and a rocky sea cliff in Norway, a remote sculpture park in Spain, and other festivals and performance events including the 2007 Venice Biennale. Laurel was a member of the Independent Performance Group, founded and facilitated by Marina Abramović, as an early incarnation of her Institute in supporting the next generation of durational performers. Currently, Laurel collaborates regularly with Norwegian artist Terese Longva and US dance artist Robert Bingham, and has just begun a new creative partnership with German composer/musician Philippe Wozniak. Laurel also serves as Associate Professor of Art at Alfred University.
Ventiko is a critically acclaimed photographic artist and community builder with a panache for creating performative experiences for both the camera and the public. Her work focuses on the (re)construction of moments not in time but in thought to express social positions on sexuality, persona and the state of the modern woman. Venitko's works have been exhibited and experienced internationally including at the Korean International Art Fair (Seoul, Korea), Sluice London, Busan (Seoul, Korea), Photo L.A., UNTLD BCN (Barcelona, SP), Select Art Fair (Miami and NYC), Satellite Art Fair (Miami), Coohaus (Chelsea, NY), Shirin Gallery (Chelsea, NY), Project for Empty Space (NJ), Casa Quien (Santo Domingo, DR), Performatorio (Puerto Plata, Cabarete, DR), M.O.M.A. (NY), and TATE Modern (London, UK) among others. She has been featured in Interview Magazine, Quiet Lunch, Korea Monthly Photo, Hyperallergic, Bedford and Bowery, Emergency Index, Cool Hunting, Gothamist, Artist News, Posture Magazine, T Magazine, Tabula Rasa, The Creator's Project, The L Magazine, Artnet News, Beautiful Decay and Vogue Italia. As a community builder she has worked with over 200+ Artists creating, curating and facilitating happenings, exhibitions, lectures and residencies on their behalf through her creations Animamus Art Salon and Performance Anxiety. She discusses life with many of these artists on Animamus Audio Hour available on itunes.
Rocio Boliver's practice is a sharp and focused critique of the many repressive ideologies that burden the lives of women in Mexico. "In this pasteurized society, I prefer to cause disgust, hatred, rejection, confusion, weariness, anxiety, hostility, fear ... to further promote mental asepsis." From 1992 to date, Boliver has made performances in Mexico and in festivals in Europe, Asia, North and South America, including Live Art Development Agency, Chelsea Theatre, London, and City of Women Festival, Slovenia. She has recently been awarded the Scholarship Promotion Projects and Joint Ventures FONCA Cultural granted by National Council for Culture and the Arts.
Annabel Guérédrat is a 41 years old choreographer, dancer and performer from Martinique. She is certified in Literature and history at the renowned University of Sorbonne, Paris, and is a practitioner in the art of Somatic movement through the Body Mind Centering® method. Also certified in contemporary dance, she was trained in afro-bresilian dance, in Butoh dance, in Yoga and in Pilates. The somatic technics she acquired through all this training allowed Annabel to include in her performances very personal and sensitive gestures. In 2010, Annabel opened a new cycle of performances around black feminism, concerning the social and politic body of black and mixed colored women in the Caribbean area. Finally, in 2015, more preoccupied by the question of post-identity, she created "Valeska and you" around the figure of the witch, inspired by Valeska Gert. In 2016, two new projects with the visual artist, Henri Tauliaut, appear : "A smell of success" and "Success is success" and another one with Sara Jaleco and Cecile Brousse, about the question of domination.
Guest Moderator:
Jill McDermid (Dir. of Grace Exhibition Space) was introduced to Performance Art at the University of Iowa in 1997. Since then, she has been in a long pursuit of understandings the mysteries of Performance Art. Ms. McDermid has been curating and presenting Performance Art in New York City since 2001 with 21st Suffragettes: Art + Performance by Women (2001), Egeszegedre! Monthly Installation/Video/Performance Art series (2002- 2004) and opened The Grace Exhibition Space for International Performance Art in September 2006 with Melissa Lockwood. In 2015 she and her husband Erik Hokanson opened Rosekill for outdoor performance and the Art/Life Institute Residency in the former Linda Mary Montano studio building, both in Kingston NY. Ms. McDermid has participated as a performance artist since 2000 in Venice, Performance Art Week, Italy; artist and curator Week 5 The 10th Anniversary Open Art Festival Beijing; Gwangju Festival, South Korea; M+OPA Cut Festival Berlin, Germany; Non Grata Diverse Universe Tour, Europe; Living Walls Festival, Albany NY; MEME Gallery, Boston MA; Transmuted International Festival, Mexico; Perfo Puerto International Festival and Conference, Chile; BA+PAF International Festival, Indonesia.
She was a member of the International Association of Performance Art Organizers, has a Master of Fine Art [2000] and a Master of Art [1999] in Intermedia Performance + Video from the University of Iowa, under the direction of Professor Hans Breder. Dream: The Universe Angel: There is an angel in the universe whose job is to watch over the planet earth. It is also her job to destroy the planet when the time comes. They are in a symbiotic relationship, each aware of the other, each co-existing with the other, but the balance will tip at one point. That point is feeling very close, when she will begin her long awaited for, but very reluctant job of sweeping-up the stars, the galaxies, the planets.
Curator:
Hector Canonge is an interdisciplinary artist, curator, media educator and cultural entrepreneur based in New York City. His work incorporates the use of new media technologies, cinematic narratives, Live Action Art, and Social Practice to explore and treat issues related to constructions of identity, gender roles, psychogeography, and the politics of migration. He has exhibited and presented broadly in the United States, Latin America, Europe and Asia. As cultural entrepreneur, Canonge started projects such as ARTerial Performance Lab (APLAB), an initiative to foster collaboration among performance artists from the Americas, PERFORMEANDO, a program that focuses on featuring Hispanic performance artists living in the USA, NEXUSURNEXUS a virtual platform for Live Action Art, and PERFORMAXIS, an international residency program in collaboration with galleries and art spaces in Latin America. Canonge is the co-founder of QMAD, Queens Media Arts Development, a non-profit arts organization in Queens, NYC. As curator, he has organized exhibitions at Queens Museum, Space 37 Gallery, Visual AIDS, and the monthly artists' program A-LAB Forum at Crossing Art Gallery. He created the monthly independent film series CINEMAROSA, and organizes the annual Performance Art Festival, ITINERANT. His work has been reviewed by The New York Times, ART FORUM, Art in America, New York Daily News, Manhattan Times, Hispanic Magazine; by major networks ABC, NBC, CNN, CBS, UNIVISION, etc., and online by Art Experience NYC, Hyperallergic, Turbulence, Art Card Review, NYRemezcla, and New York Foundation for the Arts' bulletin NYFA News. After living in Europe and Latin America for over two years, Canonge returned to the USA in the Fall of 2015 to continue with his projects, exhibitions, and presentations: TALKaCTIVE, performance art series CONVIVIR, international residency program (launched in October 2015), and ITINERANT, Performance Art Festival (November 12 - 21, 2015). In 2016, Canonge launched the new performance art program LiVEART.US, and is currently an artist in residence at Residency Unlimited (RU) with his project "A Home of Our Own."
RELATED: