Alumni News |
Apr, 2019
Pedro Wirz, a curbing wall of debris \landfilling at Kunsthaus Langenthal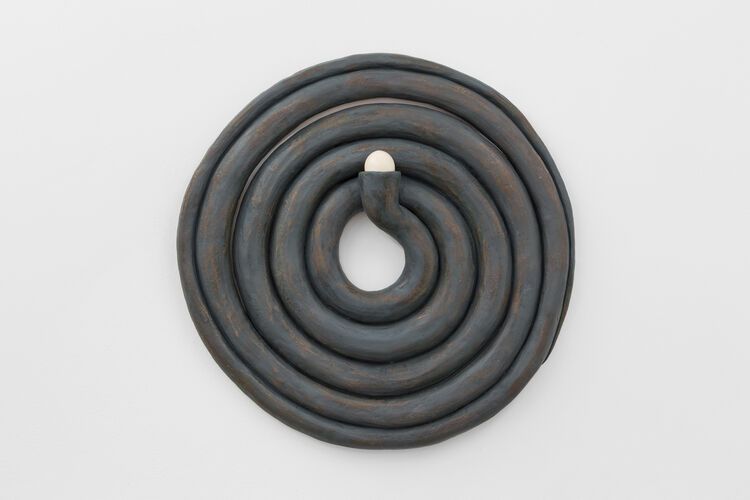 Pedro Wirz, Guard'água (Olívia), 2017, gebrannter Ton, Gips, Farbe, Courtesy of the artist.
A Curbing Wall of Debris
\landfilling
4 May 2019 – 23 June 2019
Opening: Friday, 3rd May 2019 - 6pm
The Brazilian-Swiss artist Pedro Wirz (*1981) presents his largest solo exhibition to date, a curbing wall of debris, in two chapters: \nesting at the Centre culturel suisse and \landfilling at Kunsthaus Langenthal. The artificial meets the seemingly natural. Using materials such as soil, beeswax and fabric, Wirz creates immersive spatial installations composed of eggs, animals and their dwellings. Doing so he encourages us to examine the relationship between human and non-human organisms and ecosystems, as referred to in the titles of the respective chapters of the exhibition.
Curated by Raffael Dörig, in collaboration with the Centre culturel suisse (CCS), Paris.
On the occasion of the opening there will be a concert by André Uhl (played twice: at 8:30pm and again at 10:30pm), who also composed a song exclusively for the exhibition.
Also on the 5th of June at 7pm there will be a guided tour through the exhibition with me and Chus Martínez, followed by the launch of my Cahier d'Artistes by Pro Helvetia and a bar.
Please save the date and come by!
...and specially if you are in Switzerland: Get on that train!!
The Kunsthaus Langenthal is not more than 1 hour away from Basel, Zürich or Bern!
Because of the "Kulturnacht" event on the opening evening, the Kunsthaus will
be open until midnight!