Alumni News |
Apr, 2016
Patrick Rowe "Soñamos Sentirnos Libres: Under Construction" at Interference Archive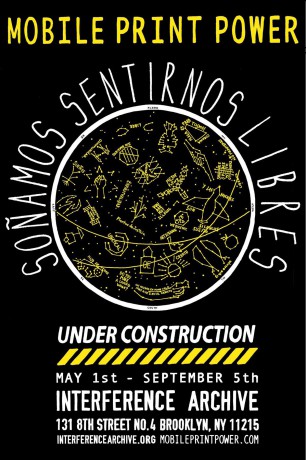 May 1 – Sept 5, 2016
Exhibition Opening May 1, 2016 5-8pm at Interference Archive
Soñamos Sentirnos Libres : Under Construction is a collaborative exhibition, highlighting the work of Mobile Print Power.
Mobile Print Power is a multigenerational collective based out of Immigrant Movement International in Corona, Queens. The collective uses silkscreen printmaking to engage communities and explore social and cultural situations.
This cumulative exhibition will highlight old and new collaborations between Mobile Print Power and seven organizations in the form of workshops and events. These workshops will develop throughout its run, creating ongoing collaborative processes. A series of public events will engage different communities with the ideas behind MPP's work, including solidarity, collaboration, immigrant identity, and the role of the artist.
Collaborators include:
Talk is Cheap (TIC): Talk Is Cheap: Unincorporated Language Laboratories (TIC) is a transdisciplinary collective. To advance community narratives, TIC uses the rich yet affordable medium of dialogue, and pairs it with action in public spaces.
New York State Youth Leadership Council: The NYSYLC is the first undocumented youth led organization in New York. They work to empower immigrant youth to drop the fear attached to undocumented status and challenge the United States' broken immigration system through leadership development, grassroots organizing, educational advancement, and self-expression.
Arts Greenhouse (AG): AG is a hip-hop music education program that serves Pittsburgh teens through music technology classes, music recording projects, hip-hop performances, and workshops on special topics relating to hip-hop.
Combat Paper NJ: Combat Paper NJ is a program of the Printmaking Center of New Jersey that provides art as a tool for veterans to share their military experiences.
UnLocal inc.: UnLocal is an immigration legal services and education not-for-profit organization that seeks to re-imagine the way legal services are delivered to immigrants in New York City.
IMI Corona (Immigrant Movement International Corona): IMI Corona is a volunteer-led community space for alternative education, a think tank to reimage the role of (im)migrants in society, and a laboratory for the merging of arts and activism. We are a group that is sharpening skills to organize and be active in the social justice movement based on the needs of (im)migrant mothers, women, children and young people that are the majority of participants of IMI Corona.
Steam Exchange: Steam Exchange, based in the Smoketown neighborhood of Louisville, Kentucky, facilitates passion-driven learning experiences where individuals explore the integral connections between science, technology, engineering, the arts and mathematics (STEAM) through creative play and production.
http://interferencearchive.org/sonamos-sentirnos-libres-under-construction/
RELATED: