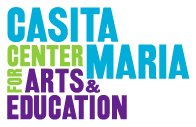 In 2011, Casita Maria Center for Arts and Education and Residency Unlimited decided to join in partnership to select artists interested in carrying out community based residencies in the South Bronx in addition to which Residency Unlimited provides customised support on an ongoing basis.
The mission of the Casita Maria Center for Arts and Education is to empower youth and their families by creating a culture of learning through high quality social, cultural, and educational opportunities.
For the first edition of the RU/Casita Maria Partnership, an open call was posted early 2011 for New York based artists for whom audience participation and engagement plays a major role, and were also willing to organize community based workshops as an integral part of the projects developed.  In 2011, Melissa Calderon, a Bronx based artist, launched the program, followed New York based by Amelia Saul. In 2012, RU and Casita jointly hosted the residencies of the Australian artist Mark Bolotin (Australia) followed by local artist Sonia Louise Davis. 2013 kicked off with the participation of the Austrian artist Walter Steinacher followed this Spring by the Cambodian artist Khvay Samnang as part of our involvement in the Season of Cambodia festival.
For conditions of the residency please click here