Alumni News |
Dec, 2012
Outbound Resident, Jaye Moon, in Art in America's NADA Miami Beach: A Top Ten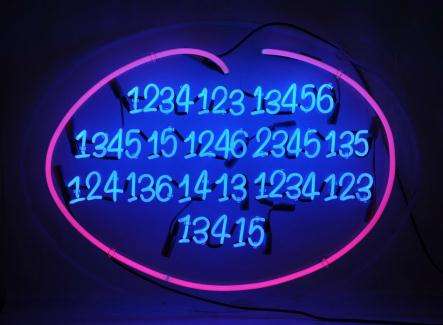 NADA Miami Beach: A Top Ten
Taking place for the 10th year at the Deauville Beach Resort, the NADA Miami Beach fair (organized by the New Art Dealers Association) offers a more relaxed and spunky vibe than Art Basel Miami Beach, which takes place at the convention center. The galleries are younger, but some of the same buyers, like Bed Bath and Beyond founder Marty Eisenberg, and London's Poju and Anita Zabludowicz, were seen roaming the sales floor.
Jaye Moon at Newman Popiashvili, New York

In works that also appeared at the artist's gallery show, which got interrupted by Storm Sandy, Moon translates iconic works by other artists into a numerical code that is used in creating Braille to say things she can't say herself, as with the Tracey Emin-style work illustrated here, "to say things the artist feels she can't say herself." A painting spelled out in colorful dots that, if raised, would spell out "Damien Hirst spot paintings suck."
more can be seen here: http://www.artinamericamagazine.com/news-opinion/the-market/2012-12-07/top-ten-at-nada/ 
RELATED: