THE CURATORIAL PROGRAM FOR RESEARCH (CPR)
 – Open Call for CPR 2016: South America
Deadline: 5 Jan, 2016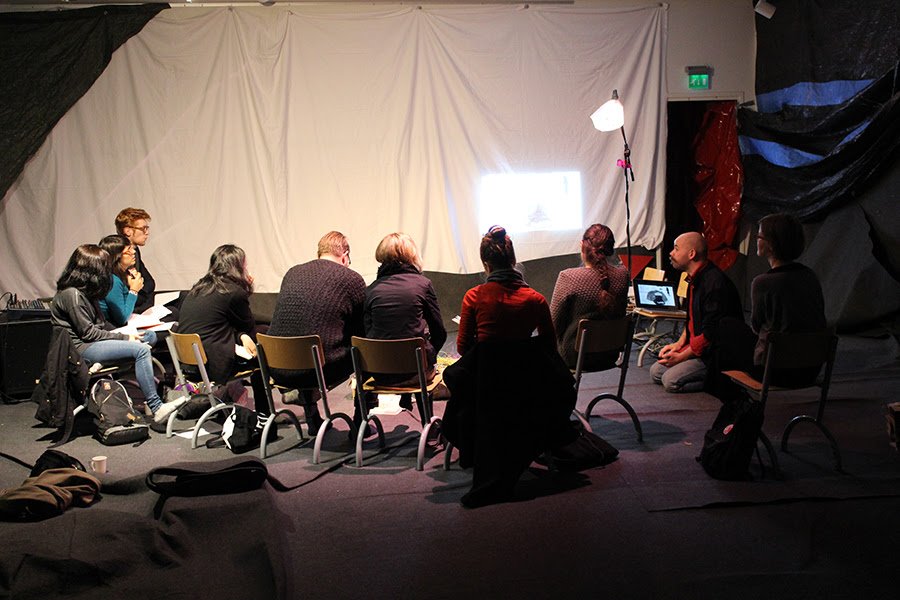 Metsä2 Helsinki, meeting with the artist Eero Yli-Vakkuri. CPR participants, and on far right Saara Karhunen, coordinator for Checkpoint Helsinki. Photo by Anna Virtanen
Disciplines: Curatorial.
Location: South America, Various
Deadline: 5 Jan, 2016
Duration: 1 month (May 2016)
Eligibility: Both independent curators and those with institutional affiliations may apply; only applicants with two+ years of professional experience will be considered.
Costs: Fully Funded
URL: http://www.curatorialprogram.org/
Program Description:
CPR 2016: South America will occur over the course of 20 days across Bogotá, Medellín, Santiago de Chile, and Buenos Aires. Hosted by local institutions, each program gathers a cohort of ten curators, and stresses both academic rigor and on-site research. Each city features a specialized curriculum, which includes readings and lectures about local socio-political history, arts, and culture. These are complemented by daily visits to artist studios and local arts institutions. Following the trip, each curator is asked to submit a proposal for a project in his/her home city; one winning proposal will be awarded funds for its production.

 

THE CURATORIAL PROGRAM FOR RESEARCH (CPR) is the core facilitator of an international network of curators, artists and institutions. Through open calls and full research scholarships, CPR has three goals: first, to enable a direct, in situ communication between international curators and local artists. Secondly, to promote equal access to knowledge. And third, to act as a platform for promotion and practice for the participating curators and hosts.
With a nomadic and intensive format, CPR promotes dialogue between international curators and local artistic scenes. The program was created by curators and for curators, and is a non-profit international organization based in Indianapolis, USA, with satellite locations in more than 12 cities throughout the world. Each satellite city develops its activities through partnerships with local institutions, designating a host curator for each case. CPR draws up an academic program, with specialized readings about art history and general knowledge, together with visits to museums and artist studios, and discussions with scholars and experts.
More Info: http://www.curatorialprogram.org/