Feminist Art Conference Residency 2018
Deadline: 15 Nov, 2017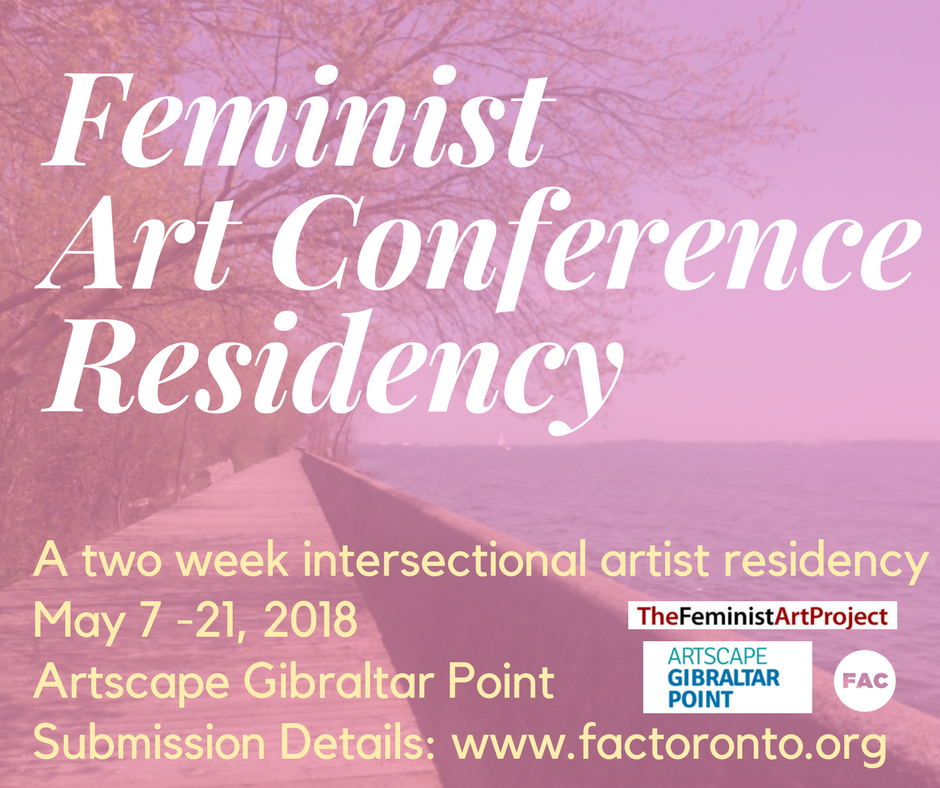 Disciplines: All Disciplines.
Location: Toronto, Canada
Deadline: 15 Nov, 2017
Duration:  May 7 - 21, 2018
Support: Private or Shared bedroom and shared studio
Costs: 1330+HST Private Accommodation. $1120+ HST Shared Accommodation
URL: http://artscapegibraltarpoint.ca/programmed-residency/feminist-art-conference-residency-2018/
Program Description:
Program Description:
The FAC residency will gather artists together who focus on social justice issues such as rape culture, trans-phobia, racism, violence, media representation, cultural appropriation, environmental degradation and impact on Indigenous lands, violence against women, and Islamophobic policies. We aim to create a space that is celebratory, positive, intellectually engaging and provocative. We are committed to this space being trans inclusive, anti-racist, and intersectional.
The residency will include individual studio time accented with group discussions, communal dinners, film, guest speakers, group and individual critiques and trips into Toronto for gallery tours and relevant events. The resulting residency work will be presented in an exhibition at the end of the two weeks and pending curatorial acceptance the artwork will be included in a spotlight exhibition at FAC 2018.
FACILITATOR Ilene Sova is an artist, educator with black mixed race, indigenous and settler ancestry who lives with a disability. As such, she passionately identifies with the tenants of intersectional feminisms and has dedicated her life to "art-tivism". Founder of FAC, Ilene Sova is a conceptual portrait painter who creates paintings which reference anti-oppression feminist themes. She has an MFA in painting from the University of Windsor and her paintings have been shown in Canada, U.S. and abroad. She has been featured in a variety of television, web and print media including, The Current, Canada AM, Toronto Star, CBC Radio and the Toronto Standard. She was also chosen to speak at Toronto's first TEDx Women. Most notably, Sova was invited by two federal MPs to bring her work to Ottawa, Canada for the National Women's Forum on feminism and last year she was invited to give an all university lecture at Southern University New York on Art and Social Change. Sova also teaches painting and drawing the Faculty of Art at OCADU.
SUBMISSION DETAILS The FAC art residency is inviting multidisciplinary artists ( such as; literature, dance, video art, visual arts, theatre, design, makers, music, comic arts ) We strongly encourage artists with who experience multiple forms of oppression to apply; Artists with Disabilities, Black, Indigenous, People of Colour, Two Spirit Folks, Queer, Trans and Non-Binary / Gender-Nonconforming people to apply.
The cost for the 14 days including taxes is 1330 + HST for private accommodation or 1120 + HST for shared. The fee includes your sleeping quarters, a large shared studio space, programmed facilitation with guest speakers and critiques as well as a final exhibition with a reception. If chosen a 50% deposit will be due on January 15, 2017 and the final payment will be due on April 5, 2018.
Arrivals are on May 7, after 1pm and before 3pm, with departure on May 21 before 11am. Letters of support can be provided by FAC for granting purposes.
Submissions are accepted until November 15, 2017 and should include:
1) 250-500 bio and bio photo for the FAC website if you get chosen. In your bio include a statement on how you politically self-identify.
2) Website link (if available) or 5 JPEGS / Video links / or PDF of current written work.
3) Letter of intent (250-500 words) for your work plans at the residency.
4) On your letter of intent indicate if you are applying for a private or shared space
5) If you have an accessibility items to share please indicate this in your letter of intent.
Email Submissions to: torontofac@gmail.com
More Info: http://artscapegibraltarpoint.ca/programmed-residency/feminist-art-conference-residency-2018/