2018 Create Change Fellowship & Residency Program
Deadline: 16 Feb, 2018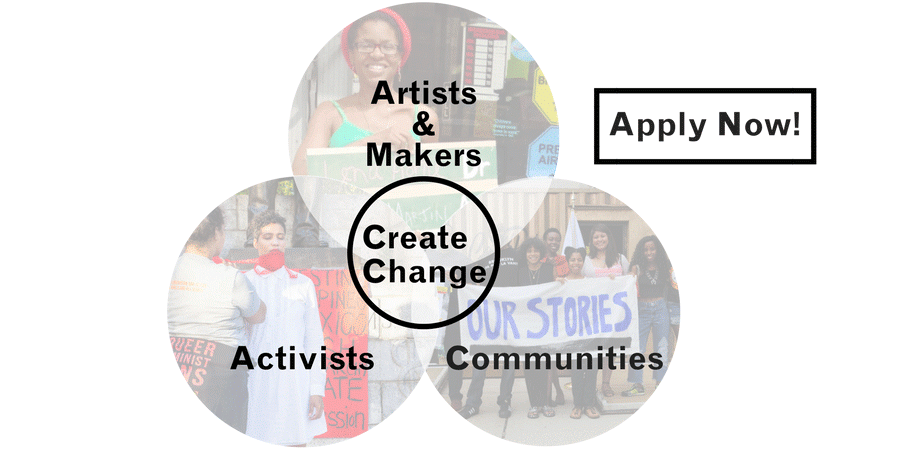 Location:
Deadline: 16 Feb, 2018
Eligibility: Fellows may live in the five boroughs or close enough to NYC to attend all program activities between April and October.
Support: Residencies come with a $7,500 honorarium and a production budget of $2,500
Costs: Free of charge
URL: http://laundromatproject.org/programs/create-change/apply/
Program Description:

APPLY NOW
 through Friday, February 16, 11:59PM ET, for Fellowships & Residencies
Program Season: April-October, 2018
The Laundromat Project's Create Change artist development program connects artists, organizers, and communities in meaningful ways, creating a corps of creative community leaders. Each year we select up to 20 multi-racial, multi-disciplinary changemakers living in New York City to participate and collectively produce a total of eight projects through our Create Change Fellowships and Residencies. Here's why you should consider applying:
There is no application fee
Participating in a Fellowship is free of charge
Residencies come with a $7,500 honorarium and a production budget of $2,500
Create Change is made possible in part through the generosity of The Andrew Mellon Foundation, The Andy Warhol Foundation, The Jerome Foundation, and New York City Department of Cultural Affairs in partnership with the City Council.
Create Change participants acquire necessary practical and ethical tools to critically examine the role that arts and culture have in community change. This program centers the experiences of people of color and their communities. Create Change further provides participants with a community of support, opportunities to build networks and the resources they need to further develop their creative practices and positively impact the communities where they live, work, and grow.
ABOUT THE LAUNDROMAT PROJECT
The Laundromat Project brings art, artists, and arts programming into laundromats and other everyday spaces, thus amplifying the creativity that already exists within communities to build community networks, solve problems, and enhance our sense of ownership in the places where we live, work, and grow.
AG Foundation, The Andy Warhol Foundation for the Visual Arts, The Bay & Paul Foundations,, Ford Foundation, Jerome Foundation, The Andrew W. Mellon Foundation, Joan Mitchell Foundation, Lambent Foundation, Materials for the Arts, Muriel Pollia Foundation, New York City Department of Cultural Affairs in partnership with the City Council, New York City Councilmember Rafael Salamanca, Jr., The New York State Council on the Arts, Robert Rauschenberg Foundation, Rockefeller Brothers Fund, The Shelley & Donald Rubin Foundation, Stavros Niarchos Foundation, Surdna Foundation, Tecovas Foundation, The Theo Westenberger Estate, The William R. Kenan, Jr. Charitable Trust, and individual supporters like you.
Banana Kelly Community Improvement Association, Bronx Cultural Collective, Brotherhood/Sister Sol, Kelly Street Garden, Laundry Pro, The Laundry Room, Marmy Laundromat, Mothers on the Move, The New School, Studio Museum in Harlem, Workforce Housing Group.
The Laundromat Project is a proud member of Naturally Occurring Cultural Districts New York.
More Info: http://laundromatproject.org/programs/create-change/apply/