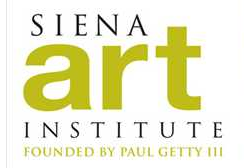 The Siena Art Institute Onlus's Summer Residency Program allows professional artists & writers the opportunity to stay for a month in the heart of Siena, to work in a private studio at the Siena Art Institute, to present their work to the public, and if they wish to hold a final event such an open studio or performance.
The Siena Art Institute's Summer Residents are a valuable component of the Siena Art Institute providing insight and inspiration to our program participants and the local community through the addition of their expertise, energy, and unique perspectives.
Resident Artists are provided:
*A private studio at The Siena Art Institute for one month either during June or July 2012
*A private one bedroom apartment in downtown Siena for their month-long stay.
*Compensation for travel to and from Siena from country of residence.
In turn, Resident Artists are asked to give back to The Siena Art Institute in several ways:
Presenting a public talk about their work upon arrival in Siena.
Holding formal one-on-one critiques with the Siena Art Institute's summer program participants over the course of one or two days.
While not required, Resident Artists are also invited to:
Hold at least one or more open studios/exhibitions/performances/screenings during their residency.
Lead workshops with the Siena Art Institute's summer program participants or members of the local community.
Please feel free to contact us with any questions regarding collaborations or any other aspect of the residency application process.
Application Procedures:
Selection of Summer Resident Artists is based on a holistic appraisal of your entire application packet (see below for application packet requirements). The most important elements of your application are your portfolio and your artist's statement, since these give us the best understanding of your artistic practice.
Please take the time to thoughtfully assemble all of your materials.
Two resident artists are selected each year: one for the month of June and one for the month of July.
The application deadline for the Summer Residency Program is January 15th for residencies in June or July of that year.
We will notify you by March 1st of the decisions made by our Residency Selection Committee.
Required Application Materials:
$25 Application Fee (paid by wire transfer or PayPal)
Artist's Statement (see below for Artist's Statement Requirements)
Art/Writing Portfolio with Portfolio Description Sheet (See below for Portfolio Submission Requirements)
Summer Residency Application Form
1 copy of your CV