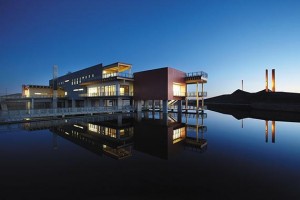 WATERSHED+ is a way of working that aims to develop awareness and pleasure in the environment, not by changing water management practice, nor developing a uniform visual language, but rather by creating a climate of opportunity for water initiatives to build an emotional connection between people and the watershed.
The WATERSHED+ Artist Residency intends to support, promote and facilitate innovative and collaborative contemporary art practice.
The selected artists will broadly explore issues relevant to Calgary's watershed, water management and the Ralph Klein Park (RKP) environment. The residency will provide artists wishing to research, experiment and produce new work in relation to these issues, with time, space and resources in a unique context.
In turn the residencies will offer City of Calgary staff, the artist community and the public, the opportunity to engage with new work of national and international significance and enrich our understanding, appreciation and emotional connection to our environment.
The WATERSHED+ Artist Residency Program at RKP is a partnership between The City of Calgary's Public Art Program, Utilities & Environmental Protection Department, and Parks Environmental & Education Initiatives.
The Residency program will offer two streams of continuing residency opportunities – a short term residency of up to four weeks in length and a long term residency for a minimum of three months in length (which does not have to be consecutive). The first residency will begin October, 2012. Artists of local, national and international provenance are encouraged to apply.
View full details and submission guidelines here:
www.watershedplus.ca/residency/res-call01.pdf