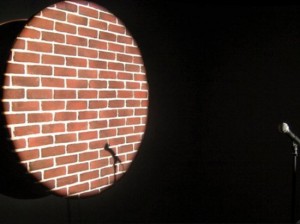 24 Experimental Comedy Training Camp
Faculty: Michael Portnoy
Guests: Steven M. Johnson, Reggie Watts, Mai Abu ElDahab
Program dates: September 10–October 26, 2012
Application deadline: April 13, 2012
Rule #1: What you were doing and calling "art" is now called "experimental comedy."
This residency will include a light study of contemporary humour theory in the fields of psychology, philosophy, and cognitive linguistics as well as a sprint through comedy-writing instructional texts and books on comedy in the visual arts. A weekly experimental comedy club, daily prank calls, and regular "roasts" will occur, where we take existing works of art, ideas, and forms of practice and tweak, skewer, prune and graft them to create new destabilizing chimera. In group sessions, the four main areas of focus will be language/logic, movement/character, scenario/situation, and things which do things.
25 Wood Land School – What colour is the present?
Faculty: Duane Linklater
Guest: Brian Jungen
Program dates: January 7, 2013 – February 22, 2013
Application deadline: June 29, 2012
We should meet in the mountains to investigate: What colour is the present?
On a weekly basis, the Wood Land School will convene to share work, performance, poetry, dance, video, mix-tapes, songs, drink, and food to determine what colour is the present. Our determinations will be guided by our languages, where we come from, our city lives, our rural lives (or in between). We will get together in the mountains to see what becomes of this.
Please note: Enrolment to this program is limited to individuals of Aboriginal descent (status, non-status, Métis or Inuit).
Banff Artist in Residence (BAIR) Programs
Ongoing opportunities
Banff Artist in Residence programs offer independent periods of study where artists, curators, and other arts professionals are free to experiment and explore. Participants are provided with an individual studio accessible 24 hours a day, as well as use of Visual Arts facilities including printmaking, papermaking, ceramics, sculpture, and photography. BAIR offers short and long-term opportunities to work at a remove from the constraints of everyday life.
For more information and to apply:
Office of the Registrar
Email: arts_info@banffcentre.ca
Phone: 403.762.6180 or 1.800.565.9989
www.banffcentre.ca/va