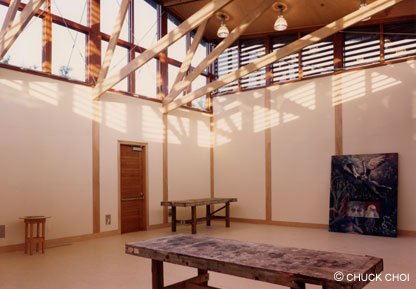 Charlotte Battle Everbach Painting Studio
MAY 14 – JUNE 3, 2012
Residency #145
Application Deadline: February 3, 2012
> GREGORY ORR, poet
> PAUL DRESHER , composer
> JOANNE GREENBAUM, visual artist
FOR MORE INFORMATION: www.atlanticcenterforthearts.org/artresprog/appreq/app_req.htm
TO APPLY FOR RESIDENCY
1. Application Form as Adobe Acrobat PDF
2. A letter of intent to the Master Artist you are applying, a separate résumé or bio including your name, address, telephone number, education, and experience. Please be sure to include an accurate email address.
3. Work samples as requested by the Master Artist (see the Residency Schedule)
4. $25 application fee per Master Artist, per residency. Major credit cards including Visa, MasterCard, American Express and Discover are accepted. Please indicate your name as it appears on your credit card, your account number and expiration date on a separate sheet of pap­er along with your application. Please make checks and money orders payable to Atlantic Center for the Arts. Do NOT send cash. (All fees must be paid in US Dollars).
5. All applications must be postmarked by the deadline date listed in the Residency Schedule. All international applications (those sent from overseas) must arrive at ACA within 7 days of the deadline date posted.
Financial Aid is available. ONLY accepted Associate Artists should apply. If you have not been accepted into the residency program it is not necessary to fill out the Financial Aid forms and submit them with your application. Once you have been accepted as an Associate Artist, you will have an opportunity to apply for Financial Aid. Please download the Financial Aid form here.
Please do not include elaborate folders, files or bindings. All applications are put in to uniform files before sending to the Master Artists. The Master Artists will NOT see your packaging. If you would like your materials sent back to you, please include a self addressed stamped envelope.
All Associate Artist applications are forwarded to the appropriate Master Artist by Atlantic Center for the Arts. Master Artists personally select between 8 and 10 applicants to participate in the residency. Selected Associate Artists will be notified approximately four weeks after the deadline date.
If accepted as an Associate Artist, there is non-refundable $850 residency fee. Once accepted, Associate Artist will be given the opportunity to apply for Financial Aid. Associate Artists receive private room and board, including three meals per day, five days per week, along with 24-hour access to shared studio spaces. Associate Artists are responsible for the costs of travel, and materials.
*Please send all Associate Artist application materials to:
Atlantic Center for the Arts
Attn: Program Department
1414 Art Center Avenue
New Smyrna Beach, Florida 32168
MASTER ARTIST SELECTION
Master Artists are identified by Atlantic Center for the Arts National Council members. Artists are contacted by National Council members or the Program Department for possible invitations to participate in the residency program. Atlantic Center for the Arts does not accept unsolicited requests to be a considered for the position of Master Artist-in-Residence.
Additional Information 386.427.6975 or 800.393.6975 (domestic U.S. only) or email program@atlanticcenterforthearts.org
FULL Scholarships to attend FREE are available for painters and sculptors (through The Joan Mitchell Foundation) and composers (through The Sally Mead Hands Foundation) for ALL accepted artists who submit ACA Financial Aid forms upon acceptance. Limited additional Financial Aid is available for writers through The Pabst Charitable Foundation for the Arts and the Atlantic Center for the Arts Advance an Artist Program.
www.atlanticcenterforthearts.org/artresprog/appreq/app_req.htm