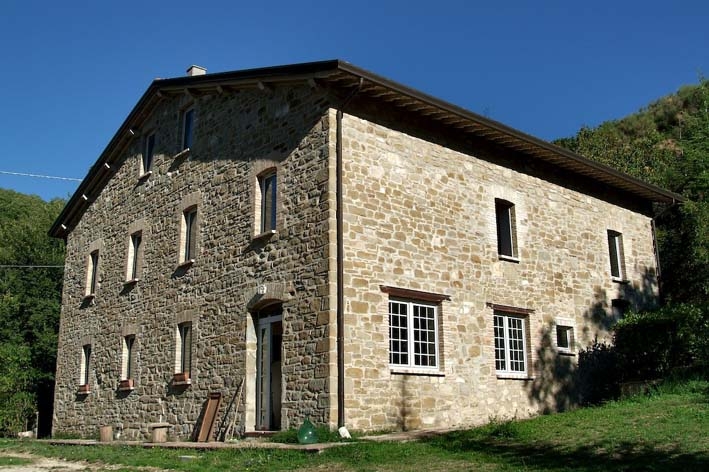 Ginestrelle is a sympathetically restored traditional farmhouse set
in the hills of the Regional Park of Mount Subasio, near the historic
town of Assisi, famous for its frescos by Giotto and Cimabue. It
offers residencies to artists from all artistic disciplines and its aim is
to support excellence and originality.
Applications will be judged on the basis of CVs and portfolios
submitted.
Aims
- to promote contemporary art in all its diverse forms within an
international context,
- to stimulate creativity through direct contact with nature and
a respect for the environment,
- to set up an exchange of ideas within various disciplines of
contemporary art practice,
- to establish workshops, exhibitions, and open-air art events in the
Regional Park of Mount Subasio.
Each artist will have the opportunity to develop his/her project
within a number of different artistic fields:
- Visual Arts painting, drawing, photography, installation art,
land art, sculpture, etc.
- Literary Arts fiction, poetry, script writing, novel, short
stories etc.
- Performing Arts dancing, music, drama
Work can either be done in the studio, within the residency, or outside in
one of the two refurbished barns which have been adapted as
workspaces.
Groups of artists
Ginestrelle provides the prefect milieu for international groups of
artists already involved in a joint project to work together. The
residency will provide an opportunity to bring to fruition any
current project. Each group will have the chance to exhibit in Assisi
at the end of the each year.
skills: an ability to work as a team
how to apply: send a brief description of the project and the
working practices of those involved demonstrating an ability to
work as a team.
Grants
The cultural association Ginestrelle can assist artists seeking
grants or other forms of funding in their home country/institution,
by providing an invitation letter when a candidature is accepted.
The International collective exhibition of all the works created during this
residency will be shown in Assisi at the prestigious Art Gallery Le Logge,
from the 2nd to the 9th of December 2012.
The exhibition is proudly supported by the Council of Assisi through the
provision of the gallery space and the production of the International
Contemporary Art Guide which aims to present a summary of the artistic
projects developed during 2012 at Arte Studio Ginestrelle.
Cultural events
Ginestrelle organizes exhibition openings, as well as press
conferences and campaigns to inform the public of its cultural
activities/events.
All artists will have the chance to show and promote their work in
a special exhibition in Assisi, the UNESCO World Heritage site.
Duration of residencies: 1 week to 1 month

The centre offers the use of a number of common spaces:
- studio
- work and exhibition spaces
- 2 refurbished barns adapted as workspaces
- kitchen
- living room
- 3 bathrooms
Some organic foods such as olive-oil, vegetables and fruit are also
included according to season.
Natural materials such as stone and wood may also be made
available.
There is wireless internet access.
Residents can have their meals in local restaurants, for which there
will be a discount.
Application: who/how
Applications are open to artists of all levels from beginners to
advanced.
Candidates should submit:
a) an up-to-date Curriculum Vitae with personal details
b) an example of recent work (photographs, catalogues,
publications, articles, CDS, short writing sample)
c) an explanation or outline of the project to be undertaken
during the residence
d) the desired dates of stay
Send application to marina.merli@alice.it
Applications Periods
Spring 2012
Deadline: February 15, 2012
Residencies: early of March to the end of May
Summer 2012
Deadline: May 15, 2012
Residencies: early of June to the end of August
Fall/Winter 2012
Deadline: August 31, 2012
Residencies: early of September to the end of December
Conditions of payment
Fifteen days after receiving notification of acceptance is required a
deposit of 20% of the total cost.
Deposit is non-refundable.
Balance is due one month before the residency begins and it is not
refundable.
Payment should be made by bank transfer.
For bank details contact marina.merli@alice.it
Any cancellation must be made in writing by regular mail or email.
For further information contact Dr. Marina Merli:
marina.merli@alice.it
Tel. +39.075.802336 Cell. +39.338.8134078
Dr. Marina Merli, director
Arte Studio Ginestrelle artist residency
Santa Maria di Lignano, 11 – Regional Park of Mount Subasio
06081 Assisi (Perugia) Italy
Tel./fax +39.075.802336
Cell. +39.338.8134078
www.flickr.com/photos/70790594@N04/
artestudioginestrelle.wordpress.com/