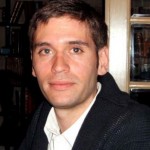 In his lecture at Check-in Budapest, Boskovic will talk about the programmatic initiatives of Residency Unlimited which creates customized residency formats in strategic partnerships with local art institutions.
Check-In Budapest is curatorial visitor program that collaborates only with internationally renowned experts in the field of contemporary visual art. The goal of the program is to facilitate international art professionals to become acquainted with the actors and current trends of the Hungarian art scene. Through public lectures, the invited guests can further introduce their research areas, current projects and their own art scenes.
The program has resulted in a number of partnerships and projects with the invitation of Hungarian artists to participate in international biennials and other exhibitions. As Hungarian partner, ACAX co-ordinates and supports the artists' involvement in these significant events, assisting also in the production of new works. The program operates by invitation only.
Date: 9 January 2012 (Monday), 6 pm
Place: Labor (1053 Budapest, Képíró u. 6.)
The lectures will be held in English. All are welcome!
The Check-in Budapest program is supported by the Ministry of National Resources | Collaborating partner of the current event: Labor