Alumni News |
Aug, 2016
Louise Hobson commissioned by Cardiff Contemporary/ Caerdydd Gyfoes & Roman Štětina's work in Cardiff Contemporary 2016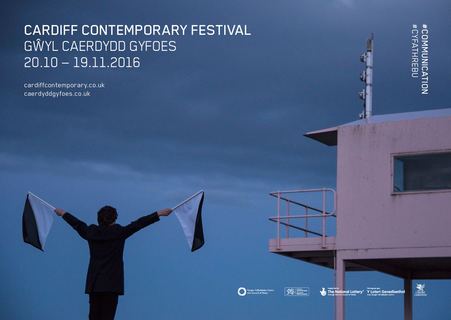 Cardiff Contemporary Visual Arts Festival 20 Oct – 19 Nov 16
Cardiff Contemporary, the Welsh capital's biennial festival of international contemporary arts, is announced to take place between Thursday 20 October – Saturday 19 November 2016.
The 2016 theme of communication, and title, Are You Ready? references Marconi's breakthrough radio signal, made from Flat Holm Island to Lavernock Point in 1897.
Ten new artist's commissions include the activation of a permanent sculpture on Cardiff's waterfront and the re-appropriation of two derelict city landmarks, where artists will communicate ideas globally and through space and time.
Thirty one days of artistic challenge and discovery opens across the Welsh capital on Thursday 20 October 2016 as Cardiff Contemporary gets underway for its third edition. Drawing together international and Wales-based artists to charge the city streets, galleries, forgotten spaces and communities with the crackle of new and exciting ideas in multi-disciplinary visual, sonic and performance arts. The theme of 'communication' looms large, as artists and audiences are urged to look beyond earth, through time and to each other for clues, answers and inspiration.
Taking in historic sites from the city centre to Cardiff Bay, Cardiff Contemporary will find its focus in a temporary hub, 'The Angel' developed to include five new gallery spaces across a derelict floor beneath the city's Angel Hotel. From here brand new commissions will radiate across Cardiff, including impressive new public sculpture along one of Cardiff's most public landmarks, a takeover of the imposing-yet-defunct Old Post Office at Cardiff Bay for an exhilarating, public reclamation and an un-missable light sculpture to welcome travellers arriving at Cardiff Central Station.
Artists and groups confirmed include: Megan Broadmeadow, Laura Ford, Roman Štětina, Robert Montgomery, Heather and Ivan Morison, Anthony Shapland, Rob Smith and Charles Danby, tactileBOSCH, Spit & Sawdust with Edwin Burdis and a collaboration between Richard James, Angharad Van Rjiswijk, comedian and writer, Stewart Lee and Andy Fung.
The themes and overarching title for the festival, 'Are You Ready?' is a direct reference to the residency of Guglielmo Marconi in the city. As an exile from Italy where his pioneering vision was met with scepticism, he was supported by the British Post Office to develop his experiments into radio communications technology. Assisted by local engineer, George Kemp, Marconi succeeded in transmitting those three, immortal words in Morse code from Flat Holm Island in the Bristol Channel to Lavernock Point,Glamorgan on 13 May 1897. Just four years later, the pair succeeded in the first transatlantic radio transmission. Artists have been asked to consider this history and the modern age of instant and relentless communication in developing new work.
City of Cardiff Council Leader, Cllr Phil Bale, said: "People have never been so connected in the world, yet good global communication is an issue and has never been so needed, so it's quite timely that 'Communication' is the theme for this years' festival. We are hoping that the artists featured in this year's festival inspire the city and world with the ideas that they are presenting in Cardiff.
Creating a period of city-wide, creative celebration, Cardiff Contemporary coincides with Artes Mundi 7 art prize and exhibition (opening Friday 21 October at National Museum Cardiff) and the city-wide Sŵn Music Festival (Friday 21 – Sunday 23 October, various venues).
Roman Štětina: Shave and a haircut – two bits
Fully engaging and rising to the challenge of the festival theme, Czech artist Roman Štětina collaborates with curator Louise Hobson to develop a 'call and response' collection of works along a city centre street, requiring the fleeting presence of the public passing through the city to become active. The final piece will reference not only Marconi's initial achievement, but the enduring success of radio as the place that generations of people, right up to and, likely far beyond the modern day, consistently turn to for evidence of a reassuring human presence in times of crisis.
Full information on each commission, dates, times and locations, plus further events including screenings, talks and workshops, will be published on Cardiff Contemporary's website: http://www.cardiffcontemporary.co.uk
Connect with Cardiff Contemporary on social media:
Twitter: twitter.com/cardiffcontemp
Facebook: facebook.com/CardiffContemporary
Instagram: instagram.com/cardiff_contemporary
Cardiff Contemporary is funded by the City of Cardiff Council and the Arts Council of Wales.
RELATED: