Alumni News |
Feb, 2017
LEASHO JOHNSON Solo Exhibition BELISARIO & THE SOUNDBOY at NLS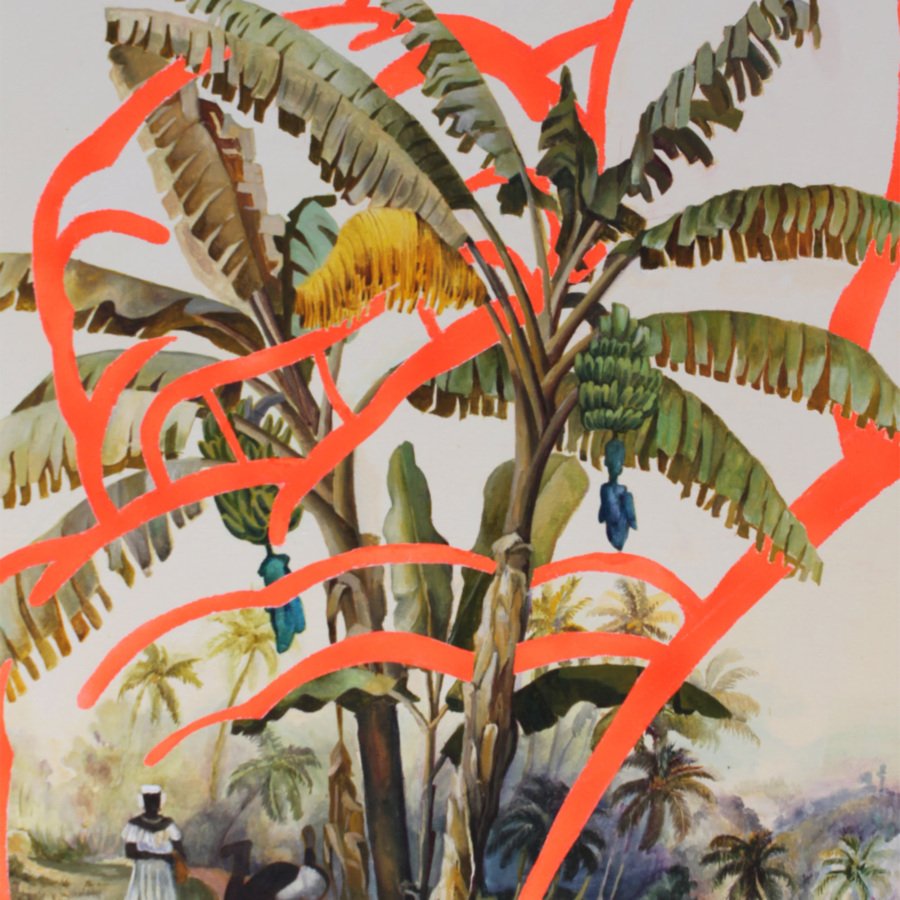 BELISARIO & THE SOUNDBOY 
A SOLO EXHIBITION OF WORK BY LEASHO JOHNSON  
Opening reception: Saturday, February 4, 2017


6 - 8 PM



10A West Kings House Road
 Kingston 10, Jamaica
NLS presents the debut solo exhibition of Leasho Johnson. In his newest paintings and sculptures Johnson inserts his dancehall-influenced female avatars into colonial depictions of plantation life in Jamaica culled from Isaac Mendes Belisario's 18th century paintings. Johnson uses Belisario's depictions to create a counterpoint to the music of Vybz Kartel as a means to question power heirarchies, legitimacy, and subjugation within Jamaican culture. In this body of work Johnson deftly moves between techniques he has employed for the last seven years ranging from Japanese anime, street art, graphic design, ceramic sculpture, and 18th century painting creating humour as a means to cutting commentary about social mores. The exhibition is presented by NLS at alternative location 10A West Kings House Road. Opening reception is free and open to the public.
Leasho Johnson's recent exhibitions include Jamaican Pulse at the Royal West England Academy (Bristol,UK), Jamaican Routes, Punkt Ø Galleri F15 and Momentum (Moss, Norway), FLOAT, Transformer (Washington, DC), The National Biennial, National Gallery of Jamaica (Kingston, Jamaica) and Masculinities IV, National Gallery of Jamaica. He was recently awarded the Davidoff Initiative Artist Residency at Residencies Unlimited (New York) and recently completed residencies at Bluecoat (Liverpool) in partnership with NLS and RWA, as well as Caribbean Link, Atelier's 89 (Oragestad, Aruba). He has been an invited panelist for The Caribbean Queer Visualities Symposium at Yale University presented by Small Axe (Connecticut), as well as for Transformer's Framework panel at Art Museum of the Americas (Washington, DC). His work has been reviewed in the Washington Post, Caribbean Beat, ARC Magazine and the Jamaica Observer. Johnson received his BFA in Visual communication & graphic design from the Edna Manley College of the Visual & Performing arts.
New Local Space Limited (NLS) is a contemporary visual art initiative and micro-gallery in Kingston, Jamaica. NLS supports the work of visual artists committed to breaking new ground in their work, builds and connects new audiences to these artists, and links these artists to the global contemporary art community. We provide the public with a platform for experimental exhibitions, artist residencies, and a meeting place for new ideas and cutting edge approaches to art. NLS' programming is an open international cultural forum grounded in the spirit of experimentation, and collaboration. The organisation operates out of a 200 sq ft garage turned white box and its 800 sq ft outdoor space, as well as through curatorial initiatives with international art spaces, and through online programming.
http://www.NLSkingston.org
Twitter: @NLSkingston
Tumblr: nlskingston.tumblr.com
Facebook: http://www.facebook.com/NLSKingston
Phone: 927-7931/ 927-8647/ 406-9771
RELATED: