Alumni News |
Apr, 2012
Kilian Rüthemann at the Glasgow International Festival of Visual Art, April – May 2012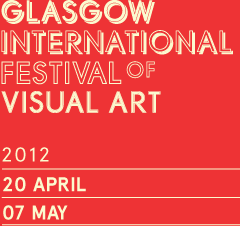 Glasgow International Festival of Visual Art (GI) will take place across the city from Friday 20th April 2012 - Monday 7th May 2012.
David Dale Gallery & Studios present new site specific installations by Kate V Robertson and Kilian Rüthemann.
Working in direct response to the architecture of the gallery space, Robertson and Rüthemann will separately create site-specific installations and interventions that disrupt the viewer's perception of the space and its properties. Exposing a fissure in material and application each artist, using disparate means, brings attention to the inherent mute limitations – though infinite malleability – of solid objects and structures. Drawing on historical and temporal references, Robertson and Rüthemann work in contrastive approaches united by ideas of dissolution, instability and failure to infract spatial boundaries. Both the artist's work can only exist for a set duration before it is dismantled and subsumed back into the architecture it previously usurped.
Through its previous incarnation as a college for the construction trade, David Dale Gallery provides a setting rich in industrial history for the artists to break the rules previously espoused there.
Project supported by GI Festival, The Hope Scott Trust and Pro Helvetia.
more info: http://www.glasgowinternational.org/index.php/events/view/Kilian_rutheman_and_kate_v_robertson_at_david_dale/
RELATED: