Alumni News |
Apr, 2014
Jaye Moon – "Shades of time" at the Korean Cultural Service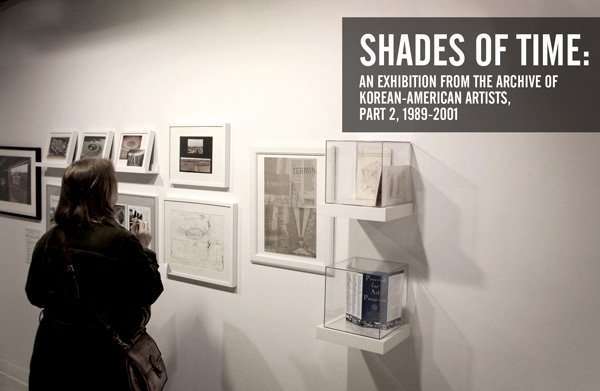 Organizers: Korean Cultural Service New York and the AHL Foundation
April 9 - May 23, 2014 at the Korean Cultural Service New York  (460 Park Avenue 6th Floor, New York, NY 10022)
June 28 - July 20, 2014 at the Queens Museum of Art Partnership Gallery (Flushing Meadows Corona Park, Queens, NY11368)
This exhibition is the second part of the two-part project from "The Archive of Korean American Artists" of the AHL Foundation. After the successful first exhibition held in 2013 that presented archival materials of Korean artists active in the US from 1955 to 1989, this second exhibition showcases archival materials, documents, and early artworks by Korean artists from 1989 to 2001. While the first exhibition showcased 45 artists including Whanki Kim, Po Kim, Nam June Paik, and Ik-Joong Kang, this second exhibition features a younger generation of artists, many of whom are video, mixed media, computer graphics, and installation artists. Among more than 200 artists of this generation, 45 artists have been specially invited to exhibit their pivotal works stemming from the 1990s and 2000s; many of the works are reflective of the global events of the times such as the IMF bailout of Korea during the 1997 Asian financial crisis, the 1998 market crash by the dot-com bubble, the anxiety of the "Y2K" Millennium Bug in 2000, and the catastrophic tragedy of the 9/11 attacks.
This exhibition is held at the Gallery Korea of Korean Cultural Service New York in April and May, and a select number of the artworks will then be on display at the Queens Museum of Art Partnership Gallery in June and July.
Participating artists include: Byron Kim, Changha Hwang, Gahae Park, Hyong Nam Ahn, Jaye Moon, Jean Shin, Jena H. Kim, Jong Sook Kang, Jungjin Lee, Kyu Woo, Sei Ryun Chun, Seongmin Ahn, SoHyun Bae, Soonae Tark, Suhee Wooh, Sujin Lee, Sun You, Jungjin Lee, Sungwon Grace Cho, Sungmo Cho, Sungsook Hong Setton, Won Ju Seo, Y. David Chung, Young Min Moon, B. G. Muhn, Bong Jung Kim, Chan Hee Hong, Debbie Han, Do-ho Suh, Hijo Nam, Hyo Jeong Nam, Jin Soo Kim, Julie Hwang, Kimsooja, Kyung Youl Yoon, Nikki S. Lee, Ran Hwang, Soonnam Kim Singer, Suejin Jo, Sun K. Kwak, Sunhee Kim Jung, Wheiza Kim, Yong Soon Min, Youngsam Kim, Yooah Park, and Yuna Hong.
Comprised of approximately 70 works by 45 artists as well as documentary materials that span two generations of Korean-American artists, Shades of Time: An Exhibition from the Archive of Korean-American Artists.
more info here: http://www.koreanculture.org/?mid=ExhibitionsE&document_srl=405045
RELATED: