RU News |
Jan, 2015
Interpreting the Frame, curated by Boshko Boskovic – FCINY's MOBIUS Fellowship Program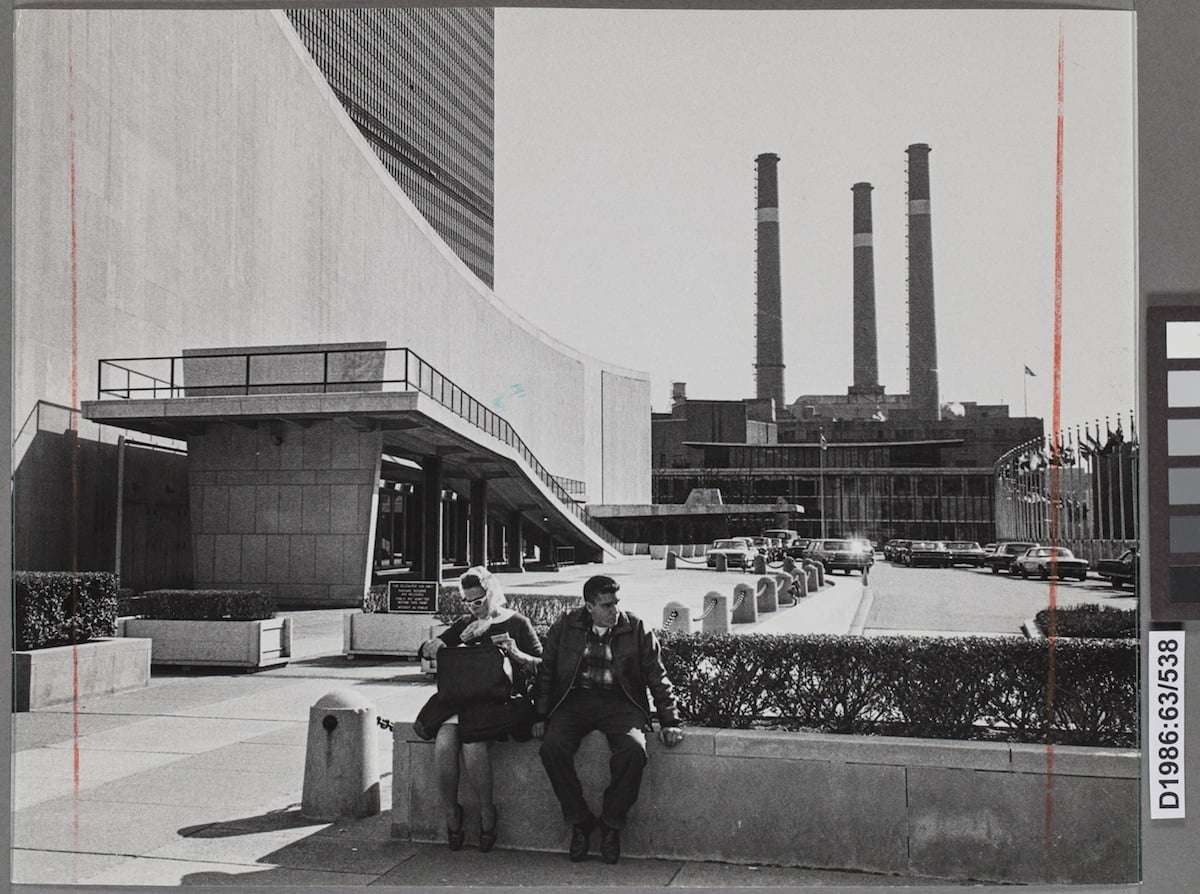 K-G Roos: UN building in New York, 1968, Gelatine silver print. The Finnish Museum of Photography.
Exhibition Interpreting the Frame at Gallery Augusta in Helsinki, January 30 - February 22, 2015.
The exhibition Interpreting the Frame, curated by Boshko Boskovic, uses several photographic archives as a point of departure to commission new works by Helsinki and New York based artists. The primary source of inspiration was the rich collection of the Finnish Museum of Photography along with several photography collections from Russia and the United States. This initiative portrays artistic responses to the past through pictures from private family albums, institutional archives and historic documents. The works presented take many forms, including sculpture, drawing, film, video and site specific installation. The participating artists are Zeljka Blaksic, Liinu Grönlund, Tatiana Istomina, Jonna Kina, Tanja Koljonen, Juuso Noronkoski and Mikko Rikala.
The seven contemporary artists initially excavated and analysed materials by well-known as well as amateur photographers from different eras and topographies. Their working method is an act of translation where the original images become a foundation for creating new artifacts. The artists are challenged to come up with visual solutions through different modes of engagement, generated as a direct response from their interaction with archival materials. The resulting illustrations unlock and foreclose interpretive possibilities, allowing viewers to experience historicity affectively, creating an atmosphere and a space for reflection on the passage of time.
The aspiration for this project is to build a framework within which artists are inspired to produce new compositions by employing archival photographs that are subsequently decoded and reconstituted. This undertaking establishes an open field of dialogue between historic collections and diverse contemporary practices, leaving room for surprises and unexpected developments. Each newly commissioned work becomes an imaginative narrative placing the viewer between several realities, which continuously travel backward and forward. This proliferation of prospects is one of the most stimulating and rewarding outcomes that a perspective spectator discovers in experiencing the exhibited works.
The Interpreting the Frame exhibition is part of the FCINY's MOBIUS Fellowship Program and collaboration between FCINY, Boshko Boskovic and HIAP - Helsinki International Artist Programme. Boskovic spent a research period in Helsinki in June 2014 in order to familiarize himself with HIAP's working methods and furthermore to do background research for the exhibition.
Boshko Boskovic is the Program Director of Residency Unlimited, an international residency program for artists and curators located in Brooklyn, New York. He is interested in interpreting curatorial trajectories and analyzing the role and function of other cultures, their hierarchy and implications in the art world system. Boskovic's curatorial practice is concerned with rethinking the common perception of the art world as a coherent, univocal system centered in New York.
Boskovic is dedicated to exploring emerging artists who are often perceived as Other, whether distant (ex-Yugoslavia, Mongolia) or nearby (Canada). His practice contributes to promoting unexpected multicultural relations and realities.
HIAP
HIAP – Helsinki International Artist Programme is one of the largest international residency centers in the Nordic and Baltic region. The activities at HIAP are based on thematic projects that focus on specific contemporary topics or aspects of artistic practice, collaborations with local art and cultural organizations, and open calls.
RESIDENCY UNLIMITED
Residency Unlimited (RU) supports the creation, presentation and dissemination of contemporary art through a unique residency program and year-round public programs. We forge strategic partnerships with collaborating institutions to offer customized residencies designed to meet the individual needs of participating artists and curators.
MOBIUS
MOBIUS is a fellowship program for visual arts, museum and archive professionals based in New York, the United Kingdom, the Republic of Ireland and Finland. The program enables transatlantic mobility and collaborative practices and supports long-lasting professional relationships.
RELATED: