Alumni News |
Nov, 2016
Ingrid Eggen in "Prayer" at Ulterior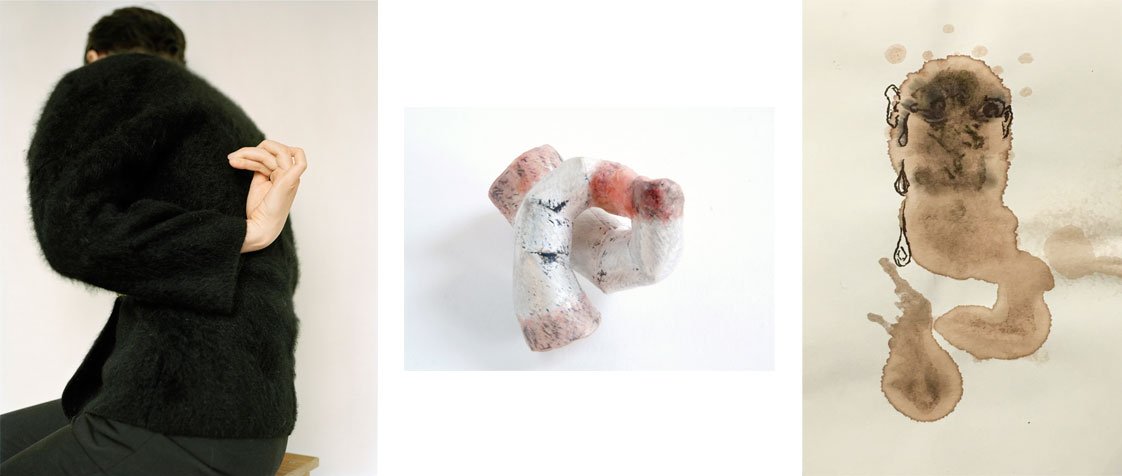 From Left: Ingrid Eggen, Knegang 3, 2015-2016, C-print, 22 1/8 x 27 3/4 inches; Masumi Kataoka, Untitled, 2016, Sterling silver, animal Intestine, and nickel, 2 3/8 x 2 3/8 x 2 3/8 inches; Joseph Whitt, Untitled, 2016, Ink and coffee on paper, 5 1/4 x 3 1/2 inches.
Prayer
Ingrid Eggen / Masumi Kataoka / Joseph Whitt
November 19 – December 23, 2016
Ulterior is pleased to present Prayer, an exhibition of works by Ingrid Eggen, Masumi Kataoka, and Joseph Whitt. The exhibition opens on Saturday, November 19th with a reception from 6 to 8 pm. The artists will be present at the reception.
As the temperature drops and the days get shorter, we wrap ourselves in more layers to keep warm, binding our bodies and restricting their capacities. These layers protect us like a temporal cocoon. Attention drifts inward and we become saturated with the self. The sensory distance between the body and the world grows bigger in these chilly temperatures, and we yearn to find something that can connect the internal world to the external one. But how do we form this connection?
Through her ongoing series of portrait-like photographs, Knegang, the Norwegian artist Ingrid Eggen deconstructs and reconfigures the morphology of body language and its meaning. The gestures that the model adopts in these photographs appear to mimic existing signs and symbols used in non-verbal communication, but really do not. By adapting the "meaning" of standardized gestures and poses, Eggen enacts an entirely corporeal play on words.
RELATED: