Alumni News |
Oct, 2018
HEKLER HOST / Francis Estrada and Ramyar Vala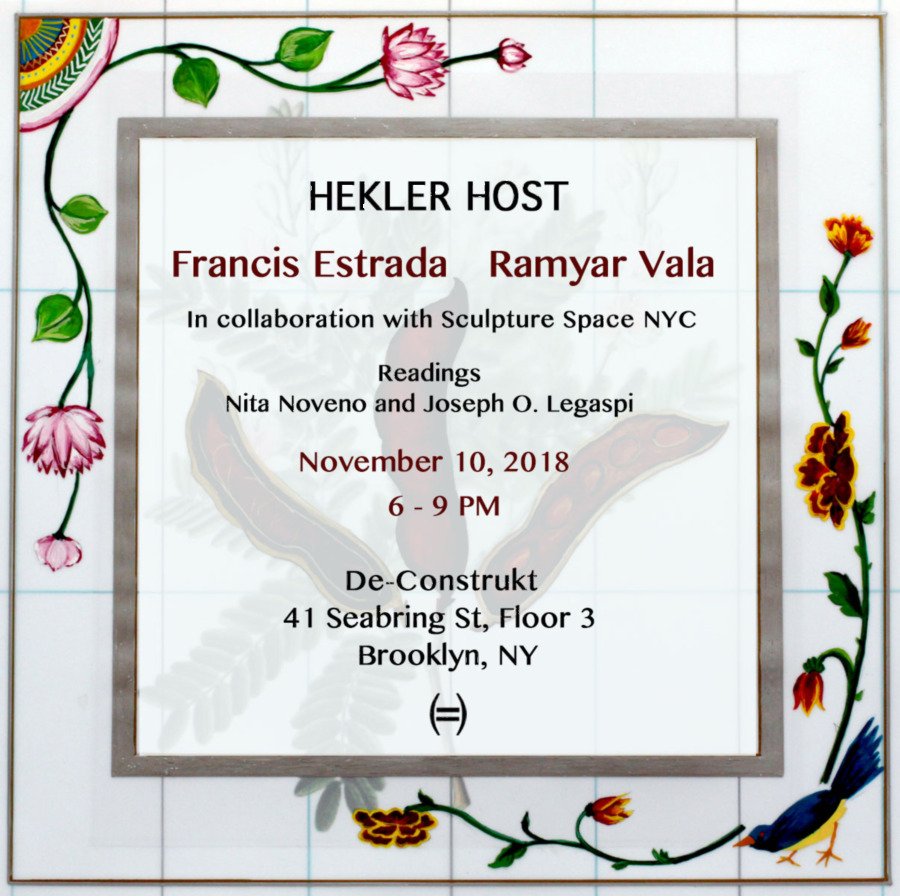 HEKLER HOST / Francis Estrada and Ramyar Vala
with the readings by Nita Noveno and Joseph O. Legaspi
Saturday, November 10, 6-9pm
De-Construkt [projekts] (41 Seabring St. Floor 3, Red Hook)
We invite you to join us for this casual evening featuring a special menu of Filipino pulutan (finger foods typically eaten while drinking with friends) and drinks presented on interactive multi-sensory serving stations that experiment with communal dining experiences. The works address culinary histories, intercultural influences, traditions, and memories through food. Readings will be given by Nita Noveno and Joseph O. Legaspi.
There is a (highly) suggested sliding donation of $10-20 to pay for food, drinks, and the continuation of programming at De-Construkt and HEKLER. A $20 donation includes a limited edition zine with images, poems, and recipes. You can bring cash or venmo @joshski with the subject HEKLER HOST.
We kindly ask to RSVP to nprljevic@gmail.com so we can make sure we have enough for all.
***
HEKLER is an interdisciplinary collaborative platform that fosters critical examination of hospitality and conflict. HEKLER HOST programming brings together 2+ collaborators to create a 3 hour menu that can feature food, music, exhibition, performance, spoken word or readings examining these shared topics of interest.
Francis Estrada was born in the Philippines and moved to America in 1988. He is a visual artist with a fine arts degree in painting and drawing from San Jose State University and works as a museum educator, freelance art educator, and traditional Filipino martial arts instructor. By playing with the presentation of allusive (often figural) imagery, Estrada explores how visual cues found in historical photographs, mass media, political propaganda, and personal archives influence or inflect social or cultural narratives. He currently lives in Brooklyn, NY. See exhibition history here.
Ramyar Vala received his primary education in his native Iran and later Sweden. After receiving his bachelor's degree in graphic design, he received an MFA from the University of Chicago in 2014. Grounded in design and fabrication, his research tracks the functionality of crafted objects and the stories behind cultural ornamentation. Ramyar's multi-disciplinary practice explores the inner lives and circulation of traditional motifs— tracing how they travel, transform, are adapted, and are appropriated trans-nationally and trans-culturally — through sculpture, installation, and video work. He currently lives in Brooklyn, NY. See exhibition history here.
Nita Noveno teaches English Composition and Literature at the Borough of Manhattan Community College. She is the founder/co-host of Sunday Salon, a monthly prose reading in its sixteenth year in NYC. A graduate of the New School MFA Creative Writing Program, she has been published most recently in About Place Journal and the Asian American Writers Workshop's The Margins. As a child, Nita dreamed of becoming a veterinarian and an Olympic figure skater. Today she is a writer of fragments and run-on sentences. Originally from Southeast Alaska, she calls Astoria, New York home.
Joseph O. Legaspi is the author of the poetry collections Threshold and Imago, both from CavanKerry Press; and three chapbooks: Postcards (Ghost Bird Press), Aviary, Bestiary (Organic Weapon Arts), and Subways (Thrush Press). He cofounded Kundiman, a national nonprofit organization dedicated to nurturing generations of writers and readers of Asian American literature. He lives with his husband in Jackson Heights, Queens.
***
We are grateful to Laura Arena, De-Construkt [projekts] for hosting this event and to Andrew Kennedy and Magda Dejose, Sculpture Space NYC for facilitating the production of ceramics vessels.
This event is public and its documentation will inform HEKLER open source archive. Please let us know if you have any concerns regarding the documentation and distribution of this material.
Very best and hope to see you on Nov 10!
HEKLER
Joshua Nierodzinski, Jelena Prljević, Natasa Prljević