Alumni News |
Sep, 2016
Hector Canonge's premiere presentation of "TRAUM(a)", featured at JACK in Brooklyn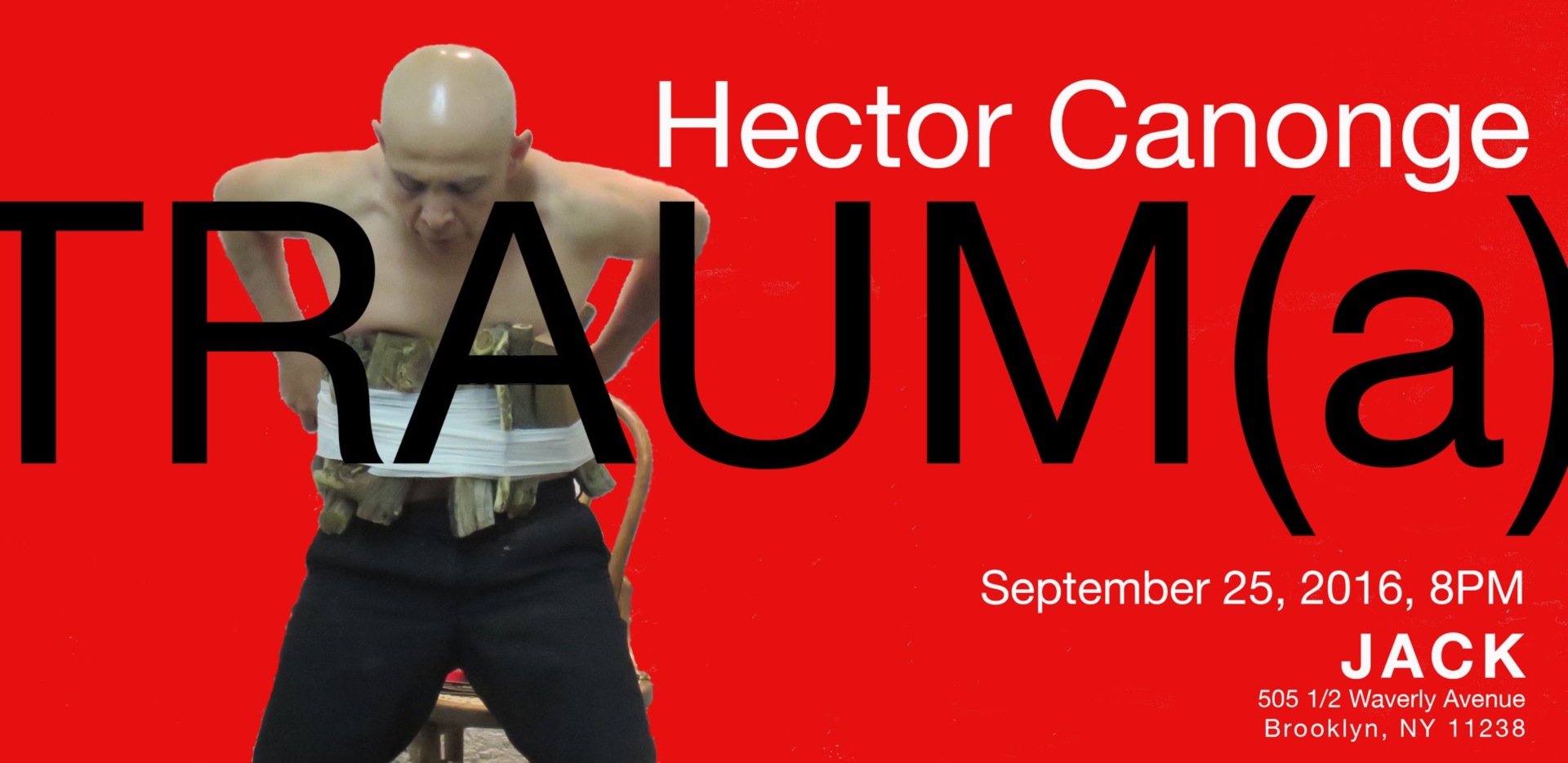 Tickets: $15, cash only at the door.
After spending the summer months presenting work in various Latin American countries, and participating in MANIFESTA 11 in early September, Hector Canonge is back in New York City for the premiere presentation of "TRAUM(a)," a new performance to be featured at JACK in Brooklyn. "TRAUM(a)" is the product of his reflections and explorations of his return and encounter with almost forgotten episodes of his childhood in South America: the resonance of the last dictatorial regimes in the region, the imposed exile, and the inadequacies of origin explored in this five part multidisciplinary performance.
Hector Canonge is an interdisciplinary artist, curator and cultural entrepreneur based in New York City. His work incorporates the use of new media technologies, cinematic narratives, performance, and socially engaged art to explore and treat issues related to constructions of identity, gender roles, psychogeography, and the politics of migration. Challenging the white box settings of a gallery or a museum, or intervening directly in public spaces, his performances mediate movement, endurance, and ritualistic processes. Some of his actions and carefully choreographed performances involve collaborating with other artists and interacting with audiences. His installations, interactive platforms, and performance art work have been exhibited and presented in the United States, Latin America, Europe and Asia.
As cultural entrepreneur, Canonge created, and organizes independently the annual Contemporary Performance Art Festival NYC, ITINERANT. He started projects such as ARTerial PERFORMANCE LAB (APLAB), a transcontinental initiative to foster collaboration among performance artists from the Americas, PERFORMEANDO, a program that focuses on featuring Hispanic performance artists living in the USA and Europe, NEXUSURNEXUS a virtual platform for Live Action Art, and PERFORMAXIS, an international residency program in collaboration with galleries and art spaces in Latin America. Canonge teaches Media Arts and Technology at City University of New York, and directs projects, programs and initiatives from MODULO 715 his new studio in Jackson Heights, Queens. He hosts CONVIVIR, the international residency program for co-habitation and collaboration.
More: http://www.hectorcanonge.net
RELATED: