Alumni News |
Feb, 2016
Hector Canonge – TALKaCTIVE at Queens Museum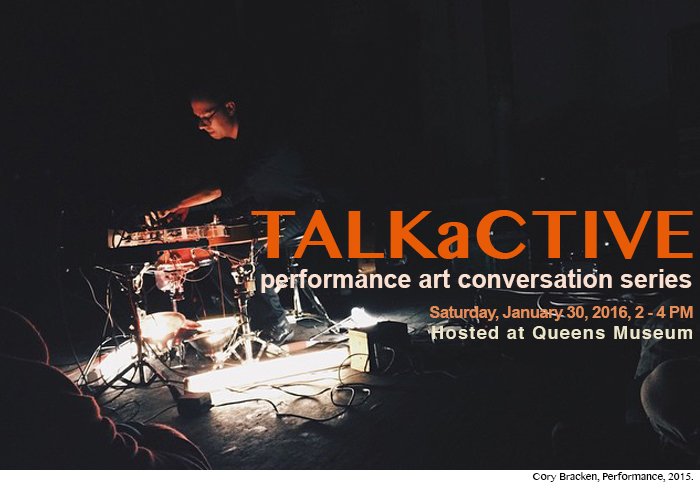 TALKaCTIVE: performance art conversation series
"Performance & Sound"
SATURDAY, JANUARY 30th, 2:00 - 4:00 PM
Hosted at the QUEENS MUSEUM
The first monthly program dedicated to the discussion and exploration of various themes in Live Art, starts the new year with an event focusing on "Performance & Sound." After spending several weeks presenting works and initiatives  in South America, Hector Canonge resumes the presentation of the monthly performance art conversation series at the Queens Museum.
TALKaCTIVE premiered at the Queens Museum in September 2015. Following last year's successful presentations, the independent initiative returns this January 30th to the museum to continue with more topics in relation to Performance Art. For January, TALKaCTIVE will explore the theme of"Performance & Sound."  The presentations, conversation and panel discussion includes the participation of invited artists whose work explore, experiment, with live music while creating and maintaining a close relation with Performance Art. Invited artists have created their own style(s) and approaches to the performative experimenting with forms, techniques, technologies, and diverse sound narratives.
Invited artists: Alex Romania, Brian McCorkle, Valerie Kuehne, Gregory Paul, and Cory Bracken.
Moderated by Hector Canonge.
RELATED: