Alumni News |
Mar, 2017
Dominique Paul's Playing Fields at Miyako Yoshinaga Gallery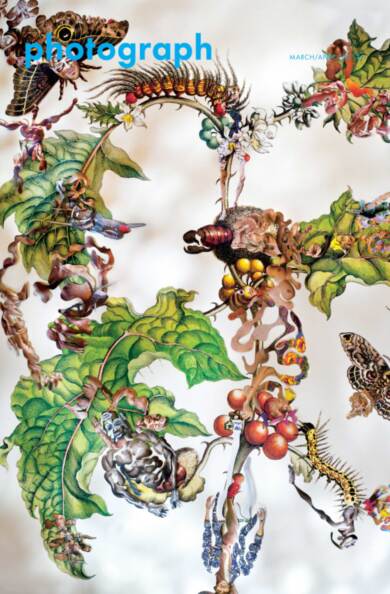 April 20th - May 27th
Miyako Yoshinaga Gallery
547W, 27th Street, 2nd floor, New York
Ru Alum Dominique Paul will be exhibiting Playing Fields. In Playing Fields the body and its transformation is staged on engravings of botanical illustrations presenting the different stages of metamorphosis of insects on the flora they inhabit. A great setting to explore transformation forces at play today : as a species we are taking over our planet to a point where its ability to nurture our life in the future is being challenged : time is running out!
In the project room my playing field is New York, on the streets where I performed with themed wearables triggering interest in passersby, the interactive wearable acted as a social interface for communication in the public space.
In 1705, botanist and entomologist Maria Sibylla Merian published Metamorphosis Insectorum Surinamensium, her fantastically detailed illustrations of plants and insects in Suriname. Her book was recently republished, but Dominique Paul has been fascinated by Merian's work for several years, judging by her exhibition The Insects of Suriname, on view at Miyako Yoshinagafrom April 20 to May 27. In the detail of Insects of Suriname 21, 2014, on our cover, fragments of (mostly male) bodies emerge out of the flora and fauna. Paul collages photographs from bodybuilding magazines onto Merian's botanicals, lighting the image through various objects – water bottles, glass bowls, take-out containers – to produce a dappled affect, as if the sun were filtered through a canopy of trees. Upending gendered ideas about nature, the work feels very current in its emphasis on metamorphosis and possibility.
Dominique Paul thanks the Conseil des arts et des lettres du Québec and the Conseil des Arts de Longueuil for their financial support and the Québec Government Office in New York, Residency Unlimited (RU) and Casita Maria Center for Arts and Education. Her collaborators for the interactive wearable project, Patrice Coulombe, programmer and AJ Addario, at the camera.
RELATED: