Alumni News |
Oct, 2017
Dakota Gearhart at Disjecta Contemporary Arts Center, Portland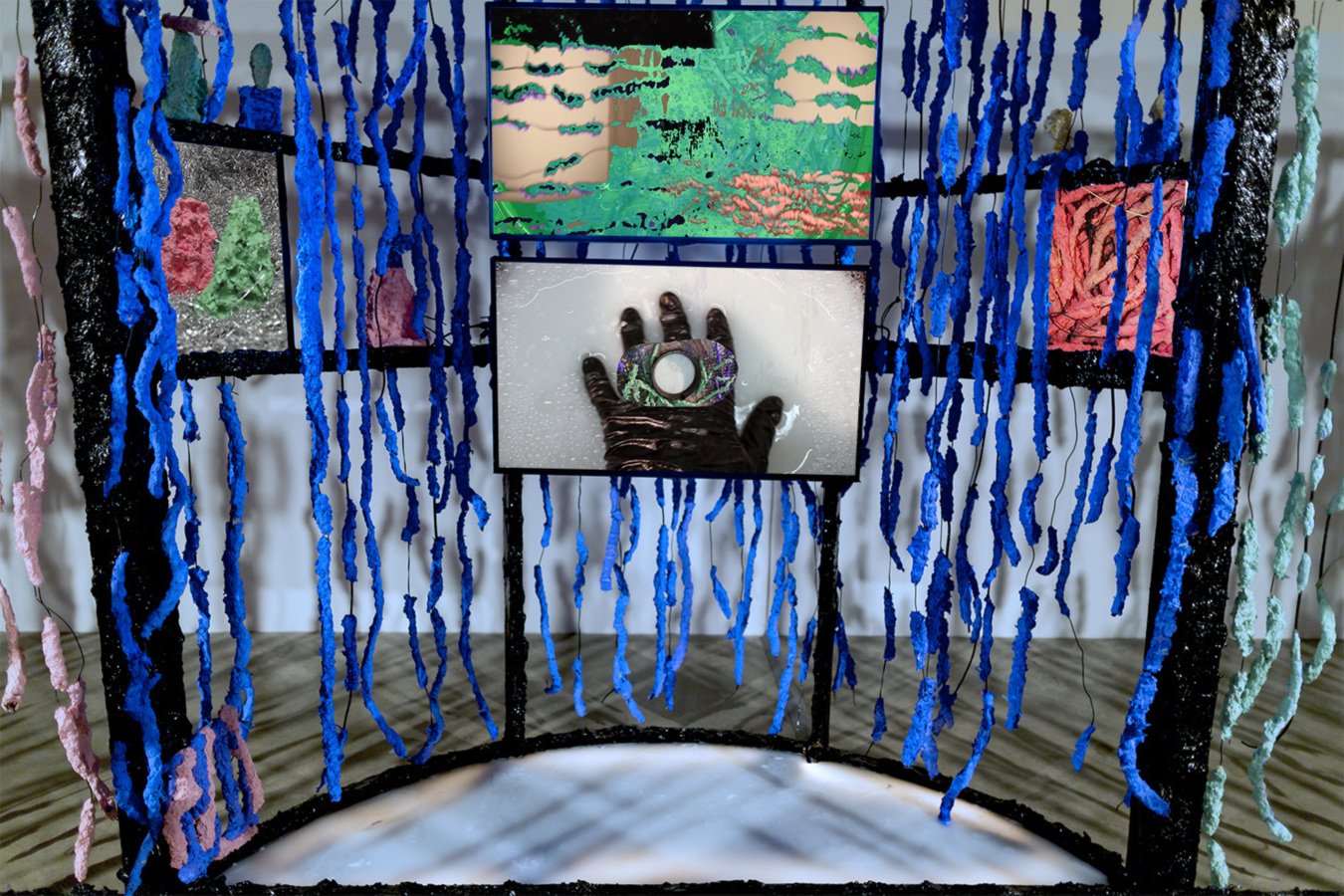 Dakota Gearhart: We Are The Intimate Freaks You Asked For. 2017
A SITUATION OF MEAT
DISJECTA CONTEMPORARY ART CENTER
OPENING RECEPTION:SATURDAY, SEPTEMBER 23, 6–9PM/FREE
MEL CARTER / MAGGIE-ROSE CONDIT / BRAXTON CONGROVE /
​DAKOTA GEARHART / Featuring EIZABETH MPUTU
CURATED BY JULIA GREENWAY
Gallery Hours: September 23–October 29, Friday–Sunday, Noon–5pm
Please join us for the opening reception for season 7 Curator-in-Residence Julia Greenway's inaugural exhibition: A Situation of Meat.
A Situation of Meat presents a group of new works by Mel Carter, Maggie-Rose Condit, Braxton Congrove, Dakota Gearhart, and Elizabeth Mputu, exploring contemporary femme identity as mediated through online culture. Using sculpture, video, and digital prints, A Situation of Meat finds inspiration in the paradox between the beauty and the grotesque of gendered self-presentation.
Viewers are greeted by Gearhart's canopy of sculpted electrical cords. These open onto an illuminated pool housing a multiple channel video installation. Congrove creates a playful staging of her sculptural arches, clouds, and soft pools. Carter fills an arched wall and reflective pool with a dream like video piece with images of ume, clay, and tapioca. Condit recreates her childhood bedroom in And Don't Call Me Shirley with furnishings covered in bubble wrap, sugar paste, and dripping maraschino cherries. Utilizing Disjecta's Flex Space, Elizabeth Mputu exhibits new video work from her ongoing digital project, Cyberserenity. Together these works form an eclectic expression of navigating femme identity across digital and physical platforms.
More on Dakota Gearhart's work:
"We Are The Intimate Freaks You Asked For" 2017
Confetti, collagen pool, digital videos, electrical cords, plaster, paint, wood
From the gallery guide: "Dakota Gearhart exhibits We Are The Intimate Freaks You Asked For, an oil-slicked structure shrouded in confetti-sculpted cords which acts as a vessel into the artist's investigations of the sexual, emotional, and feminine connectivity to place, material, and body. An ethereal four-channel video resides in the heart of the installation, fixed above an illuminated, viscous pool. We Are The Intimate Freaks You Asked For is a sexual portal, formulating an expression of femme identity that is truly fluid and undefined."
- Julia Greenway, Curator
RELATED: